Thank you to Patricia Brazier and Lenka Cathersides for the following research.
Bertram was born on 9th March 1896 in Peaslake and Baptised at the parish church on 27th February 1898. His mother is Ida, no father is mentioned.
Bertram's mother married Thomas New at the Registry Office in Guildford on 26th November 1898. In the 1901 census they are living in Peaslake with Ida's father George who is a Bricklayer. Thomas New is a house painter and Bertram now has a sister, Minnie, she was born in 1900 and baptised at the same church as Bertram.
Bertram started School in Peaslake on 23rd April 1900. His parents are listed as Thomas and Ida, but Bertram's surname is Peto. He then moved to the Dorking British School in November 1907 and stayed there until 1909. Here his surname is New; his parents are Thomas and Ida.
The 1911 census finds the family at 69 Orchard Road in Dorking. Thomas is still a house painter. Bertram is now 15 years old and working, he now has three more sisters, Florence age 10, Ethel age 7 and Gladys age 4. Bertram's surname is New.
Bertram enlisted into the Queens Royal West Surrey Regiment at Guildford under the name of Bertram Henry Peto, giving his address as Dorking and his next of kin is his mother Ida New. He arrived in France on 29th September 1915. Bertram was reported in the Dorking Advertiser as missing on 16th September 1916. The same newspaper on 13th January 1917 states that Bertram is now officially regarded as Killed in Action on 15th July 1916, west of High Wood during the Battle of the Somme in France.

Bertram's body was exhumed and re-buried at Caterpiller Valley Cemetery in Longueval. Grave Reference: SP mem 2. His headstone bears the inscription: "Their Glory Shall Not Be Blotted Out."
His personal effects were sent to his mother at Orchard Road in Dorking. His Victory, British and 1915 Star Medals were also sent to his mother. Bertram is remembered on the South Street Memorial in Dorking as B.H. New.
Peto / New Family History
Bertram's mother Ida Emily Peto was born in the 3rd quarter of 1873 in Ewhurst to bricklayer George Peto, born about 1835 in Ewhurst, and Mary Peto, born about 1837 in Kingsley, Hampshire. At the time of the 1891 Census, the widowed George and his children and grandchildren lived in Peaslake. George was working as a bricklayer and his daughter Ida Emily was a general servant.
Bertram's stepfather Thomas New was born about 1872 in Walton on the Hill, Surrey to gardener Richard New, born about 1841 in Winterbourne Monkton, Wiltshire, and Catherine New, born about 1849 in Limerick, Ireland. Thomas was baptised on the 22nd of December 1872 at St Peter's church in Walton on the Hill. At the time of the 1891 Census, groom Thomas was a boarder of head coachman William Cann in Rooms over Stable in Wotton.
Bertram had six known half-siblings: Minnie born about 1900 and Florence born about 1901, both in Peaslake. Ethel Margery born on the 13th of October 1903 in Albury, Gladys Ida born on the 12th of September 1906; Doris Ivy born on the 27th of April 1912 and Cyril Ernest born on the 23rd of March 1916 in Dorking, Surrey.
Bertram's stepfather Thomas New enlisted into the Royal Army Service Corps on the 18th of April 1918 in Guildford, Surrey for the duration of the war. At the time of his enlistment the family lived at 65 Orchard Road in Dorking and Thomas was working as a painter. Thomas was over 44 years old. He was a Private with regimental number T/446615. Thomas had a fresh complexion, brown hair and grey eyes. On the 23rd of February 1919 he was transferred to the Army Reserve on demobilisation.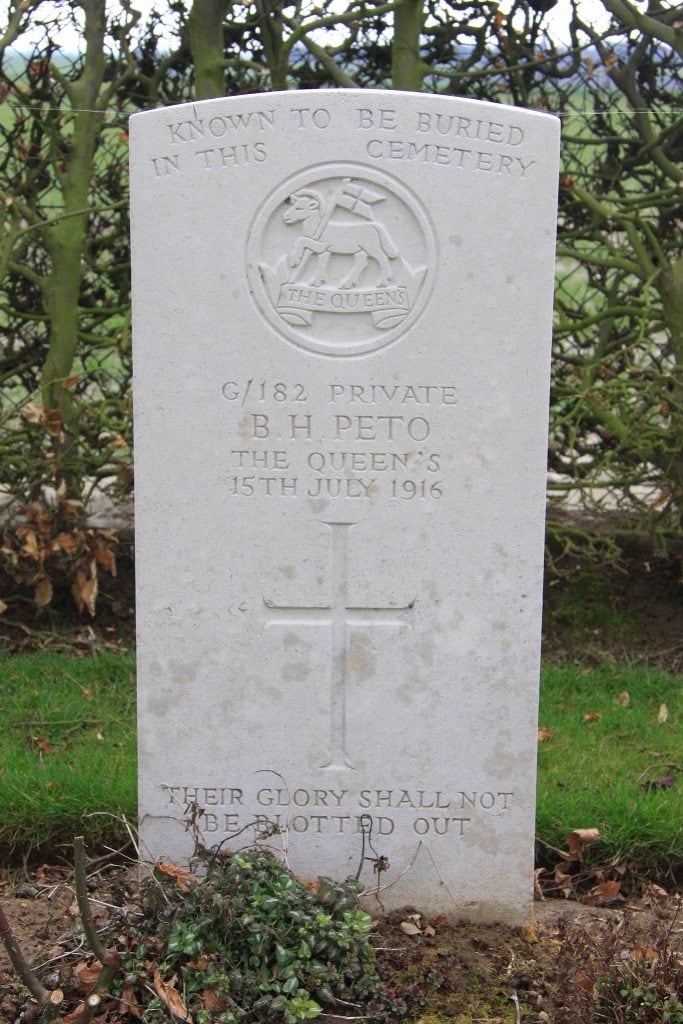 | | | |
| --- | --- | --- |
| Born | Peaslake, Surrey | |
| | | |
| Son of | Ida Emily Peto and stepfather Thomas New | |
| | | |
| Regiment | 1st Battalion. Queen's Royal West Surrey Regiment | |
| Number | G/182 | |
| | | |
| Date of Death | 15th July 1916 | |
| Place of Death | High Wood, Somme, France | |
| Cause of Death | Killed in action | |
| | | |
| Age | 19 | |
| | | |
| Cemetery | Caterpillar Valley Cemetery in Longueval | |