Thank you to Jim Edwards for this research.
Brian "Pat" Patrick Collins was born on 31st October 1895 in Dorking. He became a student at Dorking High School (Ashcombe School) in 1907. Pat was a good high jumper and also a member of the First Patrol of Boy Scouts in Dorking.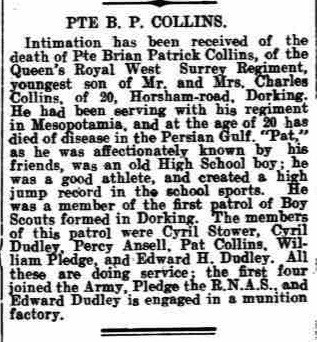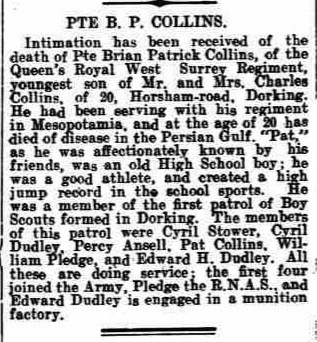 He was a private (number 2456) in the 1st/5th Battalion of The Queen's (Royal West Surrey Regiment). He died on 7th July 1916 and is buried in the Basra War Cemetery. The Battalion had served in India from early in the war and was then part of the mainly Indian force that was sent to Iraq to keep the oil fields, necessary to the Navy, from the Turks. His parents were Alfred Charles and Georgiana Collins. In 1901 the family were at 15 Arundel Road and in 1911 were at 20 Horsham Road. He is commemorated on the St Paul's Church memorial.
Brian was the son of Alfred Charles Collins, a local artist, whose paintings are on display in Dorking Museum.
| | | |
| --- | --- | --- |
| Born | | Dorking, Surrey |
| Lived | | Dorking, Surrey |
| | | |
| Son of | | Alfred and Georgina Collins of 20 Horsham Road, Dorking |
| | | |
| Regiment | | 1st/5th Battalion. Queen's Royal West Surrey Regiment |
| Number | | T/2456 |
| | | |
| Date of Death | | 7th July 1916 |
| Place of Death | | Mesopotamia |
| Cause of Death | | Died of disease |
| | | |
| Age | | 20 |
| | | |
| Cemetery | | Basra War Cemetery |