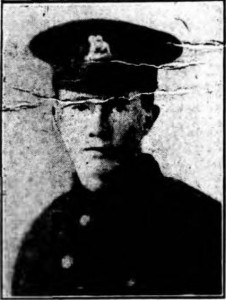 Thank you to Jane Anthony for this research.
Private Charles Harding was born in Brockham and lived his entire life there. He was the second son of Frank and Sarah Harding of Burland Cottages, Root Hill there were nine children in that family of whom 7 were still living in 1911. By 1911 his father, who had previously worked on a farm had been dead for 7 years. Root Hill Farm was a family farm and his grandfather was the principal farmer. He was educated at Brockham School and worked as a stockman before enlisting on 7 September 1914 at Reigate. He was the first person from Brockham to join up. He served in France from 10 July 1915 until his death 21 November 1915.
His captain in a letter home wrote that he was killed by a bursting shell while at his post, and died shortly afterwards. After expressing sympathy for their loss he went on to say that he always carried out his duties and worked cheerfully and well despite all the hardships and discomforts.
He was aged 20 when he died and was buried at Dernancourt Community Cemetery; Dermancourt was main dressing station for that part of the trenches. Unusually on his headstone as well as giving his parents names and address the headstone also includes the wording "Native of Brockham and Betchworth Surrey"
| | | |
| --- | --- | --- |
| Born | | Brockham, Surrey |
| Lived | | Brockham, Surrey |
| | | |
| Son of | | Frank and Sarah Ann (nee Duffell) of Root Hill, Brockham |
| Brother of | | Frank Harding |
| | | |
| Regiment | | 7th Battalion. The Queen's Royal West Surrey Regiment |
| Number | | G/2201 |
| | | |
| Date of Death | | 21st November 1915 |
| Place of Death | | France |
| Cause of Death | | Died of wounds |
| | | |
| Age | | 20 |
| | | |
| Cemetery | | Dernacourt Communal Cemetery, Somme, France |