Thank you to Mickleham and Westhumble Local History Group for allowing Dorking Museum to publish their research.Thank you to Susan and Brian Miller (Grandson of Lillian) for sending us family information and photographs.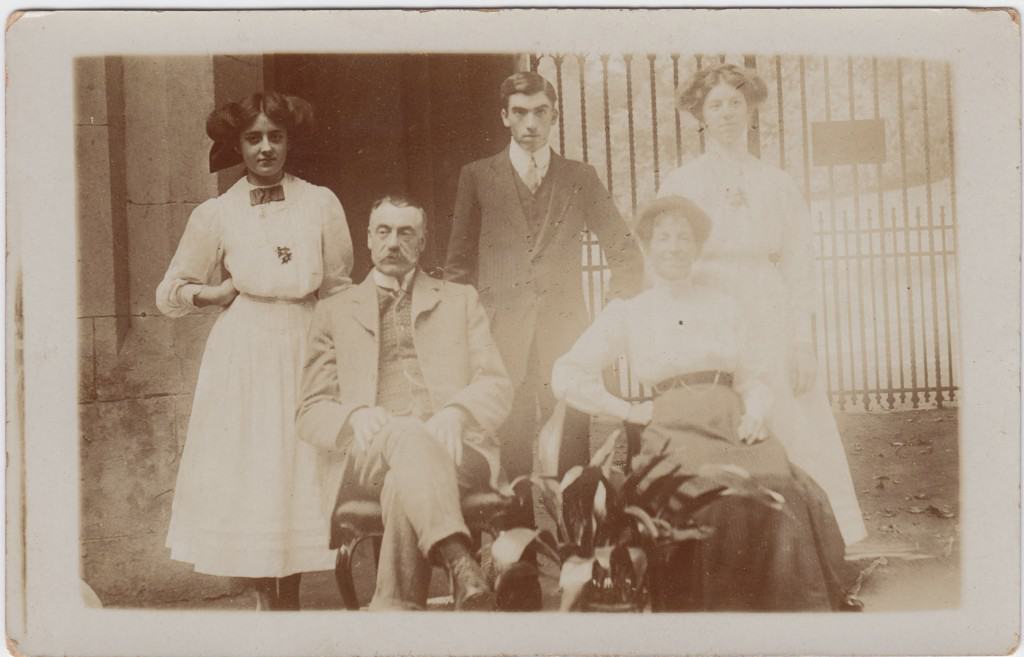 Edward was born in 1888 in Maiden Erlegh, Berkshire, the son of Henry (born 1859) and Elizabeth (nee Taylor, born 1861) Clarke. He had two sisters; Olivette (born 1890) and Ivy (1895).
Edward's father, Henry was a farrier, but in the 1911 census he is listed as a nightwatchman and the family were living in Pressforward Lodge part of the Norbury Park estate.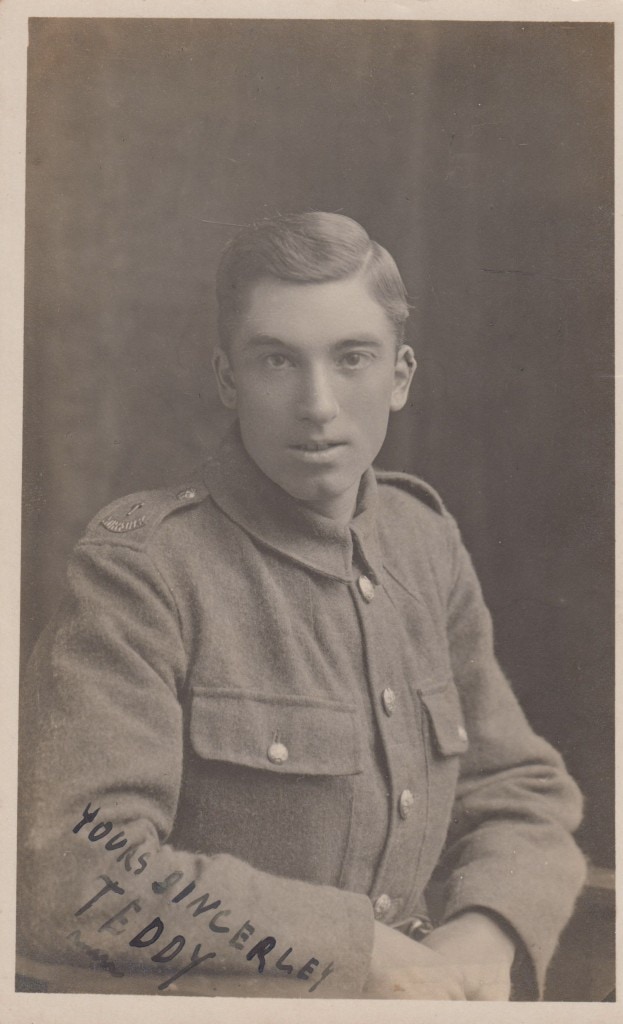 Edward enlisted on October 5th 1916 at the Houghton Barracks, Norfolk and joined the 2nd/6th Cyclist Battalion of the Norfolk Regiment, with service number 3183. He was sent to Wendover to start his training. On 7th May 1917 he was transferred to the 4th Reserve Battalion of the Norfolk Regiment with a new service number, 266069.

Edward Clarke married Lilian Barnes in St. Martin's Church, Dorking on the 30th September 1917. They had been courting for many years and when they found out that Edward was be posted to France they married straight away. Edward and his two sisters were married within five days of each other: Ivy on 29th September (the day before Edward and Lilian) and Olivette on 4th October.
On 11th October, Edward was assigned to the 17th Infantry Base Depot (IBD) of the British Expeditionary Force, which was one of the holding camps in France set up to keep men in training while waiting to be posted to the front.
He could only have spent a few days at the IBD because he joined the 1st Battalion of the Norfolk Regiment in Berthen, France (about 15 km from Ypres) on 18th October. The battalion had suffered heavy casualties earlier in the month and almost 300 addittonal men were assigned to it on 17th-18th October. Conditions for the troops were appalling during the autumn of 1917 as persistent heavy rain and constant shelling had turned the soil to thick mud.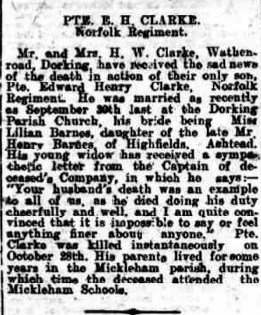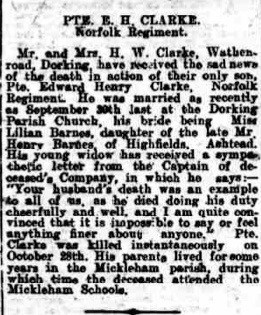 Edward Clarke Death Notice – Dorking Advertiser – 1st December 1917
Pte. E. H. Clarke. Norfolk Regiment
Mr. and Mrs. H. W. Clarke, Wathen Road, Dorking have received the sad news of the death in action of their only son, Pte. Edward Henry Clarke, Norfolk Regiment. He was married as recently as September 20th last at the Dorking Parish Church, his bride being Miss Lilian Barnes, daughter of the late Mr. Henry Barnes of Highfields, Ashtead. His young widow has received a sympathetic letter from the Captain of deceased's Company, in which he says "Your husbands death was an example to all of us, as he died doing his duty cheerfully and well, and I am quite convinced that it is impossible to say or feel anything finer about anyone." Pte. Clarke was killed instantaneously on October 28th. His parents lived for some time in the Mickleham Parish, during which time the deceased attended the Mickleham Schools.
On 23rd October the battalion left Berthen, crossed into Belgium and, on 26th October, went into the trenches at 'Stirling Castle', about 5 km east of Ypres and close to Sanctuary Wood. The battalion remained in the trenches for three days and was shelled repeatedly. It was during this period, on 28th October, that Private Clarke was killed. His body was never found. He is commemorated on the Tyne Cot Memorial which bears the names of those who went missing in the Ypres Salient after 16th August 1917. Edward's name is also on the Dorking War Memorial.
Edward Clarke's British War Medal and Victory Medal Front

Edward Clarke's British War Medal and Victory Medal Back
The Victory Medal and British War Medal were awarded to Edward Clarke posthumously.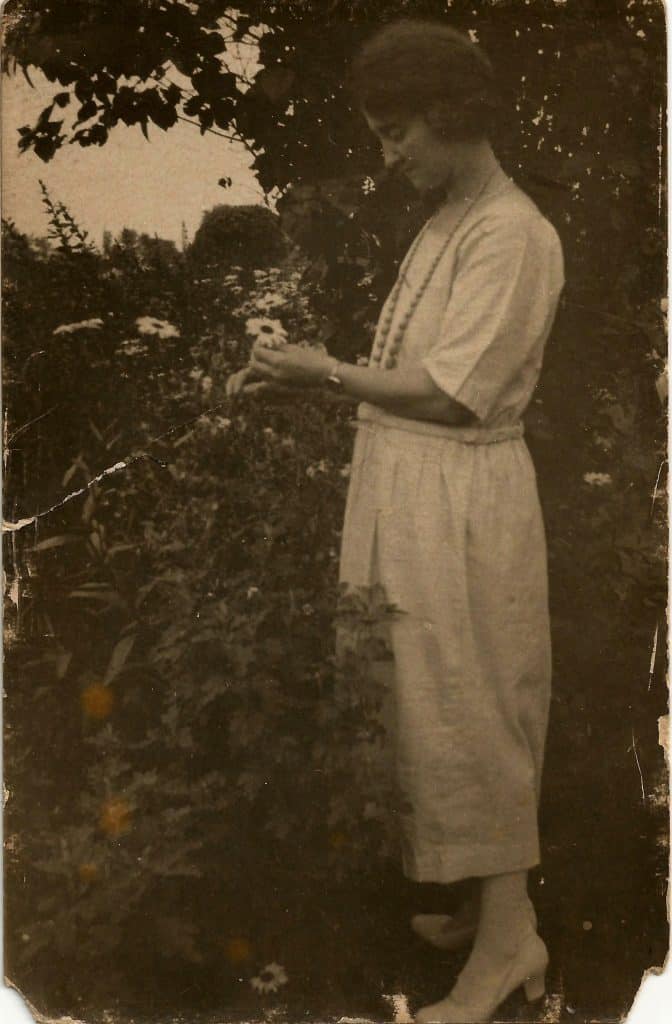 Edward and Lilian had been married for 28 days when he was killed on October 28th. Lilian was notified of Edwards death on November 12th 1917. She was sent his medals along with a scroll and a plaque. Lilian moved to Epsom to be with her sister Edie after receiving the news of Edward's death.
Lilian married Tom Wyatt on 16th February 1918 and emigrated to Canada on the Olympic. They returned in 1920 just before their daughter Joan was born. Tom was in the Canadian forces and was being treated for a shrapnel wound at London Hospital Epsom, which is possibly how Lilian and Tom met. Joan's son Brian Miller and wife Susan now have Edward Clarke's medals and photographs.
| | | |
| --- | --- | --- |
| Born | | Maiden Erlegh, Berkshire |
| Lived | | Dorking, Surrey |
| | | |
| Son of | | Henry and Elizabeth (nee Taylor) Clarke |
| Husband of | | Lilian Clarke (nee Barnes) of 12a Wathen Road, Dorking |
| | | |
| Regiment | | 1st/5th Battalion. The Norfolk Regiment |
| Number | | 266069 |
| | | |
| Date of Death | | 28th October 1917 |
| Place of Death | | France |
| Cause of Death | | Killed in action |
| | | |
| Age | | 29 |
| | | |
| Memorial | | Tyne Cot Memorial, France |

Dorking Museum is very grateful to the following members of Mickleham and Westhumble Local History Society for allowing the Museum to publish their research on the WW1 project; Paul Brown; Roger Davis; Caroline Freuler; Judy Kinloch; Judith Long; Phil Randles; Veronica Randles; Sue Tatham and Fiona Taylor. Thank you also to Ben Tatham and Andrew Tatham.