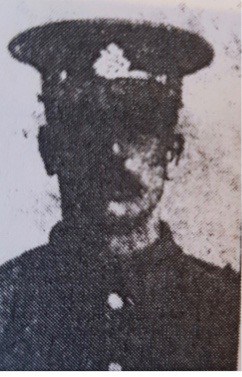 Thank you to Bernice Forsyth and Mary Day from Capel Local History Group for allowing Dorking Museum to publish their research.
Ernest was born in Capel in 1879, third son of William and Louisa Ranger. They lived at 56 The Street, Capel. William was employed as a brickmaker and Louisa as a hoopshaver.
Ernest worked as a bricklayer.
Ernest enlisted at Kingston upon Thames with the 9th Battalion of the Essex Regiment. His residence at that time is given as Worcester Park. Ernest married prior to enlisting. His wife's address is given as 1 Chasemere Cottages, Capel.
Ernest died of his wounds on the 11th of April, 1917. He is buried in Duisans British Cemetery, Etrun, France.
Born                             Capel, Surrey
Lived                            Capel, Surrey
Son of                          William and Louisa Ranger
Husband of                  L.M. Ranger, 1 Chasemere Cottages, Capel
Enlisted                        Kingston Upon Thames
Regiment                     9th Battalion, Essex Regiment
Service Number           40810
Former Regiment         East Surrey Regiment
Date of Death              11th April 1917
Place of Death             France
Cause of Death            Died of Wounds
Age                              38
Cemetery                    Duisans British Cemetery, Etrun, France