Thank you to Jane Anthony for the following research.
Frederick Fisher was born in 1890, the second son, and one of the eight children of Alfred and Emily Fisher. Like his mother, and all of his siblings, he was Brockham born and bred. His father came from Hampshire. His father had quite a few jobs, starting out as a plate layer on the railways in 1891, then as a brick maker and finally as jobbing gardener.
By 1911 Frederick had left the family home and was working as a gardener in Cobham. It was probably a market garden as two sons of the family living at this address were also gardeners. As the family had now expanded to eight children, both Frederick and his older brother William, a railway clerk had left the family home in School Lane, which only had four rooms.
In 1914, Frederick married Alice M Bosworth at Epsom, they moved to Hastings, where a daughter Joan was born. Alice later moved to Merry Court Cottage in Ashtead, which is the address given on his memorial details.
Frederick Fisher enlisted in the 16th Battalion Sherwood Foresters at Hastings. The Battalion had been formed by the Duke of Devonshire at Derby in April 1915, moving to Buxton and Sheffield before arriving at Winchester then Witley. It was deployed to France in March 1916.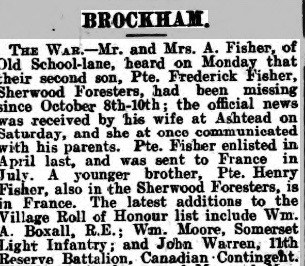 BROCKHAM
The War. Mr. and Mrs. Fisher, of Old School Lane, heard on Monday that their second son, Pte. Frederick Fisher, Sherwood Foresters, had been missing since October 8th-10th; the official news was received by his wife at Ashtead on Saturday, and she at once communicated with his parents. Pte Fisher enlisted in April last, and was sent to France in July. A younger brother, Pte. Henry Fisher, also in the Sherwood Foresters, is in France. The latest additions to the Village Roll of Honour list include Wm. A. Boxall, R.E; Wm. Moore. Somerset Light Infantry; and John Warren, 11th Reserve Battalion, Canadian Contingent.
Frederick Fisher was killed on 8th October 1916 aged 26, initially he had been declared missing, but his widow was not made aware of his death until November
He is buried at the Connaught Cemetery at Thiepval, which was started in the early autumn of 1916. Initially there were 228 burials there, but it was extended later in 1918 when more bodies were bought in for re-internment from the surrounding area and other smaller graveyards, it is not known whether these included Private Fisher.
| | | |
| --- | --- | --- |
| Born | Brockham, Surrey | |
| Lived | Ashtead, Surrey | |
| | | |
| Son of | Alfred and Emily Fisher of Brockham, Surrey | |
| Husband of | Alice M. Fisher | |
| | | |
| Enlisted | Hastings | |
| | | |
| Regiment | 16th Battalion, Sherwood Foresters (Notts and Derby Regiment) | |
| Number | 70121 | |
| | | |
| | | |
| Date of Death | 8th October 1916 | |
| Place of Death | Somme, France | |
| Cause of Death | Killed in Action | |
| | | |
| Age | 26 | |
| | | |
| Cemetery | Connaught Cemetery, Thiepval, Somme, France | |