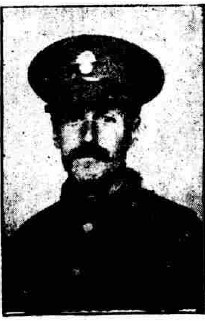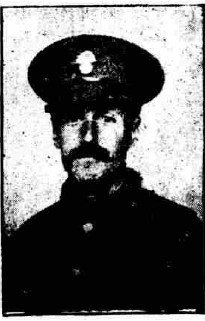 Thank you to Patricia Brazier for the following research.
Frederick was baptised at the parish church of Dorking on 26th February 1883. His parents are William, a Bricklayer and Bessie (Marchant) and their address is Howard Road in Dorking
Frederick was the youngest of twelve children. His parents married in Croydon in 1866 and moved to Dorking around 1877.
In the 1891 census, the family are living at 25 Howard Road. Frederick's father William is still a Bricklayer and there are five children in the household, William aged 20, Henry aged 14, Robert aged 9, one sister Agnes aged 13 and Frederick aged 6.
In 1901, Frederick is living with his parents in Howard Road and is now an apprentice bricklayer. His brother Robert is a laundryman.
In the 1911 census, Frederick and his parents are now living at 4 Vincent Road. Frederick has finished his apprenticeship and all his brothers and sisters have left home. William and Bessie (Frederick's Parents) have been married for 45 years and have had twelve children but only six are still alive.
Frederick worked as a Bricklayer for 17 years with a company called Trollope and Colls before enlisting into the Army. He married Selina Janet Roberts in Dorking in the March quarter of 1913. Their son Frederick John was born on 18th May 1914. He first went to France in September 1916; he came back to England in February 1917 to recover from a severe bout of Dysentery, and then returned to France in March 1917.
He was wounded in the right leg and left Arm on 30th December 1917 at Masnieres, during the Battle of Cambrai and was then taken prisoner.
His widow Selina received notification from the International Red Cross that her husband had passed away at 6.a.m. on Sunday 10th February 1918 in a prison camp. They assured her that he had received the best of medical attention. He was first buried in the Valenciennes Communal Cemetery (German Section) then after the war had ended he was reburied in the British Section.
Selina received a separation allowance and a widow's pension of 15 shillings a week. She also received an allowance of 6 shillings and 8 pence per week for her son which would expire on his 16th birthday. Selina did not remarry but she and her son Frederick continued to live in Mount Street, Dorking for many years. Selina died in 1964. Frederick died in April 1995 in Horsham.
| | | |
| --- | --- | --- |
| Lived | | Dorking, Surrey |
| | | |
| Son of | | William and Bessie (nee Marchant) of Howard Road, Dorking |
| Husband of | | Selina Janet Roberts of Mount Street, Dorking |
| Father of | | Frederick John |
| | | |
| Regiment | | 7th Battalion. The Royal Fusiliers |
| Number | | 24155 |
| | | |
| Date of Death | | 10th February 1918 |
| Place of Death | | France |
| Cause of Death | | Died of wounds in a German prison camp |
| | | |
| Age | | 35 |
| | | |
| Cemetery | | Valenciennes (St. Roche) Communal Cemetery, France |