Thank you to Lenka Cathersides for the following research. Thank you to Simon Guyatt for the family memories.
Frederick Henry Guyatt was born on the 15th of December 1895 in Andover, Hampshire to labourer Frederick William and Alice nee Wiffen.
Fred's father Frederick was born in the 4th quarter of 1871 in Appleshaw, Hampshire to plasterer Thomas H, born about 1821 in East Cholderton, Hampshire. Frederick married Alice Wiffen on the 27th of March 1892 at St Stephen's Church in Walworth. At the time of their marriage the couple lived in 96 Faraday Street, London and Frederick was working as a baker. Alice was born about 1870 in Peckham to greengrocer Joseph, born about 1831 in London, and Sarah, born about 1835 in Taunton.
Fred had five known siblings: Violet born about 1893 and Penelope born about 1894, both in Camberwell; Thomas Joseph born about 1898 in Appleshaw; Arthur William born about 1900 and Ella, born about 1902, both in Peckham.
On the 15th of January 1900 Fred was admitted into Southampton Street School. At the time of his admission the family lived at 133 Rosemary Road in Camberwell, London.
At the time of the 1901 Census, the family lived at 133 Rosemary Road. Frederick was working as a general labourer and Alice was at home looking after their children: Violet, Penelope, Thomas Joseph and Arthur.
Fred's mother Alice died in the 1st quarter of 1903 in Lewisham.
Frederick re-married Florence Amelia Winter Brown on the 17th of September 1904 at St Mary's Church, Balham, Wandsworth. At the time of their marriage the couple lived at 91 Denton Street, Balham and Frederick was working as a labourer.
Florence was born about 1868 in Thornfalcon, Somerset to labourer Robert, born about 1839 in Thornfalcon and Caroline born about 1843 in Weston, Somerset. Florence was baptised on the 5th of April 1868 in Thornfalcon.
At the time of the 1911 Census, the family lived at 21 Aurelia Road, West Croydon. Fred was working as a coal porter and Florence was at home. The household further comprised of Frederick's children: page boy Fred, scholar and newsboy Thomas, schoolboy and newsboy Arthur William and schoolgirl Ella. Florence stated that she had given birth to four children. The accommodation had five rooms.
Fred Guyatt enlisted on the 10th of August 1914 in Guildford, Surrey into the 1st Battalion the Queen's Royal West Surrey Regiment. He was a Private with regimental number 255. Before joining up he was in service with Reverend. Fanshaw of Godalming.
Fred Guyatt was later transferred into the Royal Scots. He went out to France in March 1916, and meeting with an accident at Rouen, it was necessary for him to go under a serious operation. He was afterwards sent home, but in eight months was again passed as fit, and went to Ireland, where he was transferred to another battalion of the Royal Scots. (18th May 1918 Dorking and Leatherhead Advertiser)
In July 1917, he again went to France, and he had ever since been in and out of the trenches.
In the last letter his parents received from him, just before the big push, Pte Guyatt said he would be home at Easter. (18th May 1918 Dorking and Leatherhead Advertiser)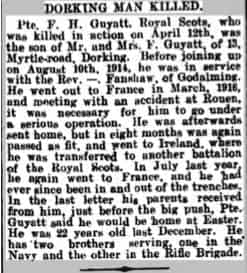 At the time of his death, he was part of the 2nd Battalion the Royal Scots (Lothian Regiment). He was a Private with regimental number 353270.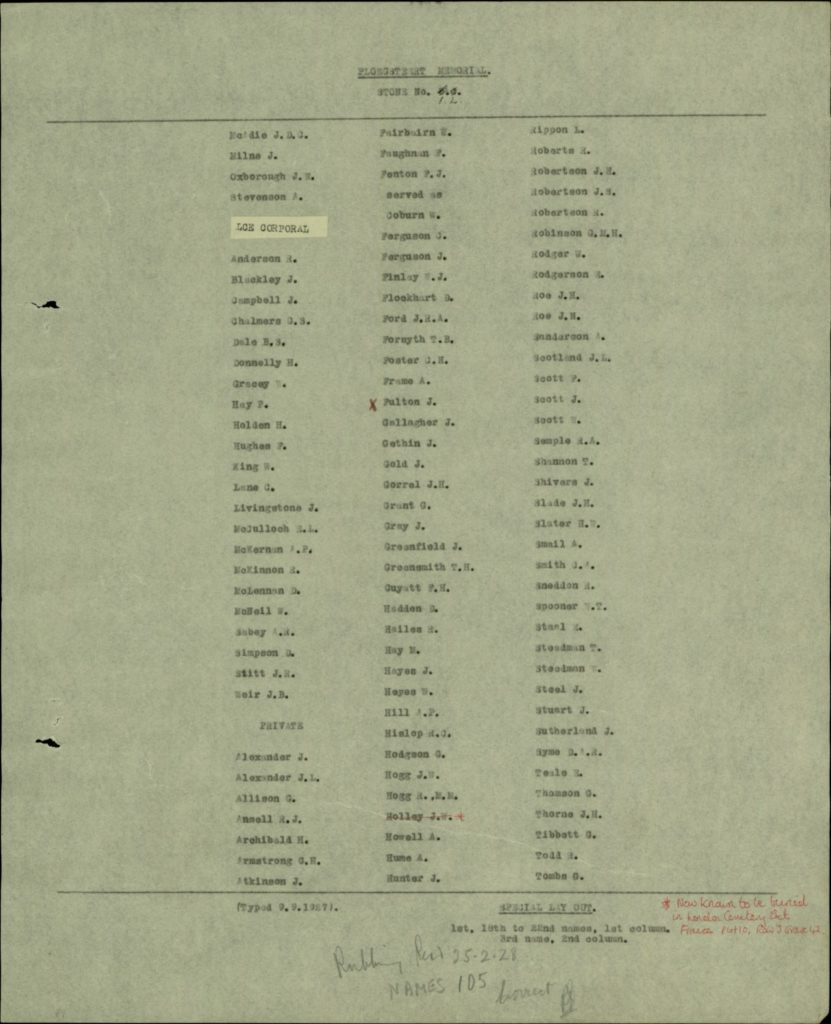 Fred Guyatt was killed in action on the 12th of April 1918 in France. His body was never found and he is commemorated on the Ploegsteert Memorial in Belgium on Panel 1.
He received the British War and Victory medals.
Fred's father Frederick received £14, 6s and 8d on the 29th of August 1918 and a further £17 on the 1st of December 1919 in Solder's Effects. In 1919, Frederick was admitted into the National Union of Railwaymen. He was a porter at Dorking Railway Station. In 1921, Frederick, Florence, Amelia, Arthur and Thomas lived at 13 Myrtle Road, Dorking.
In November 2019, Fred's great nephew, Simon contacted the Museum
I have just finished reading your fascinating article on my my great uncle Frederick Guyatt who is commemorated on the Dorking war memorial. It was so interesting to read about his background and information on my great,great grandparents, of who I previously had no knowledge at all. Frederick Guyatt was from a poor family, worked as servant and was wounded and eventually killed in the carnage of the First World War. Some people would say that was not much of a life, but it was a life  and I'm glad he's remembered by the people of Dorking.
Yours sincerely Simon Guyatt 
Toronto, Canada.

| | | |
| --- | --- | --- |
| Born | | Andover, Hampshire |
| | | |
| Son of | | Frederick William and Alice (nee Wiffen) Guyatt |
| | | |
| Regiment | | 2nd Battalion. Royal Scots Lothian Regiment |
| Number | | 353270 |
| | | |
| Date of Death | | 29th August 1918 |
| Place of Death | | France |
| Cause of Death | | Killed in Action |
| | | |
| Age | | 22 |
| | | |
| Memorial | | Ploegsteert Memorial, Belgium |