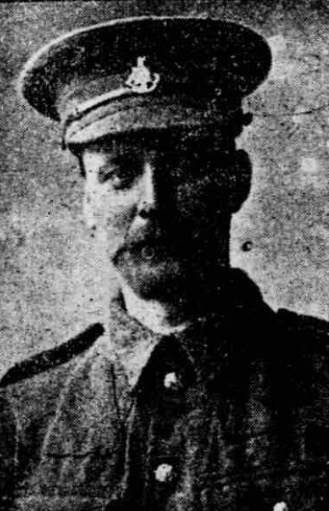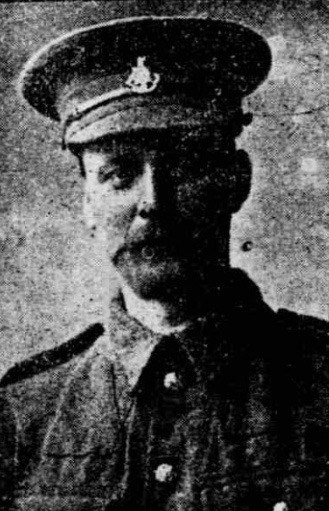 Thank you to Karen Wilson from Betchworth Village Archives for allowing us to publish her research.
Hedley Cummins was a member of the Cummins family, the well- known Betchworth builders. He was the son of George and Sarah Ann Cummins and was born in 1877, the fifth of seven children. His parents had married in 1864 and by 1871 were living on Brockham Green where George was a plumber and house decorator. By 1881 when Hedley was four, the family was living at Gadbrook and George Cummins is described as a plumber and painter on the 1881 census return. The family attended the chapel at Gadbrook and later, when they moved to Betchworth they attended the Gospel Hall at 'The Shed' in Station Road. (It is interesting to note that George Cummins and Son (Herbert) substantially rebuilt 'The Shed' in the 1930s).
By 1901 the family had moved to 4, Holmes Cottages, London Road which is now known as Pebblehill Road. Hedley, now aged 24, was a painter and his two brothers, Herbert and Sidney, were plumbers. Their father George was a builder and an employer and all the boys were classified in the 1901 census as 'working at home' i.e. in their father's business. But in 1901 Hedley's mother, Sarah Ann died aged 61. (George remarried in 1904. His new wife, by coincidence another Sarah Ann, was three years older than Hedley; George Cummins and his new wife had three children together).
In July 1903 when he was 26, Hedley married Emily Skeet. They had two daughters, Vera born in 1908 and Joyce in 1909. By 1911 they were living at 64, Allingham Road in Reigate and living with them was Emily's widowed mother.
By the time Hedley Cummins joined up on June 15th 1916 he was a partner in his father's business. He served with the Royal Sussex Regiment (1st Sussex) in the 16th Battalion, the Sussex Yeomanry, and was sent to Palestine. The battalion returned to Marseille in May 1918 and were in the fighting at Aubers Ridge in October. It was there that Hedley Cummins was killed in action on the night of October 10th. He was 41 years old when he died.
His platoon commander Lieutenant A. J. A. Wright wrote the following eloquent and moving letter to Emily: 'Allow me to express my platoon's and my own deepest and sincerest sympathy in your bereavement. Your husband was killed almost instantaneously by a trench mortar which landed in the trench we were holding on the night of Oct. 10th. He uttered only one sentence after he was hit, and then he died. It was "My God; I'm coming home." He was a man in every sense of the word; loved by everybody who came in contact with him. He was a man with no fear in him; a typical Christian; a man who feared neither death nor anything else. It may be some consolation to know that he is buried and resting away from all shells behind the lines at Langhin-en-Weppes, near Wicres."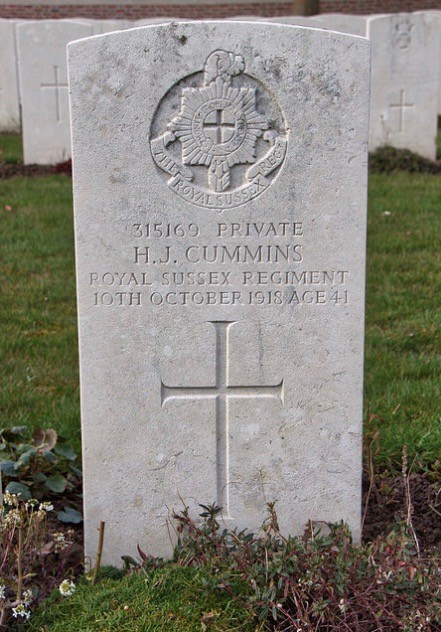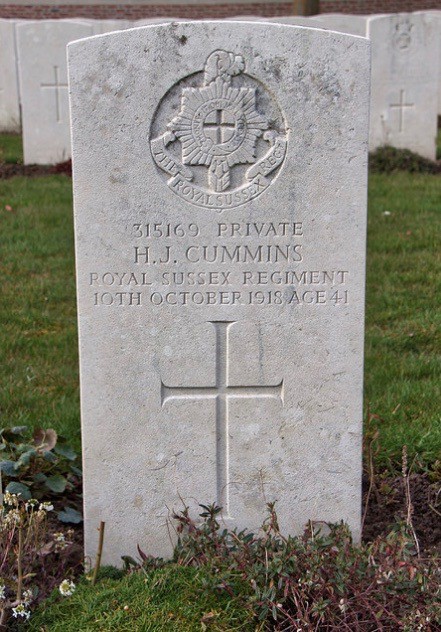 Hedley Cummins' final resting place was the Aubers Ridge British cemetery at Aubers near La Bassée. His wife Emily chose to have 'At Rest' engraved on his headstone.
| | | |
| --- | --- | --- |
| Born | Brockham, Surrey | |
| Lived | Betchworth, Surrey | |
| | | |
| Son of | George and Sarah Ann Cummins | |
| Husband of | Emily Cummins, of 64, Allingham Rd., South Park, Reigate | |
| | | |
| Regiment | 16th Battalion Sussex Yeomanry. 1st Royal Sussex Regiment | |
| Number | 315169 | |
| | | |
| Date of Death | 10th October 1918 | |
| Place of Death | Aubers, France | |
| Cause of Death | Killed in action by a trench mortar | |
| | | |
| Age | 41 | |
| | | |
| Cemetery | Aubers Ridge British Cemetery, Aubers | |