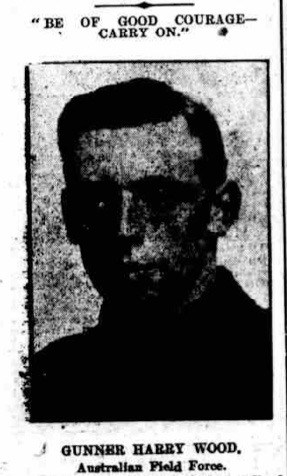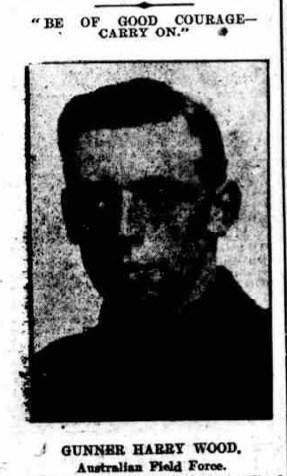 Thank you to Lenka Cathersides for the following research.
Henry Wood was born on the 19th of October 1894 in Hackney, London to bootmaker Alfred and Hannah Jane Wood nee Fewster.
Harry's father Alfred was born about 1850 in Hackney, London to bootmaker Thomas. His mother Hannah was born about 1853 in Westminster, to shoe maker James. Alfred and Hannah  married on the 25th of May 1874 at St John's of Jerusalem Church in South Hackney. At the time of the marriage, the couple lived in Hackney.
Harry had two siblings: Albert George born in the 2nd quarter of 1877 and Daisy Mary born in the 2nd quarter of 1885, both in Bethnal Green, London.
At the time of the 1891 Census, the family lived at 180 Hackney Road, Bethnal Green, London. Alfred was working as a bootmaker and Hannah was at home. Of their children: Albert was a marble paper apprentice and Daisy was at school.
On the 23rd of April 1900 Harry was admitted into the Dorking British School, he had attended St Paul's School before this. At the time of the admission, the family lived at 4 Rothes Road, Dorking.
At the time of the 1901 Census, the family lived at 21 Rothes Road in Dorking. Alfred was working as a bootmaker and Hannah was at home. Of their children: Daisy was working as a dressmaker and Harry was at school. The family further comprised of a boarder, postman, John Jackson and a visitor James Tewster.
At the time of the 1911 Census, the family lived at 66 Rothes Road, Dorking. Alfred was working as a bootmaker and Hannah was at home. Their children, Daisy was a tailoress and Harry an assistant grocer at Messrs H. G. Kingham in Dorking. The accommodation had seven rooms. Hannah Jane stated that she had given birth to three children.
In 1915 Harry married Mabel Gwendoline Brett in Victoria, Australia. Mabel was born in the 1st quarter of 1895 in Dorking to jobbing gardener James, born about 1854 in Blackheath, Surrey, and Philis (nee Killick), born about 1860 in Leigh, Surrey. In 1911, the family lived at 5 Mount Street, Dorking. Mabel Gwendoline was a dressmaker.
Harry Wood enlisted on the 15th of February 1915 into the Australian Army. He became part of C Company, the 22nd Infantry Battalion of the Australian Army. The 22nd Battalion formed part of the 6th Infantry Brigate.
He was a Private with regimental number 712. At the time of his enlistment Harry was working as a tea blender and lived with his wife Mabel in the care of Mrs Sheldon, Thornhill, Penders-street, Northcote, Virginia, Australia. His religion was Presbytarian.
Harry Wood embarked on the 10th of May 1915 from Melbourne, Victoria on HMAT Ulysses (A38) to Egypt. Harry´s last unit was the 6th Australian Machine Gun Company.
Harry Wood was killed in an action on the 12th of April 1917 in France. His body was never found.

He is commemorated on the Villers-Bretonneux Memorial in Picardie, France.
Harry Wood wrote a letter to his family before his death to be delivered to them if he was killed in battle.


The following beautiful letter, full of hope and promise and with every confidence in the righteousness of the cause for which we are fighting was left by a Dorking lad, Gunner Harry Wood, who has died bravely fighting:-
"Somewhere on Service November, 1916
Dearest Mother and Dad, Daisy, Charles and Marjorie,
You are reading thus because I have gone under. I know you will one and all feel terribly cut up, and you will feel this new sorrow for some considerable time to come. But I don't wish you to be sorry for me, dear ones, and you must very soon try and shake it off. Remember I have answered duty's call and God saw fit for me to pay the greatest price by giving my all for this righteous cause in which the whole manhood of our Empire are involved. Do not lose heart because of me, but remember the painting of Lord Kitchener's death, with his arm extending holding a sword on which are the words "Carry On".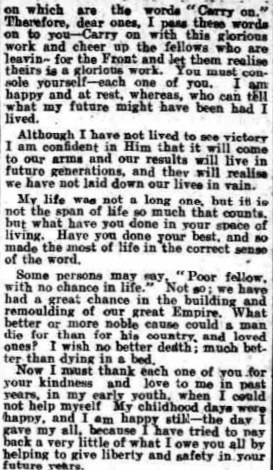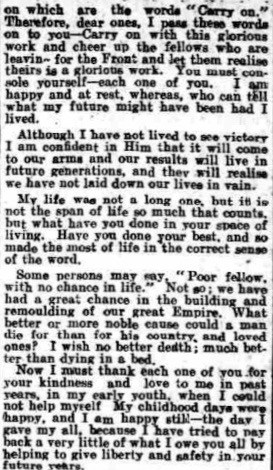 Therefore, dear ones, I will pass these words on to you – Carry on with this glorious work and cheer up the fellows who are leaving for the Front and let them realise theirs is glorious work. You must console yourself – each one of you. I am happy and at rest, whereas, who can tell what my future might have been had I lived.
Although I have not lived to see victory I am confident in Him that it will come to our arms and our results will live in future generations, and they will realise we have not laid down our lives in vain.
My life was not a long one, but it is not the span of life so much that counts but what have you done in your space of living. Have you done your best, and so made the most of life on the correct sense of the word.
Some persons may say "Poor fellow with no chance in life." Not so; we have had a great chance in the building and remoulding of our great Empire. What better or more noble cause could a man die for than his country and loved ones? I wish no better death; much better than dying in a bed.
Now I must thank each one of you for your kindness and love to me in past years in my early youth, when I could not help myself. My childhood days were happy, and I am happy still – the day I gave my all, because I have tried to pay back a very little of what I owe you all by helping to give liberty and safety in your future years.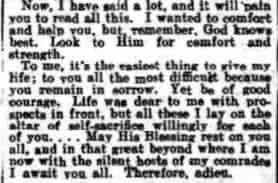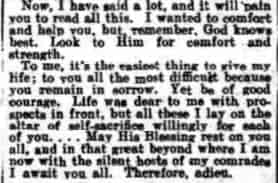 Now I have said a lot and it will pain you to read all this. I wanted to comfort and help you, but remember, God knows best. Look to Him for comfort and strength.
To me, it's the easiest thing to give my life; to you all the most difficult because you remain in sorrow. Yet be of good courage. Life was dear to me with prospects in front, but all these I lay on the altar of self-sacrifice willingly for each of you…. May His Blessing rest on you all, and in that great beyond where I am now with the silent hosts of my comrades I await you all. Therefore, adieu."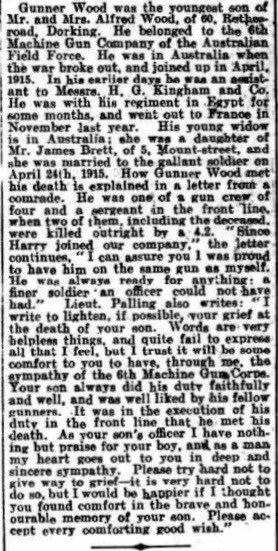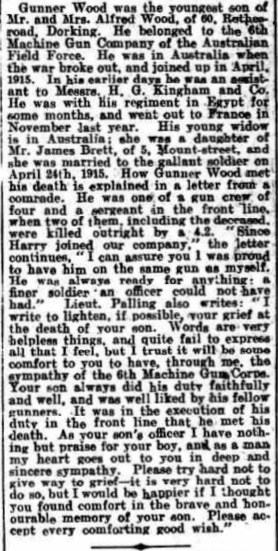 Gunner Wood was the youngest son of Mr. and Mrs. Alfred Wood of 60, Rothes Road, Dorking. He belonged to the 6th Machine Gun Company of the Australian Field Force. He was in Australia when the war broke out, and joined up in April 1915. In his earlier days he was an assistant to Messrs. H . G. Kingham and Co. He was with his regiment in Egypt for some months, and went out to France in November last year. His young widow is in Australia; she was a daughter of 5 Mount Street and she was married to the gallant soldier on 24th April 1915. How Gunner Wood met his death is explained in a letter from a comrade. He was one of a gun crew of four and a sergeant in the front line when two of them including the deceased were killed outright by a 4.2. "Since Harry joined our company," the letter continues, "I can assure you I was proud to have him on the same gun as myself. He was always ready for anything: a finer soldier an officer could not have had." Lieut. Palling also writes: "I write to lighten, if possible, your grief at the death of your son. Words are very helpless things, and I quite fail to express all that I feel, but I trust it will be some comfort for you to have, through me, the sympathy of the 6th Machine Gun Corps. Your son always did his duty faithfully and well, and was well liked by his fellow gunners. It was in the execution of his duty in the front line that he met his death. As your son's officer I have nothing but praise for your boy, and as a man my heart goes out to you in deep and sincere sympathy. Please try hard not to give way to grief – it is very hard not to do so, but I would be happier if I thought you found comfort in the brave and honourable memory of your son. Please accept every comforting good wish."
| | | |
| --- | --- | --- |
| Born | | Hackney, London |
| Lived | | Dorking, Surrey |
| | | |
| Son of | | Alfred and Hannah Jane Wood (nee Fewster) |
| Husband of | | Mabel Gwendoline Brett |
| | | |
| Regiment | | C Company, 22nd Infantry Battalion. Australian Army |
| Number | | 712 |
| | | |
| Date of Death | | 12th April 1917 |
| Place of Death | | France |
| Cause of Death | | Killed in action |
| | | |
| Age | | 23 |
| | | |
| Cemetery | | Villers-Bretonneux Memorial, Picardie, France |