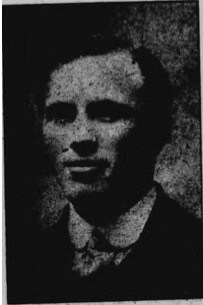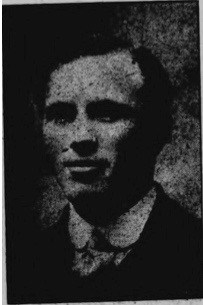 Thank you to Lenka Cathersides for the following research.
Ethelbert James (Bertie) Tickner was born on the 8th of May 1889 in Dorking to bricklayer Ethelbert Tickner and dressmaker Ada Harriett nee Stonestreet. Bertie was baptised on the 24th of July 1889 in Dorking.
For the full family history of the Tickners see William Harold Tickner
At the time of the 1891 Census, bricklayer Ethelbert snr lived at 1 Dene Street Gardens, Dorking. The household further comprised of his wife Ada and their children Ada and Bertie.
Bertie was admitted to St Martin's Church of England School, Dorking (for Infants) on the 6th of February 1893. At the time of his admission the family lived at Punch-Bowl Cottages, Dorking. He left the school in April 1893.
At the time of the 1901 Census, the widowed Ada Harriet lived at 6 Harrow Road, Dorking. The household further comprised of her children: Ada, Bertie, William and Cecil. Ada Harriet's brother in law, house painter, William and his wife restaurant waitress Alice also lived in the house.
At the time of the 1911 Census, the family lived at 20 Ansell Road, Dorking. The household comprised of Ada and her children: servant Ada, hotel waiter Bertie, William, Cecil and Dorothy. The household was also visited by servant Gerty May Elson. Ada stated that she had given birth to five children of whom were all alive. The accommodation had five rooms.
Ethelbert James (Bertie) Tickner first enlisted into 5th Battalion of the Queen's Royal West Surrey Regiment for two years.
He re-enlisted on the 1st of March 1916 in London into the Grenadier Guards. He was a Private with regimental number 25622. Prior to his enlistment he resided at 15 Upper Grosvenor Street, Park Lane, London and worked as a footman/valet. He had a mole on the front of his left shoulder. Bertie served from 1st of March 1916 to 7th of October 1916 at home; from 8th of October 1916 to 23rd of October 1917 in France and from 24th of October 1917 to 27th of September 1918 at home. On the 8th of October 1916 Bertie was transferred into the 2nd Battalion of the Grenadier Guards. On the 17th of February 1917 he was deprived of 5 days' pay for 'disobedience of orders'.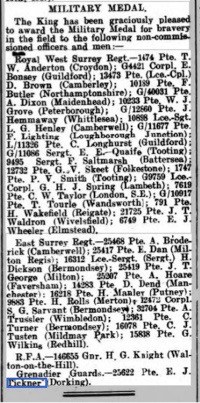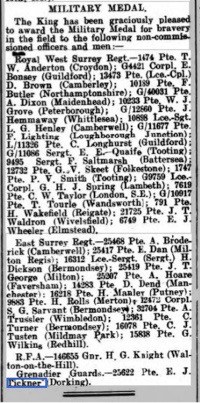 Bertie received the Military Medal on the 19th of August 1917. He volunteered for a dangerous duty in which he was successful in saving the life of a comrade.
He was also a recipient of the British War and Victory medals.
On the 9th of October 1917, his leg was wounded by a shell in action at Langemarck in Ypres, Belgium. His right leg was amputated at the thigh at a Casualty Clearing Station in France. On the 25th of March 1918, he was admitted into the War Hospital in Bath for recovery.
From Bath, Bertie wrote to his mother: "We had a lot killed the day I was hit. I saw such a lot myself and I had not got far. We were at Ypres so you can guess that's a hot shop. We had been on that front since June, and I was looking forward to coming home on leave about now. It's all luck in France. I have seen all I want to see. I got hit in the morning about six, and laid in a pill-box all day and a long way into the night. I should have gone mad had I laid there much longer from loss of blood and want of water. My poor leg was blown practically off at the knee , but I kept my head for long time and tied my leg tight at the top, and put my trenching tool handle in and twisted it round tight and so stopped the bleeding. I shall always think this saved my life."
On the 27th of September 1918 he was discharged from the military service. At this time, he was part of the 3rd Battalion Grenadier Guards.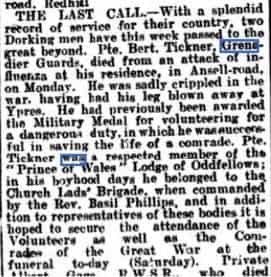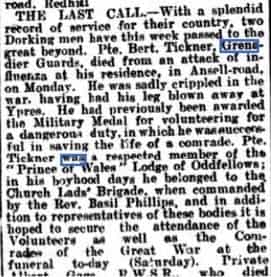 Ethelbert James (Bertie) Tickner died of flu on the 4th of November 1918 at his residence in 20 Ansell Road. His brother, William, had died in France on 2nd August 1918 aged 22.


He was buried on the 9th of November 1918 at Dorking Cemetery. The headstone bears the inscription: 'Thy Will Be Done'. His cemetery reference number is: 7.65245.
Bertie's mother Ada received £12 and 10s on the 29th of September 1919 in Soldier's Effects.
Bertie was a member of the 'Prince of Wales' Lodge of Oddfellows. In his boyhood days he belonged to the Church Lad's Brigade, when commanded by the Rev. Basil Phillips.
| | | |
| --- | --- | --- |
| Born | | Dorking, Surrey |
| Lived | | Dorking, Surrey |
| | | |
| Son of | | Ethelbert and Ada Tickner of 20 Ansell Road, Dorking |
| Brother of | | William Harold Stonestreet Tickner |
| | | |
| Regiment | | 3rd Battalion, The Grenadier Guards |
| Number | | 25622 |
| | | |
| Date of Death | | 4th November 1918 |
| Place of Death | | Dorking, Surrey |
| Cause of Death | | Died of influenza |
| | | |
| Age | | 29 |
| | | |
| Cemetery | | Dorking Cemetery, Dorking |