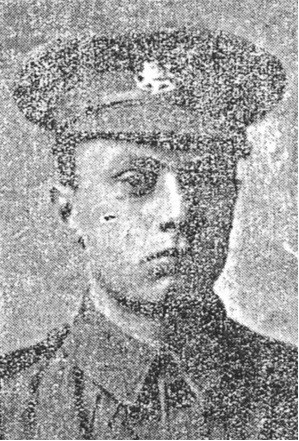 Thank you to Karen Wilson from Betchworth Village Archives for allowing us to publish her research.
Jesse Duffell lived and worked in Brockham and Betchworth all his life. He was born on October 10th 1894 the youngest son of George and Louisa Duffell and baptised at Christ Church, Brockham on February 2nd 1895. The family were living on Brockham Green in 1901 when Jesse was six and his father was a labourer in the Chalk Pits, specifically in the Lime Works.
Jesse attended Betchworth School in January 1903 after the family moved to Betchworth and left on October 1908 to begin work. He attended Sunday School in Betchworth and won a prize for first class attendance at the same time as William Dorsett – they would have been at that January party together in 1905. Jesse remained a churchgoer and was confirmed in May 1910, along with 33 others from the Parish.
By 1911 Jesse was 16 and working as a houseboy, but still living at home , 3, Western Cottages. His older brother George and his sister Louie had left home but Jesse's 12 year old cousin Charles was also living with them.
When war broke out in 1914, Jesse was working as a gardener for Julian and Mary Whittington at Wonham Hill. It was Julian's parents who had arranged the memorable Sunday School party in 1905 and it was Mrs Whittington who had presented Jesse with his attendance prize.
Jesse enlisted in the East Surrey Regiment 9th Battalion in September 1914 and in the following year was part of the contingent who embarked for Boulogne on August 31st. He survived three years in the trenches and became a proficient machine gunner before he was killed by a shell near Sanctuary Wood, Ypres on August 28th 1917.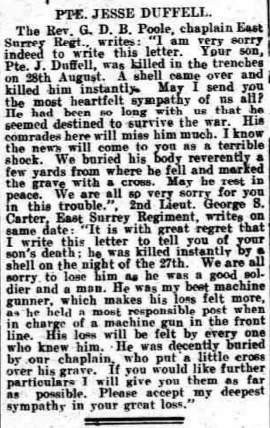 The Rev. G.D.B. Poole, chaplain to the East Surrey Regiment wrote to Jesse's parents: "I am very sorry indeed to write this letter. Your son Pte. J. Duffell, was killed in the trenches on 28th August. A shell came over and killed him instantly. May I send you the most heartfelt sympathy of us all? He had been so long with us that he seemed destined to survive the war. His comrades here will miss him much. I know the news will come to you as a terrible shock. We buried his body reverently where he fell and marked the grave with a cross. May he rest in peace. We are all so very sorry for you in this trouble."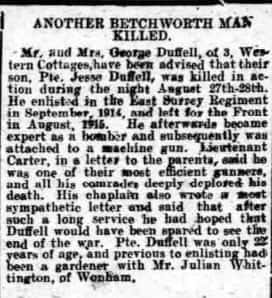 2nd Lieut. George S. Carter , East Surrey Regiment, wrote on the same date: "It is with great regret that I write this letter to tell you of your son's death; he was killed instantly by a shell on the night of the 27th. We are all so sorry to lose him as he was a good soldier and a man. He was my best machine gunner, which makes his loss felt more, as he held a most responsible post when in charge of a machine gun in the front line. His loss will be felt by every one who knew him. He was decently buried by our chap- lain, who put a little cross over his grave. If you would like further particulars, I will give you them as far as possible. Please accept my deepest sympathy in your great loss."
Jesse Duffell's grave was lost, like so many others, and his name is on the Tyne Cot memorial near Ieper (Ypres) in Belgium.
| | | |
| --- | --- | --- |
| Born | Brockham, Surrey | |
| Lived | Betchworth, Surrey | |
| | | |
| Son of | George and Louisa Duffell, of 3, Western Cottages, Betchworth, Surrey. | |
| | | |
| Regiment | 9th Battalion. East Surrey Regiment | |
| Number | 2530 | |
| | | |
| Date of Death | 28th August 1917 | |
| Place of Death | Passchendaele, Belgium | |
| Cause of Death | Killed in Action | |
| | | |
| Age | 22 | |
| | | |
| Memorial | Tyne Cot Memorial, Belgium | |