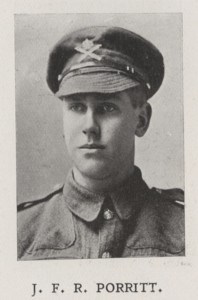 Thank you to Jane Anthony for this research.
John Frank Roy Porritt was born in 1899 at Balham, the son of Arthur and Madeleine, who later moved to "Ranmore" Upper Road, Eastwick, Leatherhead. Arthur was a sub- editor in newspapers.
The 1911 census saw Roy boarding at a prep school in Thanet, he later went on to Dulwich College, where he was from 1913 to 1916.
Initially he enlisted in the London Scottish regiment but was seconded to the 32nd Battalion, Machine Gun Corps (number 146041).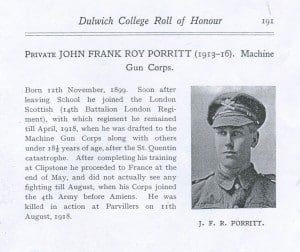 He joined the British 4th Army at Amiens in May 1918 and first saw action with them in August. He was killed on 11th August 1918 and is buried at Buchoir British Cemetery.
| | | |
| --- | --- | --- |
| Born | Balham, London | |
| | | |
| Son of | Arthur and Madeleine Porritt of Ranmore, Upper Road, Eastwick, Leatherhead | |
| | | |
| Regiment | 32nd Battalion. Machine Gun Corps | |
| Number | 416041 | |
| | | |
| Date of Death | 11th August 1918 | |
| Place of Death | Parvillers, France | |
| Cause of Death | Killed in Action | |
| | | |
| Age | 18 | |
| | | |
| Cemetery | Buchoir British Cemetery, Somme, France | |