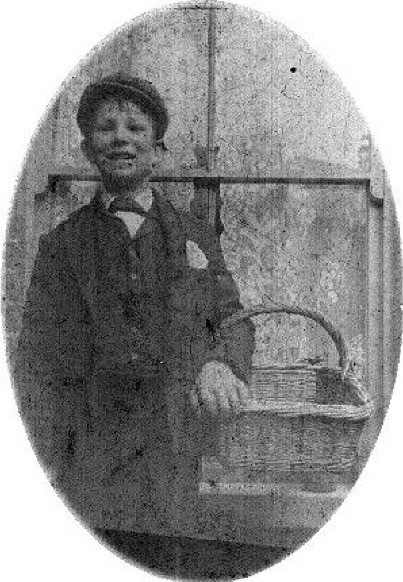 Thank you to Lenka Cathersides for the following research.
John William Dowling was born on 9th December 1889 in Dorking, Surrey to labourer John and Harriet.
At the time of the 1891 Census, the family lived at Moleside in Dorking. John was working as a labourer and Harriet was looking after their children Lucy, Florence and John.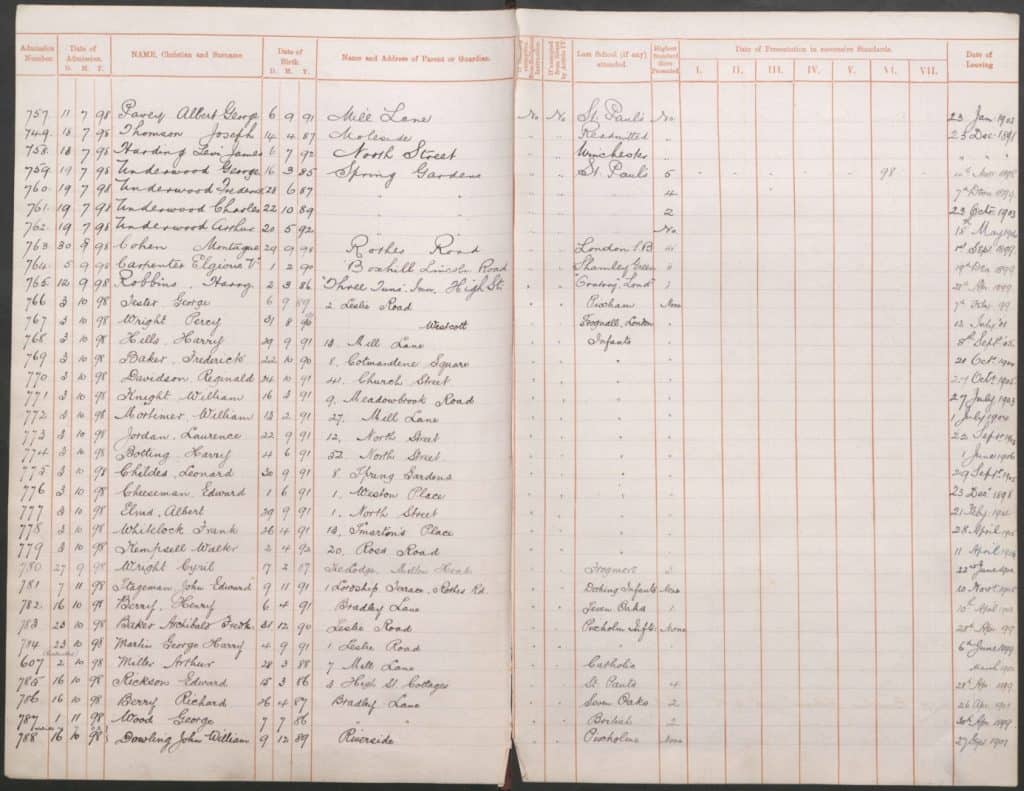 On 16th October 1898 John Dowling started at St Martin's Church of England School in Dorking. Previously he attended Pixham School. He left St Martin's school on 27th September 1901.
At the time of the 1901 Census, the family were still living at Moleside in Dorking. John was working as a labourer in a coal yard and Harriet was looking after their children: Florence, John, Alice, Harriet and Edith.
On 3rd September 1901 John was admitted into the Dorking British School. At the time of his admission the family lived at Pixham Lane.
At the time of the 1911, John William´s family lived at 3 Mint Gardens in Dorking. John was working as a labourer on an Estate and Harriet was at home. The household further comprised of their daughter Edith. Harriet stated that she had given birth to seven children. The accomodation had four rooms.
At the time of the 1911 Census, John was working as an odd man for licensed victualler Anne Greaves, at the Punch Bowl pub, Reigate Road in Dorking.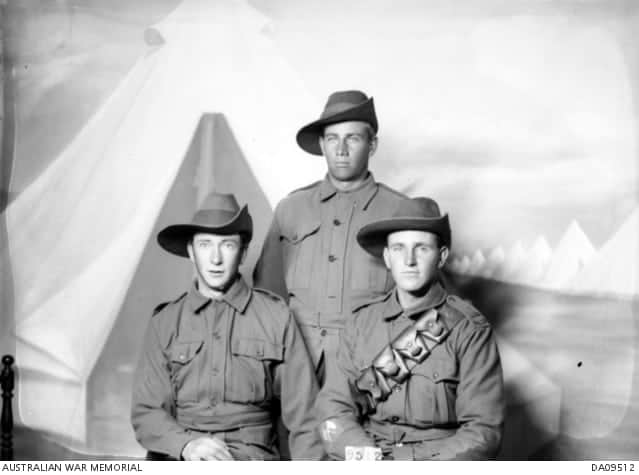 John Dowling enlisted on 30th July 1915 in Brisbane, Queensland into the 6th Reinforcement, of the 26th Battalion, Australian Imperial Force. He was a Private with regimental number 2585.
At the time of his enlistment he was working as a labourer. He had a fresh complexion, grey eyes and light brown hair. He had two moles on his right cheek. His next of kin was his father John Dowling of 3 Mint Gardens in Dorking.
On 21st October 1915 he embarked on HMAT Seang Bee from Brisbane, Australia to Egypt. In Egypt, he became part of the 7th Training Battalion at Zeitoun. On 1st March 1916, he joined the 12th Battalion at Serapeum Railhead Camp.
On 5th March 1916, he became sick with a venereal disease and was admitted into the 1st Australian Field Ambulance and transferred into the 1st Australian Casualty Clearing Station. The next day he was transferred by hospital train into the 1st Australian Dermatological Hospital in Abbassia, Cairo. He was discharged on 13th March and moved to the Overseas Base at Ghezireh, near Cairo. On 2nd April 1916 he was transferred from the 12th Battalion and joined the 52nd Battalion at Serapeum, Egypt. On 5th June 1916 John embarked with the 52nd Battalion on the troopship Ivernia from Alexandria to join the BEF in France. On 12th June 1916 he disembarked to Marseilles in France. John was wounded in an action on 3rd or 4th September 1916 in France.
On 3rd September 1916, John was admitted to the 1st Canadian Field Ambulance with a head injury. On 4th September he was transferred and admitted into the 8th General Hospital in Rouen, France. On 6th September 1916, he was further transferred into the 2nd Convalescents Depot. On 11th of September 1916, John William marched into the 4th Australian Divisional Depot in Etaples. On 30th September 1916, he rejoined the 52nd Battalion in France.
On 18th October 1917, he was killed in an action during the 3rd Battle of Ypres in Belgium.
John Dowling is commemorated on the Ypres Menin Gate Memorial in Belgium on panels 7-17-23-25-27-29-31.
He did not make a will and had no personal effects in his kit. His father received John's British War and Victory medals and the 1914/15 Star. He also received the Memorial Scroll, Memorial Plaque and a booklet ´Where the Australians Rest.´
Read John Dowling's military records
Dowling Family History
John's father John Lewis Dowling was born on 6th November of 1853 in Leatherhead, Surrey to boot maker William, born about 1822 in Dorking and Harriet, born about 1823 at St Giles, London. John snr was baptised on 10th October 1858 at St Martin's church in Dorking. At the time of the baptism, the family lived at Cotmandene, Dorking and William was working as a shoemaker. His mother Harriet Lynch was born on 6th August 1857 in Dorking to labourer Henry and Jane. Harriet was baptised on 17th January 1858 at St Paul's church in Dorking. At the time of the baptism the family lived at Butter Hill in Dorking. John and Harriet married in the 1st quarter of 1884 in Dorking, Surrey.
John had five known siblings: Lucy, born about 1882; Florence, born about 1888; Alice born about 1893; Harriet born about 1895 and Edith born about 1897, all in Dorking.
| | | |
| --- | --- | --- |
| Born | Dorking, Surrey | |
| | | |
| Son of | John Lewis and Harriet Dowling (nee Lynch) of 3 Mint Gardens, Dorking | |
| | | |
| Enlisted | Brisbane, Queensland | |
| | | |
| Regiment | 52nd Battalion, Australian Imperial Force | |
| Number | 2585 | |
| | | |
| Date of Death | 18th October 1917 | |
| Place of Death | Ypres, Belguim | |
| Cause of Death | Killed in Action | |
| | | |
| Age | 18 | |
| | | |
| Memorial | Ypres (Menin Gate) Memorial | |