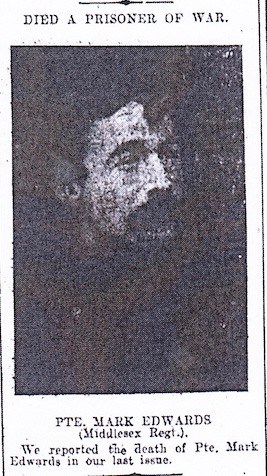 Thank you to Wendy Shuttleworth for the following research.
Mark Edwards was born at the Rose and Crown Pub, 10 West Street, Dorking in 1881. His father Mark Edwards was the publican. Also residing there was Mark's mother Roseanna Sarah and his older sisters Fanny and Ellen.
In the 1911 Census he was living with his cousin George Albert Bassington, Ellen and Fanny.  His trade was listed as general labourer, address 9 Rose's Cottages, Dorking.  By this time both his parents have died. His Mother in 1889 and his Father in 1895. His effects were given to his sister Ellen.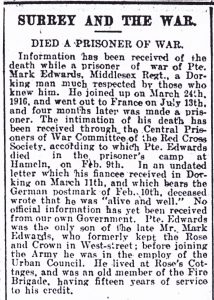 | | | |
| --- | --- | --- |
| Born | Dorking, Surrey | |
| Lived | Dorking, Surrey | |
| | | |
| Son of | Mark and Roseanna Sarah Edwards | |
| | | |
| Enlisted | Ealing | |
| | | |
| Regiment | 17th Battalion, Middlesex Regiment | |
| Number | G/44122 | |
| | | |
| Date of Death | 9th February 1917 | |
| Place of Death | Germany | |
| Cause of Death | Died in prisoner of war camp | |
| | | |
| Age | 36 | |
| | | |
| Cemetery | Niederzwehren Cemetery, Germany | |