Thank you to Janet Mata for this research.
Private Nathaniel Rice served with the 2nd Battalion Hampshire Regiment which was involved in the Gallipoli campaign. Nathaniel was killed in action on 6 August 1915 at Gallipoli and is commemorated at the Helles Memorial in Turkey. He left a widow, Lilian.
The war diary for the Hampshire Regiment shows that the 2nd Battalion was in India at the outbreak of war and returned to the UK, arriving in Plymouth on 22 December 1914. The battalion became part of the 29th Division. Although the 2nd battalion initially trained to go to France, orders were subsequently received to go to Gallipoli. The troops sailed from Avonmouth on 29 March 1915 and travelling via Egypt, arrived in Gallipoli on 25 April 1915. The climax of this 8 month campaign was in early August 1915 – when Nathanial Rice lost his life along with many thousands of other British and Commonwealth soldiers.
The war diary for the Hampshire Regiment for 6 August 1915 reads as follows:-
Marched up mule track and took over [fire] trenches from Royal Fusiliers, heavy gun fire up to 1 pm, bombardment from 2.15 pm until 3.50 pm. Attack launched, first line advanced at proper time, attack did get home, majority of first line killed or wounded. Captain B S Parker led attach of second line, killed soon after leaving trenches, attack failed. Failure of attack attributed to the number of machine guns in front and flanks of position, these guns had not been knocked out in the bombardment and as soon as attack was launched opened very heavy fire. Strength of battalion on going into action Officers 27, Other Ranks 846.
These were very heavy casualties indeed 22 out of 27 officers, and over half of the other ranks.
On 7 August the battalion received orders to collect the remainder of the troops and return to Gully Beach as soon as they could be relieved.
Nathaniel was born in Crawley 1895 to parents John Rice and Eliza Rice. This was a large family, there were 14 children born and all were still living according to the 1911 census.
Nathaniel was one of the youngest. The family were primarily agricultural workers.
In 1901 they were living at Shelly Farm, Crawley and in 1911 they were at Home Farm, Buchan Hill, Peaspottage (sic). The 1911 census shows that Nathaniel was working as a waggoner – the same profession as his father – and his brothers followed similar agricultural occupations.
Nathaniel was already serving with the Hampshire Regiment when war broke out.
Nathaniel married Lilian Jane Hunt on 28 March 1915 at St Martin's Church in Dorking – the day before he sailed for Gallipoli. It was a tragically short marriage – Lilian did not see her husband again after their wedding day.
On the marriage certificate Nathaniel's profession is listed as "soldier" and his residential address is given as "Alverstoke". Lilian's address is shown as "High Street, Dorking". The bride's father, Charles Hunt, was a clerk.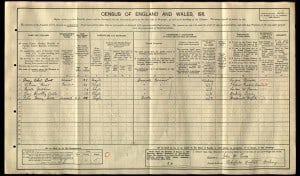 The 1911 census shows Lilian was a domestic servant at Rokefield in Westcott and that she was born in Somerset.
Lilian subsequently moved to Dorset and remarried 1921.
| | | |
| --- | --- | --- |
| Born | Crawley | |
| | | |
| Son of | Mr and Mrs J. Rice of 80 Ifield Road, Crawley, Sussex | |
| Husband of | Mrs L.J Barfoot (formerly Rice) of 3 Poole Road, Lychett Minster | |
| | | |
| Regiment | 2nd Battalion, Hampshire Regiment | |
| Number | 15254 | |
| | | |
| Date of Death | 6th August 1915 | |
| Place of Death | Gallipoli | |
| Cause of Death | Killed in Action | |
| | | |
| Age | 20 | |
| | | |
| Memorial | Helles Memorial, Turkey and St. Barnabus Church, Ranmore. | |