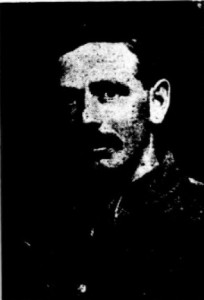 Thank you to Jane Anthony for this research.
Private Percy Bridger was born in 1887, one of nine children born to Edwin and Sarah Bridger. Edwin was born in Forest Green and Sarah in Billingshurst. The family lived at King Georges Hill, Wotton. All the children were born in Abinger. In 1911 Edwin was working as a farm labourer, possibly at Lemon's Farm, as was his son Percy.
Of the nine children, five were girls and six were boys. The girls worked as maids and the boys in manual labour. The eldest son, Edwin did not fight in the war, as he was born in 1878,  he was possibly too old for active service. The second son Alfred James had married and was living in Holmbury St Mary. Alfred was killed in action aged 39 in 1917. The other brothers William Ernest, Arthur and Albert Henry all fought in the war; like Alfred James they served in the Queens Own Royal West Surrey Regiment.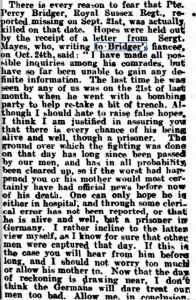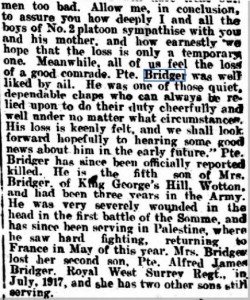 Percy was the fifth of the six brothers and unlike them he served in the Queens Royal West Sussex Regiment( G/18055). He died aged 30 on 21st September 1918 and left £26 and a war grant to Sarah, presumably his mother. He was buried at Hargicourt Communal Cemetery Extension.
| | | |
| --- | --- | --- |
| Born | | Abinger, Surrey |
| Lived | | Wotton, Surrey |
| | | |
| Son of | | Edwin and Sarah Bridger of King George's Hill, Wotton |
| Brother of | | Alfred James Bridger |
| | | |
| Regiment | | 16th Battalion. Royal Sussex Regiment |
| Number | | G/18055 |
| | | |
| Date of Death | | 21st September 1918 |
| Place of Death | | France |
| Cause of Death | | Killed in action |
| | | |
| Age | | 30 |
| | | |
| Cemetery | | Hargicourt Communal Cemetery Extension, Aisne, France |