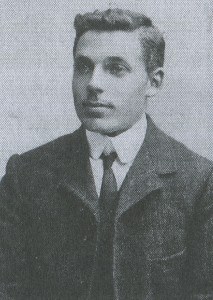 Thank you to John Callcut for letting us reproduce the following information, taken from his book: A Village at War. Newdigate in World War One.
Percy Weller was born in Newdigate in 1883. He was only eight when his father died and twenty-three at the time of his step-father's death. He started his working life as a brickmaker but later worked as a gardener, and lived with his mother at Clerk's Cottages (now Church Cottages). In 1913 he married Nellie Steere and moved to 4 Prospect Cottages in Dunsfold, where they had two children.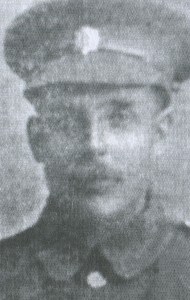 He enlisted in 1916 and joined the Army Service Corps. These were the unsung heroes who had to maintain the supply chain for the army. His company embarked on the SS Runic II from Devonport on the 25th September 1916 and arrived in Bombay via the Suez Canal, on the 30th October having made calls at Valletta and Alexandria. Places which he would only have dreamt about when he was a boy, certainly miles away from the leafy lanes of Newdigate. They then boarded the SS Barletta and sailed to Basra, arriving on the 6th November.
In December, the supported the 13th Division at Sheik Sa'ad and reported that the road was very bad and that they had to abandon a van with a broken axle at No. 5 post. By 10th March 1917 they had moved to Baghdad and the city was captured the next day, but the war diaries finish then. Percy Weller died from heatstroke on the 22nd July 1917.
Gertrude Bell, a liaison officer to the Arab Bureau, who also knew T.E. Lawrence (Lawrence of Arabia who at this time was orchestrating the Arab Revolt against the Turks), wrote to her father on the 20th July. In temperatures not below 116 deg. F and dripping with sweat she wrote: 'Yesterday I visited one of the big hospitals and went to the ward where they treat the acute heatstroke cases, men with temperatures of 109-110 degrees – the latter don't often live. People here say they haven't had such a burst of heat since 1882.' She later wrote 'It has caused as many casualties as a battle. In the middle of the fiercest heat an attack on a small Turkish position on the Euphrates was ordered. It resulted in 60 casualties inflicted by the enemy, 450 by the sun and a retreat to our starting point. No troop could stand such heat – why call on them to try?'
So Mary was left alone at her home in Clerk's Cottage an in just over a year's time another telegram was destined to be delivered to her door with the news of the death of another son Ernest. Two days after Percy's death his Commanding Officer, Major John N.G. Gibbons (later Lt. Col. who was awarded the MC), OC. 783 M.T. (Mechanised Transport) Company, A.S.C Mesopotania Expeditionary Force wrote to his widow, Nellie –
'Dear Madame,
With deep regret I have to tell you that your Husband M2/202311 Pte. Weller P.F. died from heatstroke on July 22/ 1917.
Your husband joined my company on formation at Bulford and from the start showed me that he meant to serve his King and Country to the best of his ability in that branch of the service to which he was called.
Although not in the firing line his work was just as important and he carried out his duties like a man.
I share with you, your great loss.'
Private Weller is buried at the Baghdad (North Gate) War Cemetery which is situated in a very sensitive area of the Waziriah Area of the Al-Russafa district. In 2006 the New York Times reported that the grass in some places reached up to the chest and the chiselled faces of some of the tombstones are too worn to read. He is also remembered on the Dunsfold War Memorial and on the grave of his wife at Dunsfold. He never saw his daughter, Joan.
| | | |
| --- | --- | --- |
| Born | Newdigate, Surrey | |
| Lived | Dunsfold, Surrey | |
| | | |
| Husband of | Nellie Steere of 4, Prospect Cottages, Dunsfold, Surrey | |
| | | |
| Regiment | 783rd Motor Transport Company, Army Service Corps | |
| Number | M2/202311 | |
| | | |
| Date of Death | 22nd June 1917 | |
| Place of Death | Baghdad, Iraq | |
| Cause of Death | Died of heatstroke | |
| | | |
| Age | 34 | |
| | | |
| Cemetery | Baghdad (North Gate), Iraq | |