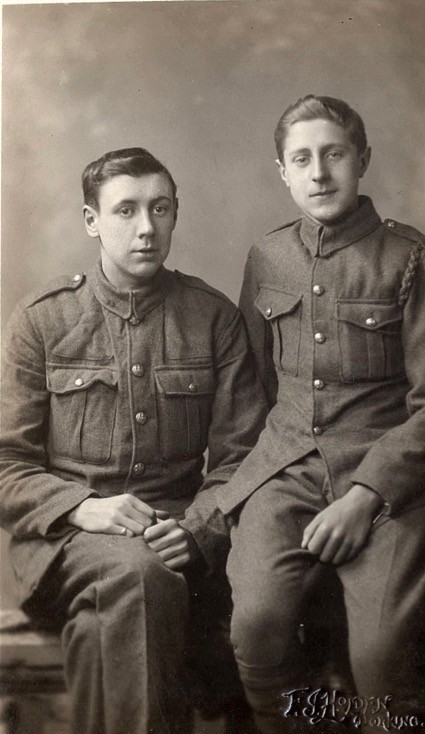 Thank you to Patricia Brazier for the following research. Thank you to Brian Buss for extra family information and photographs.
Percy was born on 8th June 1896 and baptised at the parish church of Willian in Hertfordshire on August 2nd 1896. His parents are Tom, a Horsekeeper and Mary (nee Watson). Their address is Camden Town, London. His mother Mary was born in Willian.
In the 1901 census, Percy's family are living in Delaney Street, St Pancras. Tom, his father is a groom in a horse dealer's yard. Percy has a sister Alice Muriel aged 3 and a brother Dudley George aged 8 months. They were both baptised in Camden.
Percy; his father and Alice Muriel cannot be found in the 1911 census. His mother Mary is the Licensee of the Three Horseshoes in Willian, Hertfordshire. His brother Dudley and a sister, Marjorie Eliza Jane aged 3 are living with her.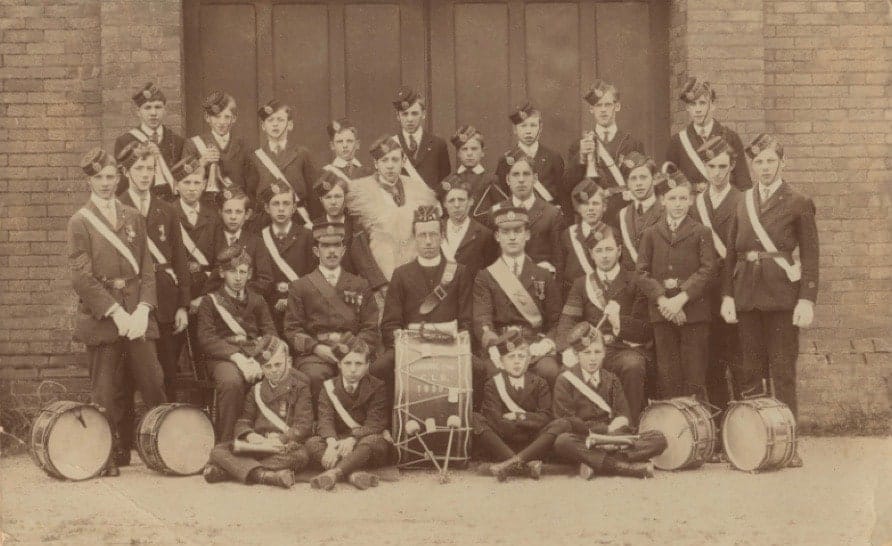 Percy's father suffered from ill health and decided that a move to Dorking would be beneficial. He had been a Hansom Cab driver in London. Whilst living in Dorking he drove the ambulance to the Isolation Hospital in Logmore Lane in Westcott. Percy was employed by Mr Butcher, who was a Baker and confectioner in West Street. He also joined the Church Lads Brigade Cadets, where he was a Bass Drummer and Bugler.
He joined the Royal West Surrey Regiment on the 25th May 1915, aged 19 and arrived in France the following October. He was wounded at the Battle of the Somme and returned to England where he spent five weeks in St. Thomas' Hospital, London. He then spent two months at Summerdown Military Convalescent and Rehabilitation Hospital in Eastbourne. This rehabilitation hospital was one of the largest in the United Kingdom, taking causalities from all allied nations. Patients were nicknamed "Blue Boys" because of the uniform they wore. He then returned to duty and transferred to 14th Battalion of the Suffolk Regiment and was stationed at Sheringham.
Percy died on 24 January 1918 at 1st Eastern Hospital Cambridge after a second operation for Appendicitis. He also contracted Influenza, which was very prevalent at the time. He is buried in Dorking Cemetery. 24 Cadets of the Church Lads Brigade acted as escort at his funeral and Corporal Jee and Lance Corporal Rapley sounded the Last Post.
Percy's father Tom died in 1920 and is also buried in Dorking Cemetery. His sister Marjorie married William Arthur Newson in Dorking on December 7th 1929, His brother Dudley married Maude E Harwood also in 1929 and his sister Alice Muriel married Thomas Buss in 1921.
| | | |
| --- | --- | --- |
| Born | | Willian, Hertfordshire |
| Lived | | Dorking, Surrey |
| | | |
| Son of | | Tom and Mary (nee Watson) Bonfield |
| | | |
| Regiment | | 14th Battalion. Suffolk Regiment |
| Number | | 37724 |
| | | |
| Former Regiment | | 4000. The Queen's Royal West Surrey Regiment |
| | | |
| Date of Death | | 24th January 1918 |
| Place of Death | | Eastern Hospital, Cambridge |
| Cause of Death | | Died of appendicitis and influenza |
| | | |
| Age | | 21 |
| | | |
| Cemetery | | Dorking, Cemetery, Dorking |