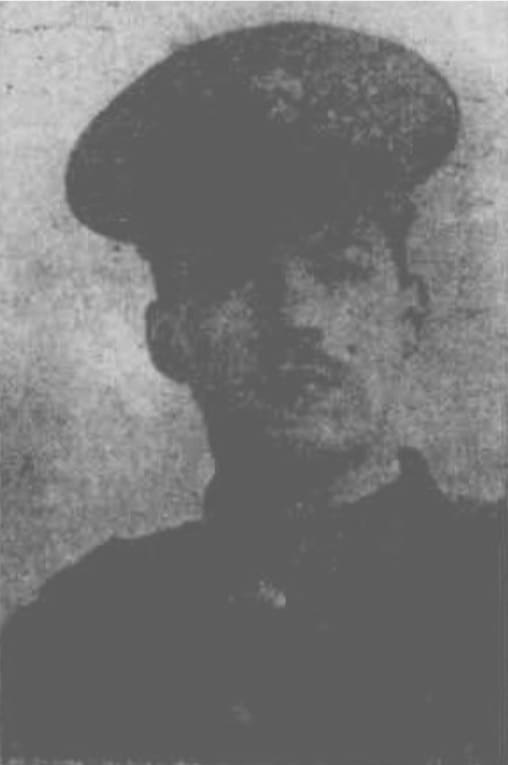 Thank you to Karen Wilson from Betchworth Village Archives for allowing us to publish her research.
Robert Thomas Davies was born in Overton, Huntingdonshire and came to Betchworth in 1902. His family lived at The Stables, Summerhayes, Station Road where his father was a coachman. Prior to that the family had lived in Northamptonshire and it would seem that their stay in Betchworth was perhaps the longest that they had remained in one place. His father, also Robert, had been born in Denbighshire and his mother, Ann, in Cornwall. Ann and Robert
Davies had four children, but by the time they came to Betchworth, only Robert and his younger sister Evelyn were living.
Robert entered Betchworth school on May 5th 1902 and left on June 1st 1906 to become a worker. While he was at school he earnt a 4s prize for 100% attendance for the whole of 1905. He was also a choirboy at St. Michael's church. By 1911 Robert was a House Boy, possibly at Summerhayes.
In November 1915, Ann Bishop Davies died aged 46; the funeral service was held on November 22nd at St. Michael's. On December 4th 1915 Robert Thomas enlisted in London in the Grenadier Guards. He served in the 4th Battalion and was sent to France in August 1916. By October 1916 he was fighting on the Somme battlefields.
On October 22nd, aged 24, he died of wounds. The following extract from the Dorking and Leatherhead Advertiser of September 4th 1916 gives the sad details:


DEATH OF A BETCHWORTH GRENADIER
On Thursday in last week Mr Davies, of Summerhayes, received officially the intelligence that his only son, Pte. Robert Thomas Davies, 4th Batt. Grenadier Guards, had died of wounds on the previous Sunday, Oct. 22nd. In a letter to his father, dated Oct. 21st, and received on the 24th, Pte. Davies stated he was quite well; he must, there- fore, have been wounded and died within a few hours of writing his last message. The death took place in the 1st South African Hospital at Abbeville. Pte. Davies, who was in his 25th year, enlisted on Dec. 4th, 1915, and proceeded to France in August of the present year. He was a young man of great promise, and his early death is deeply mourned, not only by his sorrowing father and sister and other relatives, but also by a large circle of friends with whom he was a universal favourite. As a boy he was a member of St. Michael's Church Choir, and a memorial service was held on Sunday afternoon. It was conducted by the Vicar of Betchworth, the Rev T. G. Longley, M.A., who gave a most touching address after a second hymn.'
Robert Thomas Davies is buried in the Abbeville Communal Cemetery Extension. The communal cemetery was used for burials from November 1914 to September 1916 and the extension was begun in September 1916.
His father Robert and his sister Evelyn chose to have the following inscription put on his headstone: 'Gone From Our Home But Not Our Hearts But Lord It Was Thy Will. Dad And Evie'
Robert Davies Death Notice 4th November 1916 © Dorking Advertiser findmypast.co.uk
| | | |
| --- | --- | --- |
| Born | Overton, Hunts | |
| Lived | Betchworth, Surrey | |
| | | |
| Son of | Robert and the late Annie Davis of Pont Garrig, Llandymog, Denbigh | |
| | | |
| Enlisted | London | |
| | | |
| Regiment | 4th Battalion, The Grenadier Guards | |
| Number | 24979 | |
| | | |
| Date of Death | 22nd October 1916 | |
| Place of Death | The Somme, France | |
| Cause of Death | Died of Wounds | |
| | | |
| Age | 24 | |
| | | |
| Memorial | Abbeville Communal Cemetery Extension, France | |