Thank you to Lenka Cathersides for this research.
Ronald Frederick Kenneth Salmond was born in the 2nd quarter of 1894 in Marylebone, London into a family of professional musicians.
He was baptised on the 25th of July 1894 in St Mark's at St Marylebone.  At the time of Ronald's baptism the family lived at 67 Hamilton Terrace, St Marylebone, London.
His father David Norman Salmond, born about 1856 in Bradford, Yorkshire, was a baritone; and his mother Adelaide Salmond nee Manzocchi was born about 1857 in New York, USA. She was an Italian national, a pianist, who had studied with the famous German pianist Clara Schumann, wife of the great German composer Robert Schumann.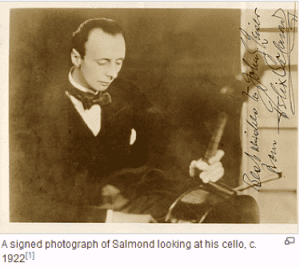 Ronald's older brother Felix Adrian Norman Salmond was born on the 19th of November 1888 in Mayfair, Middlesex and became a famous English cellist with success in the UK and USA.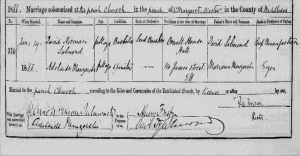 Ronald's parents got married by licence on the 19th of January 1888 in St Margaret's, Westminster.
Ronald had three siblings: Felix Adrian Norman Salmond; Dorothy Salmond born about 1890 in Mayfair and Christine Salmond born about 1891 in St John's Wood at Middlesex.
At the time of the 1891 Census, the family resided at 67 Hamilton Terrace, St Marylebone, London. Adelaide, her husband David Norman and three children Felix, Dorothy and Christine were cared for by three servants.
During the 1901 Census, Ronald and his parents were staying at a hotel run by Simon Harwath at 26 Portman Street, St Marylebone, London. His father's occupation is stated as stock broker.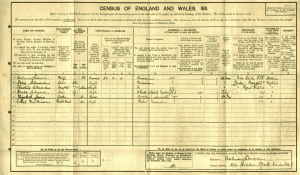 At the time of the 1911 Census Ronald lived with his family at 246 Portsdown Road (later Randolph Road), Maida Vale, Westminster, Paddington in London. His mother Adelaide and brother Felix are stated to be musicians and Ronald was working as a clerk on the stock exchange. The house had 10 rooms, a cook and a parlour maid.
Ronald joined 1/14th Reserve Battalion the County of London Regiment (London Scottish).
The Battalion was rather unusual: to join, a future soldier had to pay a joining fee which was used for regimental funds. Before 1914 the fee was £10, to ensure that the men were from the middle class. Thanks to the fees the regiment was one of the best equipped. The London Scottish was the first Reserve Battalion to see action on the Western Front. In September 1914 they fought at Messiness.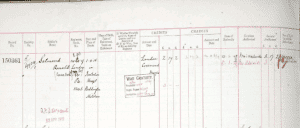 Ronald was a private with a regimental number 3246. At the time of death Ronald's permanent residence was still Maide Vale, and prior to his illness Ronald was billeted in Lincoln Road at Dorking.
He died on the 1st of February 1915 from an infectious disease in the Isolation Hospital at Beddington, Mitcham. Health Report of 1915 of the Urban District Council of Coulsdon & Purley reads that in the 1st quarter of 1915 the Beddington Hospital, which served several Surrey parishes, had two casualties from Mitcham. Ronald died from diphtheria (the other Mitcham patient casualty died of puerperal fever, which could only be a female patient).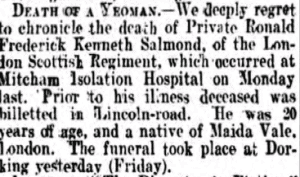 He was buried on the 5th of February 1915 in Dorking Municipal Cemetery. His grave reference number is 19.10056.
Ronald's mother Adelaide received soldiers' effects of £2, 17s, 2d on the 18th of June 1918 and further £3 on the 8th of January 1920.
Ronald was 20 years old.
Born                            Marylebone, London
Lived                           Maida Vale, London
Son of                         Daniel Norman Salmond and Adelaide (nee Manzocchi) Salmond
Brother of                    Felix Adrian Norman (1888), Dorothy (1890) and Christine (1891)
Regiment                     1st Reserve Battalion, London Scottish
Number                       3246
Date of Death              1st February 1915
Place of Death             Mitcham, Surrey
Cause of Death           Died of diphtheria
Age                              20
Cemetery                    Dorking Cemetery
Thank you to