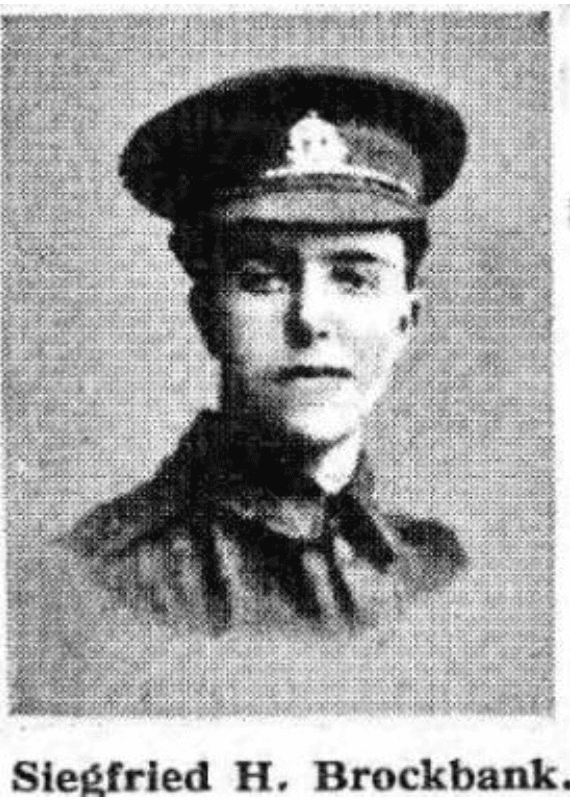 Thank you to Janet Mata for this research.
Siegfried Brockbank was the son of James Harrison Brockbank and Nettie Brockbank (nee Carpenter) and he had a younger sister, Iseult, born in 1897.
He was born in Highgate, Middlesex and the 1901 census showed a 6 year old Siegfried living in Hammersmith with both parents and Iseult, together with a housekeeper (Florence Matthias aged 49) and a visitor (Lucy Matthias aged 15 and presumably the housekeeper's daughter).
Siegfried Brockbank attended Westminster Cathedral Choir School until 1908 when he went to St Edmunds College in Ware, Hertfordshire as a "church student". (Other notable names to have attended this RC College include Irish Rugby Union player, Simon Geoghegan, footwear designer William Scholl and anti-war campaigner Bruce Kent). However, Siegfried Brockbank, although being of "more than average ability", decided that a life in the church was not for him and he returned to the Westminster Choir School for another year.
His working life began in 1910 in the civil service as a "boy clerk" in the Scottish Office. The 1911 census reveals a 16 year old Siegfried lodging with his mother at an address in Barnes, Surrey.
After 18 months as a civil servant Siegfried Brockbank joined a London Bank and then subsequently worked at the Dorking Branch of the Joint Stock Bank (a forerunner of HSBC/Midland Bank) where he was apparently "going well" when the war broke out. The bank itself had opened in Dorking in 1839.
During his time in the civil service Siegfried Brockbank had joined the Civil Service Cadet Corps where he was a Colour Sergeant.
He enlisted in the 7th Middlesex Territorials in Willesden on 19 August 1914. As a former civil service cadet he did not need to undergo initial training and was sent to Gibraltar on 2 September 1914 where he spent 6 months. After that time he returned to London for a short time before being sent to France on 12 March 1915.
The text of a letter home (attached as De Ruvigny page 1 and 2), dated 27 May 1915, is a graphic illustration of life in the trenches – the small advances, the retreats, the shellfire, the casualties. He also reveals that he is undergoing some secret training, apparently in grenade throwing.
Siegfried's conduct was not exemplary. His records reveal that the day after he wrote to his mother, on 28 May 1915, Siegfried was punished for "(1) refusing to obey an order (2) using obscene language to a NCO" for which he was "awarded 10 days No II Field Punishment".
Sadly Siegfried never completed his punishment as just a week later, on 5 June 1915, he was killed by German shellfire, dying of his wounds without regaining consciousness.
His captain, writing to his mother, said:
"He was always bright and cheerful and a thoroughly good soldier, and was liked and respected by officers and men alike. His Company put a small wooden cross on his grave with IHS upon it, which they took from a ruined church nearby, knowing he was a Catholic."
He is buried in Fauqissart Military Cemetery in Lavantie, near Armentieres, France.
The words chosen by his mother which appear on his headstone in are: "He fought the good fight. He finished his course. He kept the faith"
He received the Victory, British and Star medals which his mother applied for on 2 March 1919.
Siegfried Brockbank's name is also recorded on war memorials in St Helens, Lancashire (where his father was born) and on the Joint City & Midland Bank WW1 Memorial in London at Canary Wharf.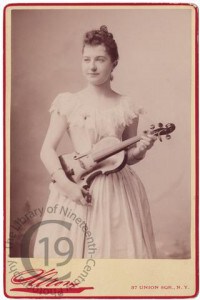 His mother, Nettie Carpenter, was a virtuoso violinist born in New York, who performed as "Madame Nettie Carpenter". She was known to the artist James McNeill Whistler who describes her in correspondence to members of his family as "the brazen Nettie" and "that shocking little person". He refused to see her when she called on him in Paris in 1895 (the year that Siegfried Brockbank was born). Nettie was divorced from her first husband, Leo Stern, and Siegfried's father is cited in the divorce proceedings. Siegfried's father was also a musician, a baritone singer.
The 1911 census, as mentioned above, reveals Siegfried Brockbank to be staying with his mother only at Barnes. There is no mention of his father or his younger sister, Iseult, at that address.
Further research revealed Siegfried Brockbank's parents separated in 1904 with Mrs Brockbank having custody of the two children and being awarded £2 a week alimony.
Correspondence between the Army and Siegfried's mother after his death show that she continued to move around – in a short space of time she had two correspondence addresses in Dorking (37 Vincents Road, and 15 Horsham Road), one at a club in London and another in Sanderstead.
| | | |
| --- | --- | --- |
| Born | | Highgate, London |
| | | |
| Son of | | James Harrison and Nettie Brockbank of Hillside Convent, Farnborough, Hants |
| | | |
| Regiment | | 1st/7th Battalion. The Middlesex Regiment |
| Number | | 2559 |
| | | |
| Date of Death | | 5th June 1915 |
| Place of Death | | France |
| Cause of Death | | Killed in action |
| | | |
| Age | | 20 |
| | | |
| Cemetery | | Fauquissart Military Cemetery, Laventie, Pas de Calais |