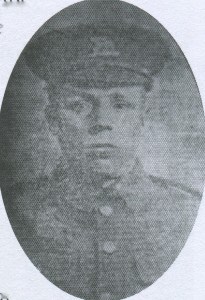 Thank you to John Callcut for letting us reproduce the following information, taken from his book: A Village at War. Newdigate in World War One.
Stephen Harber was born in Banstead in 1887, the son of Charles Henry and Ada Harber. Charles worked on maintaining roads, and he and his wife had eight children. They moved from Banstead to Walton-on-Thames and then to Holmwood before settling in Newdigate in 1911. Stephen was a member of the Newdigate Rifle Club. Before the war he was in the Territorials and was known to be a good shot. During the war family lived first at Myrtle Cottage and then at The Mascot which had more land.
Trones Wood was deemed to be tactically vital if the Somme was to be successful since, all the while it was in German hands, the main attack northward would be seriously delayed. The orders for the 7th Queen's were to attack the wood from a point on the railway to its north extremity, and to occupy and clear it, consolidating the eastern edge. The Battalion front of attack was 730 yards and Private Stephen Harber and his comrades moved off at 5.30am on the morning of 14th July 1916. It became clear that the bombardment of Trones Wood had been insufficient to neutralise the enemy. When the artillery barrage was lifted the Battalion was immediately met with heavy machine-gun fire from the west and by a heavy barrage of artillery. The first two lines suffered very heavy casualties in impossible conditions, and it was here that Private Harber fell. His body was not recovered. He is remembered on the Thiepval Memorial. Two days later his cousin, Lance Corporal Bertie Charlwood, G/2016, was also killed whilst serving in the same regiment.
| | | |
| --- | --- | --- |
| Born | Banstead, Surrey | |
| Lived | Newdigate, Surrey | |
| | | |
| Son of | Charles and Ada Harber of Newdigate | |
| | | |
| Regiment | 7th Battalion, The Queen's Royal West Surrey Regiment | |
| Number | G/440 | |
| | | |
| | | |
| Date of Death | 14th July 1916 | |
| Place of Death | Somme, France | |
| Cause of Death | Killed in Action | |
| | | |
| Age | 29 | |
| | | |
| Memorial | Thiepval Memorial, Somme, France | |