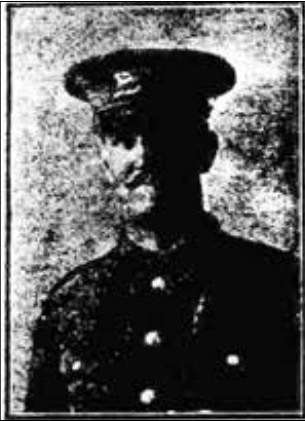 Thank you to Mickleham and Westhumble Local History Group for allowing Dorking Museum to publish their research. Thank you to Jane Anthony from Dorking Museum for additional research.
Sydney Davis Bruford was born in 1890, and baptised on 21st September 1890 in Mickleham. The son of Charles Bruford of Somerset (1851-1923) and Dinah Davis (1857-1938), who were married in Greenwich in 1879.
Sydney came from a large family.
(Isaac) John (1879-1948)
Harry Charles (1881-1942)
William Edwin (1882-1920)
Charles Ernest (1884-1944)
George (1886-1951)
Ethel Zillah (1888-1957)
Dorothy Annie (1892-1961)
Alice May (1895-1914)
Wilfred Frank (1896-1962)
Carmilla Ellen (1898-1906)
Agnes Victoria Grace (1901-1991)
The family lived at Fernbank Cottages, Bittern (Byttom) Hill, Mickleham, next door to the William IV pub. The house was not just lived in by this family, but was also occupied by the David family, albeit as a separate household. The head of the household Charles was a gardener.
The children excelled at school and won prizes for attendance – the brothers attended Evening School which was voluntary.
George and Wilfred worked at Swanworth Stud Farm, Swanworth Lane, Mickleham, owned by Leopold Salomons of Norbury Park. Salomons was famous for his shire horses – bred at this stud farm. Wilfred was a bugler, who played the Last Post at the dedication of Mickleham War Memorial in 1920.
In 1911 Sydney was working as a footman to Lord Robson at 26 Eaton Square Belgravia.
He enlisted in the 6th Battalion Queens Own Royal Regiment at Guildford and was sent to France in June 1915. The 6th Battalion of The Queen's (Royal West Surrey) Regiment was a service battalion formed at Guildford in August 1914. In May 1915 it was mobilised for war and landed at Boulogne. At the beginning of October 1916 the battalion was at a shelter camp near Albert in the département of the Somme, close to the Allied Front Line, moving into the front line trenches in Guedecourt on 3rd October. During the following two days the front line was shelled intermittently by the Germans, resulting in numerous casualties. Sydney Bruford was one of three men from his battalion killed on 5th October.

According to Sydney's obituary in the Dorking Advertiser he was the first Mickleham man to join up and also the first one to be killed in the service of his country. The newspaper also noted that all seven of the Bruford brothers were in the Forces. Sydney's friend Private G Clabon of the Queen's said that Sydney, who was a great favourite with the men, had been hit by a shell and died about half an hour later. He was buried just outside a small village near the front line.
Private Sydney Bruford is commemorated on the Thiepval memorial, which commemorates 72,000 officers and men who died between July and November 1916. Grave reference/panel number: Pier and Face 5D and 6D
The January 1924 Mickleham Parish Magazine included this obituary for Sydney's father, Charles Bruford: 'Our village lost a much respected member when he passed to his rest, after a short illness, on December 9th. For forty-seven years he had lived here and worked always at Mickleham Downs. His cheery happy ways and the happiness of a united and large family circle, proved the goodness of his heart. He was also a regular attendant at our Church till the last. No wonder there was a large attendance at his funeral. Mrs. Bruford and her family desire to thank those friends who sent flowers and messages of sympathy on the occasion of their bereavement.'
| | | |
| --- | --- | --- |
| Born | | Mickleham |
| | | |
| Son of | | Charles and Dinah (nee Davis) Bruford |
| | | |
| Regiment | | 6th Battalion. The Queen's Royal West Surrey Regiment |
| Number | | G/107 |
| | | |
| Date of Death | | 5th October 1916 |
| Place of Death | | Somme, France |
| Cause of Death | | Killed in action |
| | | |
| Age | | 25 |
| | | |
| Memorial | | Thiepval Memorial, Somme, France |
Dorking Museum is very grateful to the following members of Mickleham and Westhumble Local History Society for allowing the Museum to publish their research on the WW1 project; Paul Brown; Roger Davis; Caroline Freuler; Judy Kinloch; Judith Long; Phil Randles; Veronica Randles; Sue Tatham and Fiona Taylor. Thank you also to Ben Tatham and Andrew Tatham.