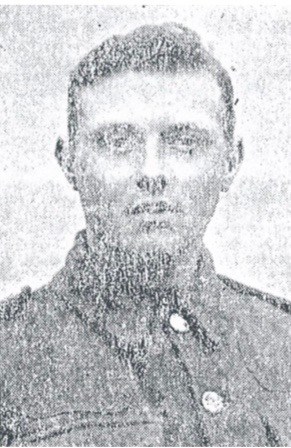 Thank you to Karen Wilson from Betchworth Village Archives for allowing us to publish her research.
Sydney Upfold was the third son of Harry Upfold and his first wife Charlotte Dora. He was born in Worplesdon on January 14th 1892, where Harry was serving a police constable. After Charlotte died and Harry had remarried, the family came to live in Betchworth in 1903, where Harry continued to serve as a police constable until his retirement in 1908.
Sydney attended Betchworth school for two and a half years before leaving in 1906 to start work as an under gardener at Trumpets Hill. He then went to Warlingham to work as a gardener. In April 1915, Sydney enlisted at Woldingham in the Middlesex Regiment, 16th Battalion at the age of 23. On enlistment he was 5' 8" tall, had a chest measurement of 36" and weighed 11 stone 2lbs.
On November 17th 1915, he was sent to France and less than three months later the news came that he had died of gunshot wounds to his chest and thigh on February 2nd 1916. He had served for a total of 301 days. The Surrey Mirror and Advertiser published an account which included details of his last hours: 'On the night of February 1st Lce.- Corpl. Upfold, who was only 24 years of age, was brought in to the base hospital most dangerously wounded. An operation was performed next day, but he died during the night, but not before he had acquainted the chaplain with his father's name and address.
He was buried with military honours in the adjacent cemetery. His last postcard home was dated January 31st, and thus had been written only a few hours before he received his fatal wounds. He was a young man full of life [and] a good sportsman.'
The account went on to describe the memorial service which was held at St. Michael's on November 25th and the choir, which Sydney had been a member of for five years when he was younger, was described as singing with 'deep feeling'.
Sydney Upfold was buried in Chocques Military Cemetery, near Bethune. It was a cemetery used by No 1 Clearing Station for the burial of those men who had died of wounds received at the Bethune front. His name is also on the Haslemere war memorial. Less than two years later the Upfold family would be mourning the loss of Sydney's younger brother, Frank, who died on March 26th 1918.

Sydney was awarded posthumously the three standard war medals: the British War Medal, the Victory Medal and the 1914-1915 Star Medal. His father received the last one in 1921 exactly five years after Sydney's death.
| | | |
| --- | --- | --- |
| Born | Worplesdon, Surrey | |
| Lived | Betchworth, Surrey | |
| | | |
| Son of | Harry and Charlotte Upfold of 4, Fieldway, Haslemere, Surrey | |
| Brother of | Frank Page Upfold | |
| | | |
| Regiment | 16th Battalion, Middlesex Regiment | |
| Number | 1857 | |
| | | |
| Date of Death | 2nd February 2016 | |
| Place of Death | France | |
| Cause of Death | Died of gunshot wounds | |
| | | |
| Age | 24 | |
| | | |
| Memorial | Chocques Military Cemetery, France | |