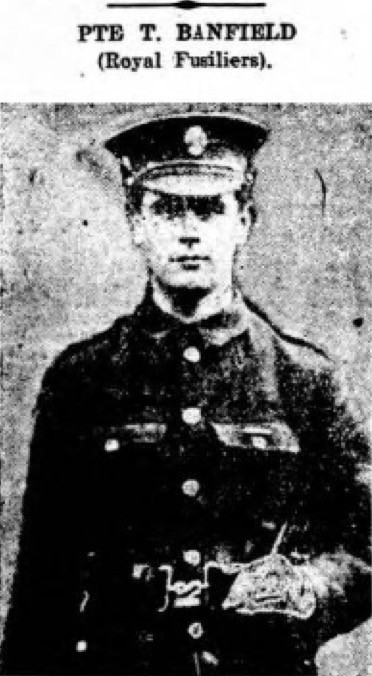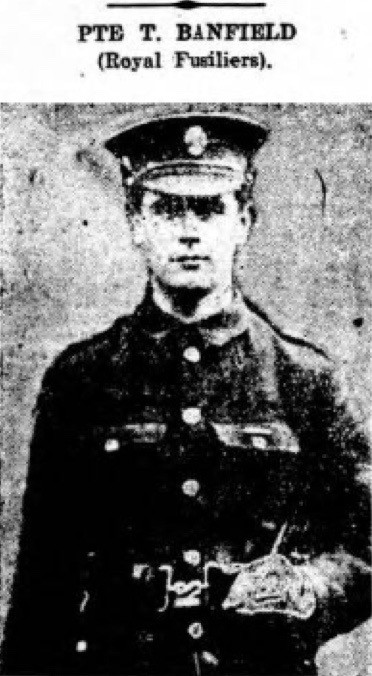 Thank you to the Friends of St. Margaret for allowing us to reproduce their research. Thank you to Lenka Cathersides for the additional research.
For further family information on Thomas Banfield, see Percy Banfield.
Thomas Sidney Banfield was born in the 2nd quarter of 1897 in Capel, Surrey to agricultural labourer George and Ellen (nee Rogers).
Thomas had seven siblings: Nelly, born about 1886 in Henfield, Sussex; Alice Ursula born about 1888; and George born about 1890, both in Horsham, Sussex; Ernest born about 1894 and Kate Elizabeth born about 1896, both in Capel; Percy born 1st quarter of 1899 and Elsie May born about 1903, both in Ockley, Surrey.
At the time of the 1901 Census, the family lived at Holdbrooks, Ockley. George was working as a stockman on a farm and Ellen was at home looking after their children: Alice Ursula, George, Ernest, Kate Elizabeth, Thomas Sidney and Percy.
At the time of the 1911 Census, the family lived at Capel House, Capel. George was working as a carter on a farm and Ellen was at home. The household further comprised of their children: farm labourers George and Ernest, Alice, Kate, Thomas, Percy and Elsie. Ellen stated that she had given birth to eight children of whom all were alive. The accommodation had 4 rooms.
In January 1915, Thomas Banfield enlisted in the Royal Fusiliers at Horsham along other Ockley friends and was placed in the same platoon as Philip Leppard. Thomas was a Private with regimental number K/1292. At the time of his enlistment he lived in Ockley and worked with his father George on the Jayes Park Estate.
They were sent to France in November 1915 and spent the winter in the trenches on the Western Front. In July 1916 their battalion was moved to the Somme sector and took part in the action on Delville Wood. Thomas Banfield was killed on 4th August, the day the battalion was withdrawn from the area after suffering appalling casualties. His friend Philip Leppard had been killed the previous week.
At the time of his death Pte Banfield was part of 'C' Company, 22nd Battalion, the Royal Fusiliers (London Regiment).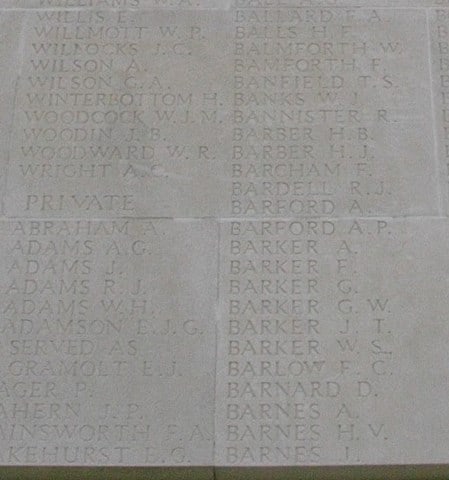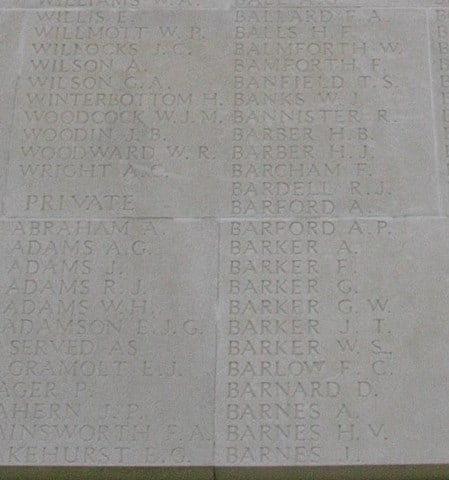 Thomas Banfield was killed in action on 4th August 1916 in France. He is commemorated on the Thiepval Memorial, Somme. His memorial reference number is: Pier and Face 8C 9A and 16A. Thomas is also commemorated on the St Margaret's WW1 tablet in Ockley.
He was only nineteen years old.
He received the British War Medal, Victory Medal and the 1914-1915 Star.
His father George received £5, 2s and 5d on the 3rd of August 1917 and a further £6 and 10d on the 18th of October 1919 in Soldier's Effects.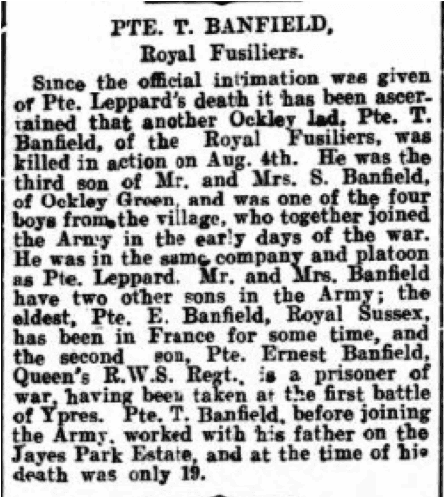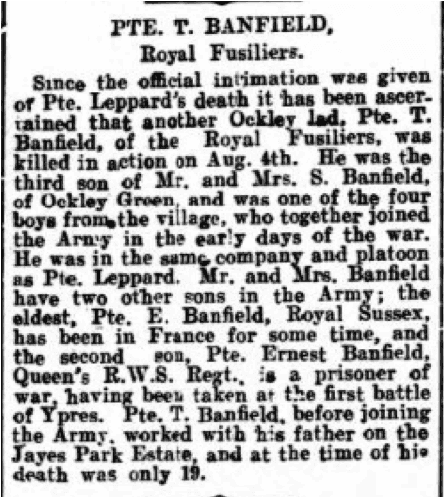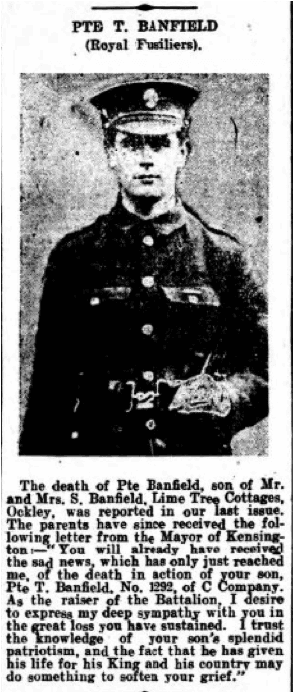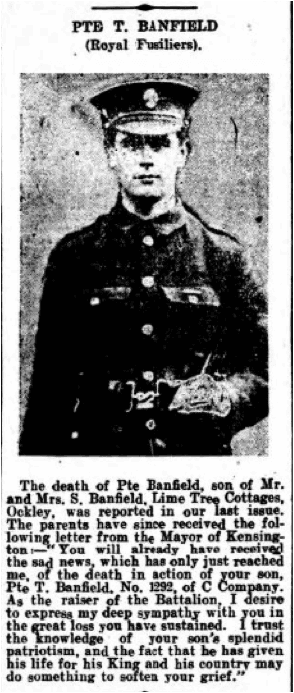 | | | |
| --- | --- | --- |
| Born | | Ockley, Surrey |
| Lived | | Ockley, Surrey |
| | | |
| Son of | | George and Ellen Banfield |
| Brother of | | Percy Banfield |
| | | |
| Regiment | | 22nd Battalion. City of London Regiment. Royal Fusiliers |
| Number | | 1292 |
| | | |
| Date of Death | | 4th August 1916 |
| Place of Death | | Delville Wood, Somme, France |
| Cause of Death | | Killed in action |
| | | |
| Age | | 19 |
| | | |
| Cemetery | | Thiepval Memorial, Pier and Face 8C, 9A and 16A |