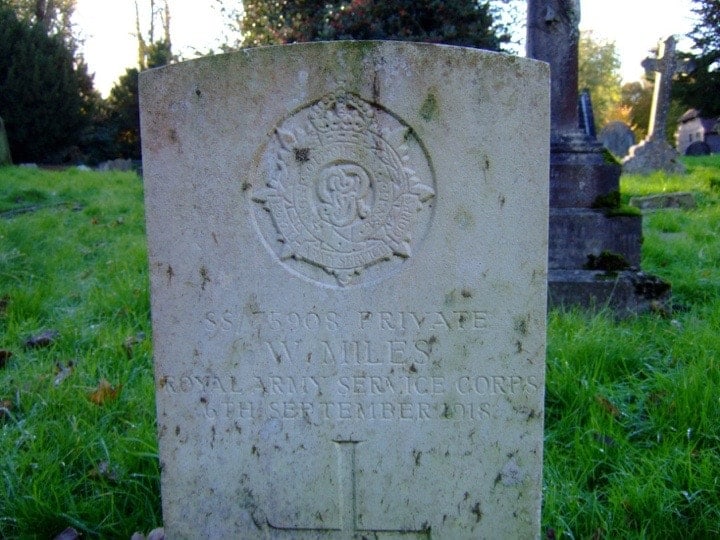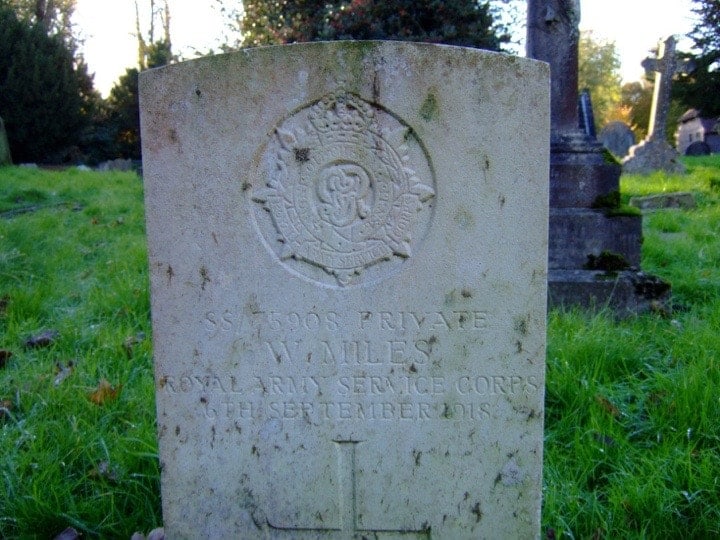 Thank you to Karen Wilson from Betchworth Village Archives for allowing us to publish her research.
Walter Miles was born in Brockham on 25th February 1874. He was the second child and only son of Caleb and Mary Miles. Caleb and Mary (nee Wicks), had married in St. Michael's church in 1871 but Mary died nine years later in 1880 aged 37, and was buried in St. Michael's churchyard. She left behind Walter and his three sisters, Alice, Fanny and Mary, who was not yet one. By the following year, 1881, when Walter was seven, Elizabeth Wicks (Mary's sister) and her four year old son Frederick were living with Caleb and his four children in Gadbrook Lane (now known as Wellhouse Lane). Elizabeth is described on the 1881 census as a servant and was almost certainly there to help with the motherless children.
The 1891 census shows that Elizabeth and Frederick Wicks were now living with her widower father William Wicks. 14 year old Frederick was a farm labourer at the time. However, Caleb and his children were still living in Gadbrook Lane; Alice was a domestic servant and 14 year old Walter was, like his father and cousin Frederick, a farm labourer.
In 1901 Walter and Caleb were lodging with Alfred Sargent and his housekeeper daughter Charlotte at Jubilee Cottages in Brockham. Caleb was still a labourer, but Walter was now a bricklayer. By this time Walter's sister Alice had married Albert Huggett and had four children; they were living in Felton's cottage in Gadbrook Road with together with Alice and Walter's younger sister, Fanny.
By 1911 Caleb was in poor health and he was a patient in Redhill General Hospital. In the same year the 37 year old Walter was now living and working at Snowerhill Farm as a cowman. He was working for Tom Arminson and had done so for some years. He subsequently went on to work for Andrew Reid of Brockhamhurst Farm before being enlisted into the Army in August 1915. At the time of his enlistment he was living at Springfield Cottage and describes himself as a labourer; Caleb, now living in Church Street, Betchworth, is given as his next of kin. In 1917 Caleb died in Redhill Hospital and was buried in St. Michael's churchyard, 37 years after his young wife Mary. Alice Huggett, Walter's sister, subsequently became Walter's next of kin.
Walter was 42 when he joined up, was 5' 5" and weighed 8½ stone. He was appointed to the Army Service Corps (also known as the Labour Corps) and was sent to France in September 1915. He served until 1918 and appears to have had only four periods of leave during that time. On 24th August 1918 he was admitted to a base hospital in France and was then sent to the General Hospital at Calais on 27th August. On 29th August he was transferred to England with the diagnosis of nephritis. Nephritis is an infection and inflammation of the kidneys and it was thought that the conditions in the trenches had led to the dramatic increase in the condition since 1915. On 30th August he was admitted to Charing Cross Hospital and died 'very suddenly' of acute nephritis on 6th September. A telegram was sent to his sister, Alice Huggett on Friday 6th September but sadly the telegram did not reach her until the next morning. She hurried to London but Walter had died the previous night. Walter's body was brought back to Betchworth by train on 10th September and he was buried in St. Michael's churchyard on Wednesday 11th September 1918. There were many floral tributes at his funeral including one from Tom and Alice Arminson which read 'Deep regrets, with kindest thoughts of years of faithful service at home and for over three years for King and country, from Mr and Mrs Arminson'.
Walter's name is on both the Betchworth and Brockham war memorials.
| | | |
| --- | --- | --- |
| Born | Brockham, Surrey | |
| Lived | Betchworth, Surrey | |
| | | |
| Enlisted | Guildford | |
| | | |
| Son of | Caleb and Mary Miles | |
| | | |
| Regiment | Army Service Corps | |
| Number | 304776 | |
| | | |
| Former Regiment | Army Service Corps, SS/75908 | |
| | | |
| Date of Death | 6th September 1918 | |
| Place of Death | Charing Cross Hospital, London | |
| Cause of Death | Kidney Disease | |
| | | |
| Age | 45 | |
| | | |
| Cemetery | Betchworth (St. Michael) Churchyard, Surrey | |