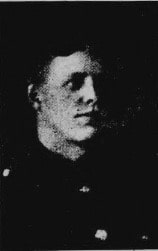 Thank you to Jane Anthony for the following research.
Walter Peters was born in 1893 the fourth of nine children. His parents were Edward, a bricklayer, and Annie. He had three older brothers and four younger ones with a sister completing the family. The family lived at Brook Valley, South Holmwood.
In the 1911 census, Walter was the oldest child in the family living at home. He was working as a grounds man at the Dorking Cricket Ground. In an obituary in the Dorking Advertiser dated 17th February 1917, he was said to be a promising cricketer. However by the time he joined up in Kingston upon Thames, he was living in Epsom and working at the Long Grove Mental Asylum in Epsom. The asylum had been completed in 1908 and housed up to 2,120 patients. Although situated in Epsom the asylum was owned and run by London County Council. As a consequence of this Walter is remembered in the LCC Book of Remembrance, a copy of which, was given to the family of every fatality.
Walter arrived in France in August 1916. He had enlisted in the 5th Field Ambulance, Royal Army Medical Corps. As he had been used to dealing with mentally ill patients it is unlikely that he was involved on the front-line, indeed it would appear that he had been seconded to the vast hospital at Etaples. At the time of Walter's death 10,000 men were camped among the sand dunes in addition to 22,000 men in the hospitals; which included eleven general and one stationary hospitals, four Red Cross hospitals and a convalescent depot. One of the hospitals was a large Canadian hospital and this where Walter Peters died of bronchitis on 11th January 1917. At this time he was working in the RAMC "Aslyums" looking after soldiers who had mental health problems, most likely shell shock.
In the summer 1917 he had married Lilly McDermott at Dorking, however at the time of his death, his father was registered as being next of kin and there is no mention of her on his headstone. He was buried at the Etaples Military Cemetery and is remembered on the South Holmwood War Memorial as well as the LCC Book of Remembrance
| | | |
| --- | --- | --- |
| Born | Peaslake, Surrey | |
| | | |
| Son of | Ida Emily Peto and stepfather Thomas New | |
| | | |
| Regiment | 1st Battalion. Queen's Royal West Surrey Regiment | |
| Number | G/182 | |
| | | |
| Date of Death | 15th July 1916 | |
| Place of Death | High Wood, Somme, France | |
| Cause of Death | Killed in action | |
| | | |
| Age | 19 | |
| | | |
| Cemetery | Caterpillar Valley Cemetery in Longueval | |