Thank you to Lenka Cathersides for this research.
William Henry Ruffell was born on the 3rd of October 1884 in Dorking and was baptised on the 31st of December 1884 at St Barnabus Church in Ranmore.
William's parents were gardener Henry Ruffell and Eliza Ruffell nee Kirkby.
Henry Ruffell was born in the 2nd quarter of 1856 in Alresford, Hampshire to Thomas Ruffell.
Eliza Kirkby was born about 1859 in Dalton-in-Furness, Lancaster and was baptised on the 22nd of May 1859 in Dalton-in-Furness, Lancaster. Her parents were called William and Eliza Kirkby.
During the 1881 Census, Eliza was working as a servant to the headmaster and schoolmaster of a grammar school, William V. Yates, at 4 Biskey Howe [Terrace?] in Westmorland.
Henry Ruffell married Eliza Kirkby on the 26th of July 1881 in Windermere, Westmorland, England. William was born in 1884 in Dorking.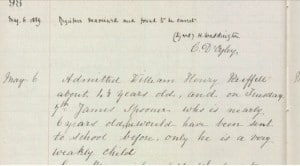 St Mark's Church of England School in Reigate's admission register reads that William Henry Ruffell born on the 3rd of October 1884 was admitted to the school on the 6th of May 1889. According to the register he left in July 1889.
St Barnabas' Church of England School in Ranmore, Great Bookham's log book reads, that Henry was admitted into the school on the 6th of May 1889. The entry reads that the school admitted William Henry Ruffell at about 4 and half years old.
The St Barnabas' School log book further states on the 4th of September 1889 that "William Henry Ruffell has left on account of his parents leaving the parish".
During the 1891 Census, the family lived at Lingmoor View, Langdale, Westmorland. Father Henry was working as a gardener and Eliza was looking after their children William Henry, Albert, Emily J. and Arthur F.
By 1900 the family moved to Guildford, Surrey. William's mother, 40 years old Eliza died in the 1st quarter of 1900 in Guildford. She was buried on the 6th of January 1900 at St Nicolas in Guildford. At this time the family lived at 27 Walnut Tree Close, Guildford.
William's father Henry remarried Lucy Peto on the 6th of March 1905 in Guildford.
At the time of the 1911 Census, Henry and his second wife Lucy lived at 49 Walnut Tree Close in Guildford. Henry was still working as a gardener. Lucy was looking after their two small children Harry Stanley Ruffell and Kathleen Ruffell. In the house were also living store man (brewery) Arthur Ruffell, baker Alfred Ruffell, printer Harry Stanley Ruffell and Ernest Ruffell from the previous marriage. The accommodation had 4 rooms.
William enlisted in Guildford, Surrey, where he also lived. He joined the 4th Battalion, the Worcestershire Regiment. He was a private with a regimental number 11505.
William Henry disembarked on the 25th of April 1915 in the Balkan Theatre of War.

He was killed in an action on the 6th of August 1915 in Gallipoli and is buried at the Twelve Tree Copse Cemetery, Turkey. His grave reference number is: II.A.11.
In 1920 his father Henry Ruffell was still living at 49 Walnut Tree Close in Guildford.
William left £2, 13s and 3d to his step mother, Mrs Lucy Ruffell, in Soldier's Effects.
William Henry was awarded the British War and Victory medals and the 1915 Star.
He was 31 years old at the time of his death.
| | | |
| --- | --- | --- |
| Born | Dorking, Surrey | |
| Lived | Guildford, Surrey | |
| | | |
| Son of | Henry Ruffell of 49, Walnut Tree Close, Guildford | |
| | | |
| Regiment | 4th Battalion, The Worcestershire Regiment | |
| Number | 11505 | |
| | | |
| Date of Death | 6th August 1915 | |
| Place of Death | Gallipoli | |
| Cause of Death | Killed in Action | |
| | | |
| Age | 31 | |
| | | |
| Cemetery | Twelve Trees Copse Cemetery, Turkey | |