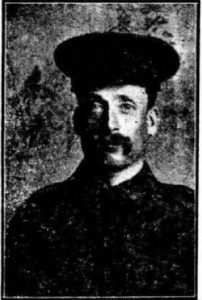 Many thanks to Daniel Shepherd and Lenka Cathersides for this research
William Razzell was born in Westcott in 1885 and lived at 3 Victoria Cottages, Bailey Road, Westcott, Dorking, Surrey with his father, mother and 4 younger sisters. He was, like his father, a domestic gardener. He joined the Territorial Force (a precursor to the Territorial Army.) and chose, along with many other T.F. soldiers, to fight abroad and not remain in England for 'Home Defence'.
All ranks of the 1st/5th Battalion of The Queen's West Surrey Royal Regiment, volunteered for service and were mobilised at the start of WWI. On the 19th of October 1914, he embarked on a month and three day voyage to India whereupon he landed in Bombay on the 2nd December 1914.
He remained in India until December 1915, when his battalion was finally moved to Mesopotamia. William was promoted to Lance Corporal which meant that if the Corporal were killed in action then he would take over command of the section.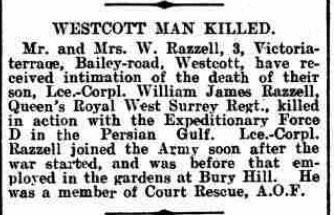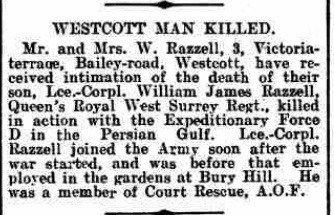 On 11th September 1916, on a routine assault of a village (Al Sahilan), William along with 12 other men was killed. His battalion fought well, the war diary stating that 'throughout the Battn worked most steadily frequently under heavy fire' despite issues with medical equipment, pack animals and horses sent to the wrong places, rifles and equipment lying in heaps and 'disappointing' artillery. He died aged 31, and he would eventually be buried in the Basra War Cemetery.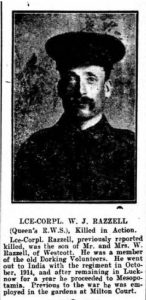 Back home, his name is commemorated on the South Street Memorial and at Holy Trinity church in Westcott. William was awarded the 1914 Star, The British War Medal, The Victory Medal (1914-1919), The Territorial Force War Medal. The medal rolls were collected by his mother Alice Jane Razzell, now a widower.
Son of                          Mr and Mrs Alice Jane Razzell of 3 Victoria Cottages, Bailey Road, Westcott
Regiment                     1st/5th Battalion, The Queen's Royal West Surrey Regiment
Number                       T/1619
Date of Death              11th September 1916
Place of Death             Mesopotamia
Cause of Death           Killed in Action
Age                              31
Cemetery                    Basra War Cemetery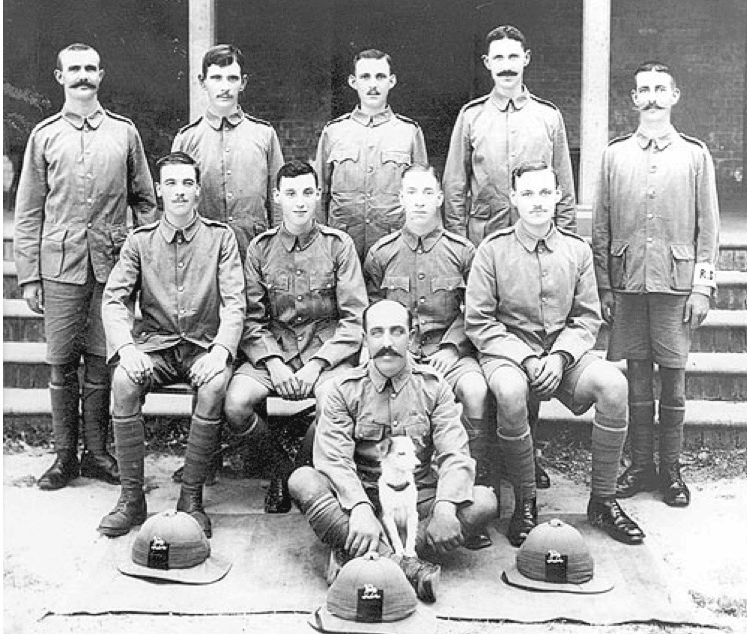 © The Queen's Royal Surrey Regimental Association. The above picture may not show William Razzell.
The following information is taken from the War Diaries of The Queen's (Royal West Surrey) regiment. For a complete transcript, please visit their website