Thank you to Lenka Cathersides for the following research
William Kippin was born in about 1878 at Cobham, Surrey and baptised on the 30th of December 1878 at Cobham, Surrey.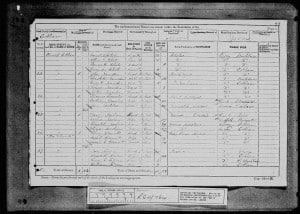 He was the son of Moses and Elizabeth Kippin and husband of Emily Jane Kippin nee Beswick of Forge Cottages, Downside, Cobham, Surrey.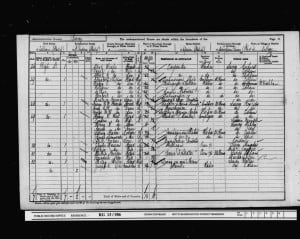 By the 1901 Census, William´s father Moses had died and the 22 year old William was living with his mother Elizabeth at High Street, in Cobham, Surrey. William was working as a fishmonger and poulterer and the family had a servant Beatrice Gregory.

On the 26th of December 1905 William married Emily Jane Beswick at St Andrew in Cobham, Surrey.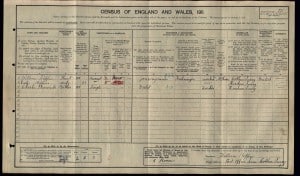 At the time of the 1911 Census William and Emily lived at Post Office Lane in Cobham and William was working in the fishmonger industry as a journeyman.
He was part of the 11th Battalion the Royal Fusiliers (the City of London Regiment). His regimental number was G/62705 and he was a Private. William enlisted at Cobham where he lived.
His previous regiments were: the 27th (Reserve) Battalion the Middlesex Regiment (regimental number 3538), the 9th (Service) Battalion the East Surrey Regiment (regimental number 32344) and the 7th (Extra Reserve) Battalion the Royal Fusiliers (regimental number 62705).
William was killed in action on the 23rd of April 1918 in France. He is buried at the St Pierre Cemetery, Amiens in France. His grave memorial reference is XVI.B.3.

His wife Emily received soldiers´effects of £12, 9s and 5d.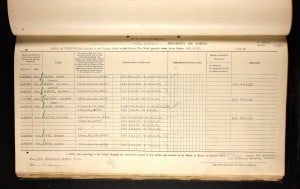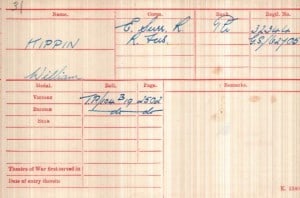 William was awarded the British and Victory medals.
Born                            Cobham, Surrey
Lived                           Cobham, Surrey
Son of                          Moses and Elizabeth Kippin
Husband of                  Emily Jane Kippin (nee Beswick) of Forge Cottages, Downside, Cobham, Surrey
Enlisted                        Cobham, Surrey
Regiment                     11th Battalion. Royal Fusiliers. The City of London Regiment
Number                       G/62705
Date of Death              23rd April 1918
Place of Death             France
Cause of Death           Killed in Action
Age                              40
Cemetery                     St. Pierre Cemetery, Amiens, France