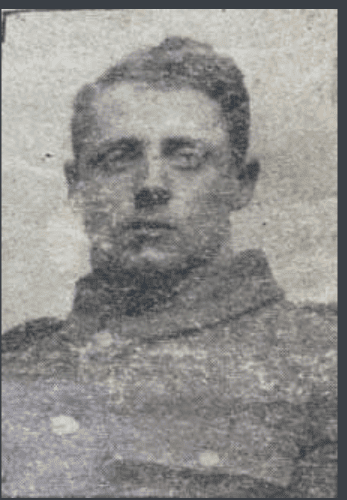 Thank you to Lenka Cathersides for the following research.
William Oliver was born on 16th  December 1894 in Dorking, Surrey to labourer and bricklayer George and Lucy (nee Sturgess). He was baptised on 19th  May 1895 at St Paul's church in Dorking. At the time of his baptism the family lived at 67 Orchard Road in Dorking.
On 24th August 1899, William was admitted into the Dorking British School. At this time of his admission the family were still in Orchard Road. William left the school on 11th June 1904.
At the time of the 1901 Census, the family lived at 35 Orchard Road. George was working as a bricklayer and Lucy was looking after their children: George, Lily, Frederick, William, Constance and Winifred.
At the time of the 1911 Census, the family were still at 35 Orchard Road, George was still laying bricks and Lucy was still looking after the children. George jr was now a pastry cook's assistant, Frederick was a painters assistant and William was working as an errand boy. Constance, Winifred, Thomas, Robert, Leonard, Stanley and Donald were still at school.
Lucy stated that she had given birth to twelve children of whom eleven were alive. The accommodation had six rooms.
William enlisted in Dorking into the Royal West Surrey Regiment. He was a Private with regimental number 2648. At the time of his enlistment he lived in Dorking.
Later, he was transferred into the 1st/23rd (County of London) Battalion, the London Regiment. He was a Private with regimental numbers: 6915 and 703175. William disembarked on 1st September 1916 in France.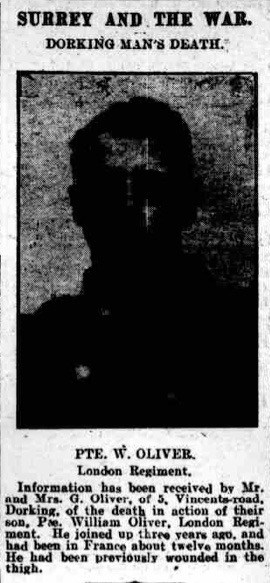 William was killed in action on 9th July 1917 during an attack on Ypres-Comines Canal during the Battle of Passchendaele. His body was never found. He was one of two men missing after the action.
He is commemorated on the Menin Gate Memorial to the Missing in Ypres, Belgium on panels 52 to 54.
He received the British War and Victory Medals.
William's father George received £6, 16s and 5d on 24th October 1917 and a further £12 and 10s on 24th October 1919 in Soldier's Effects.
Oliver Family History
William's father George was born in the 4th quarter of 1866 in Waltham St Lawrence in Berkshire to head gardener Thomas, born about 1840 in Isleworth, Middlesex, and Elizabeth, born about 1838 in Banstead, Surrey.
His mother Lucy Sturgess was born about 1868 in Holmwood, Surrey to bricklayer Richard, born about 1829 in Holmwood, and Sarah, born about 1829 in Dorking. Lucy was baptised on 11th  October 1868 in Holmwood.
George and Lucy married on 1st March 1891 in Dorking.
William had eleven siblings of whom ten are known: George born about 1891; Lily born about 1892; Frederick born about 1894; Constance Lucy born about 1898; Winifred born about 1900; Thomas born about 1902; Robert born about 1904; Leonard born about 1906; Stanley born about 1907 and Donald born about 1910, all in Dorking.
Born

Dorking, Surrey

Lived

Dorking, Surrey

Son of

George and Lucy Oliver

nee

Sturgess of Orchard Road, Dorking
Regiment

23rd Battalion, London Regiment

Number

703175

Former Regiment

2648 The Queen's (Royal West Regiment)

Date of Death

9th June 1917

Place of Death

Passchendaele, Ypres

Cause of Death

Killed in Action

Age
22
Memorial

Ypres (Menin Gate) Memorial