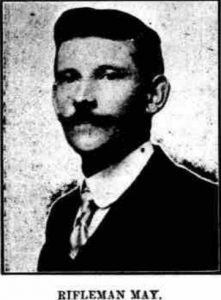 Thank you to Jane Anthony for this research.
Robert John May was born in South Holmwood on 11 December 1891. His parents were Robert John and Martha May. There is no trace of them living in Holmwood after his birth. In 1901 he was a visitor at the Sparks Household in Penge, London and gave his employment as being a gardener.
1911 saw him in Spring Cottages South Holmwood with the Arnold family. Martha Elizabeth Arnold was a widow and head of the household and mother to Robert John May. Laura and Reginald appear to be half brother and sister to Robert. At some point between 1911 and his death in 1915 Robert John married Elizabeth who was his legatee. There is mention of children but no names are specified.
Robert enlisted in the 1st Battalion of the Rifle Brigade in London, and was killed in action of 9th May 1915 he was aged 33.   He is one of more than 11,000 servicemen of the United Kingdom and South African forces commemorated at the Ploegsteert.
This memorial is for those who died in this sector during the First World War and have no known grave. The memorial serves the area from the line Caestre-Dranoutre-Warneton to the north, to Haverskerque-Estaires-Fournes to the south, including the towns of Hazebrouck, Merville, Bailleul and Armentieres, the Forest of Nieppe, and Ploegsteert Wood. The original intention had been to erect the memorial in Lille.
Most of those commemorated by the memorial did not die in major offensives, such as those which took place around Ypres to the north, or Loos to the south. Most were killed in the course of the day-to-day trench warfare which characterised this part of the line, or in small scale set engagements, usually carried out in support of the major attacks taking place elsewhere.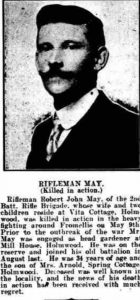 "Rifleman Robert John May, of the 2nd Batt. Rifle Brigade, whose wife and two children reside at Vita Cottage, Holmwood, was killed in action in the heavy fighting around Fromellis on May 9th.
Prior to the outbreak of the war Mr. May was engaged as head gardener at Mill House, Holmwood. He was on the reserve and joined his old battalion in August last. He was 34 years of age and the son of Mrs. Arnold, Spring Cottage, Holmwood. Deceased was well known in the locality, and the news of his death in action had been received with much regret."
Born                             Dorking
Lived                            Dorking
Son of                          Robert John May and Martha Elizabeth Arnold of Spring Cottage, Holmwood
Husband of                 Elizabeth May.
Enlisted                        London
Regiment                      2nd Battalion. Rifle Brigade (The Prince Consort's Own)
Number                        294
Date of Death               9th May 1915
Place of Death              Ploegsteert near Ypres
Cause of Death             Killed in Action
Age                               31
Memorial                      Ploegsteert Memorial, Comines-Warneton, Hainaut, Belgium.