Thank you to Jane Anthony for the following research.
Sydney Weller was born in Mickleham in about 1893. He was the son of John, a gardener, and Matilda Weller. In 1891 he was living with his parents and younger sister Ada at Double Lodges, Betchworth Hill. According to the 1911 census there were 4 children in the family of whom three were living in 1911. However earlier censuses tell a different story. The 1981 census, which was taken before both Sydney and Ada were born, has four children, Albert, James, Lily and Rose living with their parents. By 1901 three children David, Sydney and Ada were living with the family. As David was only a year older than Sydney he would not have been born at the time of the 1901 census. One child died but what happened to the remaining three is rather a mystery.
At the time of the 1911 census Sydney was 18 and an unemployed gardener. He must have enlisted in the Rifle Brigade between then and 1914 when he was killed. The third Battalion was in the British Expeditionary Force. In 1914 they were stationed in Cork, Ireland. By the beginning of September they had returned to England and embarked for France on 12 September. They took part in the Battle of the Marne, when the German Army were driven back from near Paris to the Marne. The battle culminated in both sides digging in and for the next four years trench warfare ensued and neither side actually moved very far.
Sydney Weller was killed on 22 September 1914 aged 21 he is commemorated at La Ferte Sous Jouarre Memorial to the Missing. Sydney Weller was one of 7,000 solders who were killed in the battle which is known to the French as the Miracle of the Marne.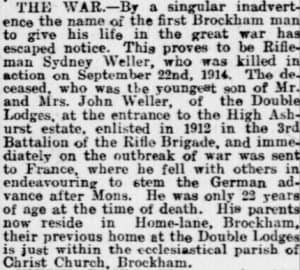 | | | |
| --- | --- | --- |
| Born | Mickleham, Surrey | |
| Lived | Betchworth Hill, Surrey | |
| | | |
| Regiment | 3rd Battalion, The Rifle Brigade | |
| Number | 5013 | |
| | | |
| Date of Death | 22nd September 1914 | |
| Place of Death | France | |
| Cause of Death | Killed in Action | |
| | | |
| Age | 21 | |
| | | |
| Memorial | La Ferte-Sous-Jouarre Memorial, France | |