Thank you to Lenka Cathersides for the following research.
William Edward Douglas Cottrell was born in the 3rd quarter of 1888 in Allerton, Liverpool to butler William and Sophia (nee Todd). He was baptised on 22nd September 1888 at All Hallows church, Allerton. At the time of the baptism, the family lived at Woolton.
At the time of the 1901 Census, the family lived at Broome Hall Farm in Dorking. Sophia was looking after their children William and Evelyne Janet Mary.
William's father William died in the 1st quarter of 1904 in Dorking.
On 20th May 1910 William arrived on SS Victorian from Liverpool in Quebec, Canada. His occupation is stated to be a carpenter and he was a member of the Church of England.
At the time of the 1911 Census, William´s mother Sophia lived at 28 Hart Road in Dorking. The household further comprised of Sophia's daughter, dressmaker, Evelyne and boarders, outfitter's assistant John Woods and carpenter Martin Miller. The house had five rooms. Sophia stated that she had given birth to two children.
William Cottrell became part of the 4th Canadian Mounted Rifles (2nd Central Ontario Regiment). He was a Sergeant with regimental number 113149.
On the 4th of January 1917 William was mentioned in dispatches.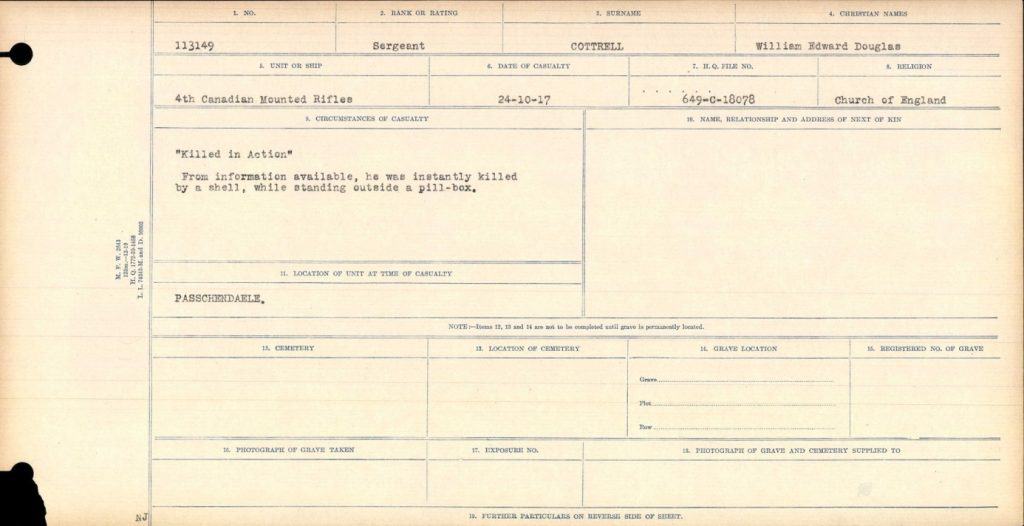 William was killed instantly by a shell while he was standing outside a pill-box on 24th October 1917, during the 3rd Battle of Passchendaele.

William Cottrell is commemorated on the Ypres Menin Gate Memorial, Belgium on Panels 30 and 32. He was said to be buried at Chester House Cemetery.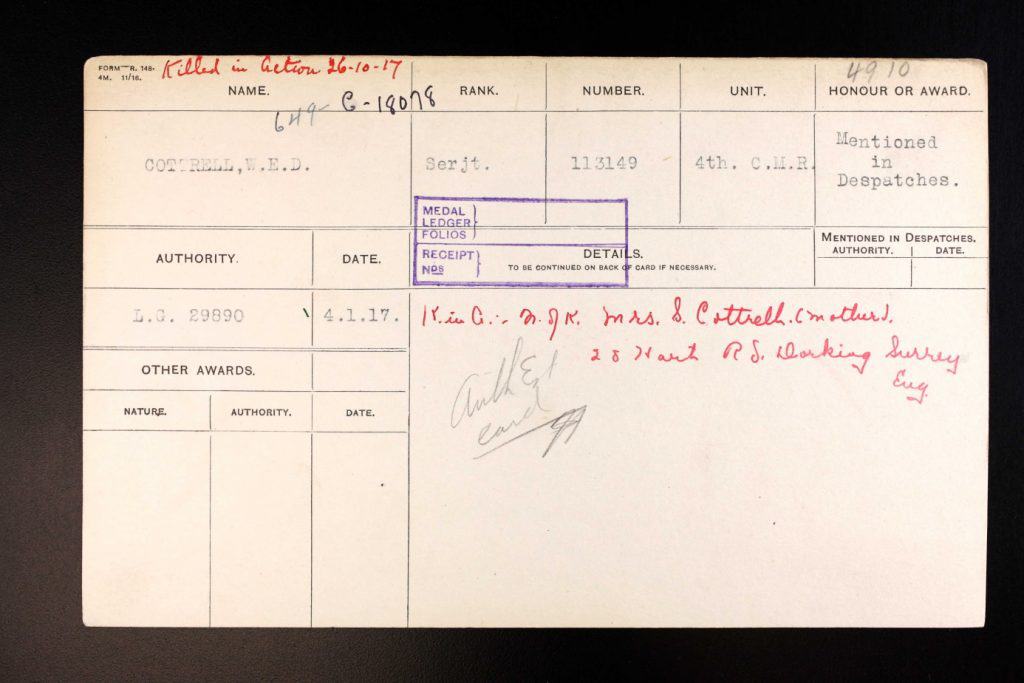 Cottrell Family History
William's father William was born about 1854 in Little Neston, Cheshire to agricultural labourer and farmer Edward, born about 1823 in Ness, Cheshire and Mary, born about 1831 in Thornton Moors, Cheshire. William snr was baptised on 1st October 1854 in Neston. At the time of the baptism the family lived at Little Neston and Edward was working as a labourer. At the time of the 1881 Census, William snr was a butler residing at College, Kirkoswald, Cumberland. William's mother Sophia was born in Keir Mill, Dumfrieshire, Scotland to mechanic Thomas Todd. William and Sophia married on 12th August 1885 at All Hallows church, Allerton, Liverpool.
William jnr had one sister: Evelyn Janet Mary, who was born about 1889 in Woolton.
His mother Sophia of 28 Hart Road, Dorking died on 23rd January 1924. She left to her daughter, Evelyn, £409, 9s and 6d in the Probate.
| | | |
| --- | --- | --- |
| Born | Allerton, Liverpool | |
| | | |
| Son of | The late William and Sophia Cottrell | |
| | | |
| Regiment | 4th Canadian Mounted Rifles (Central Ontario) Regiment | |
| Number | 113149 | |
| | | |
| Date of Death | 24th October 1917 | |
| Place of Death | Passchendaele, Belgium | |
| Cause of Death | Killed in Action | |
| | | |
| Age | 29 | |
| | | |
| Memorial | Ypres (Menin) Gate Memorial | |