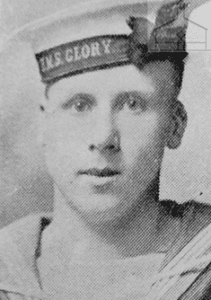 Thank you to Karen Wilson from Betchworth Village Archives for allowing us to publish her research.
Alfred Libbiter was born in Dorking on February 13th 1891 and was baptised in St. Martin's church on April 26th. At that time his father, William Libbiter, was a cowman on Boxhill Farm. Alfred was the third child of William and Fanny Libbiter and they would go on to have four more children, including George who died in 1918. By 1904 the family had moved to Betchworth and were living in The Street. Alfred was attending school and Sunday School and earnt a prize in 1904 for first class attendance at the latter.
At some point before his 20th birthday Albert joined the Navy and was a 2nd class Stoker by 1911. The following year he married 20 year old Nellie Sennen in Kent near to where his ship was based at Chatham.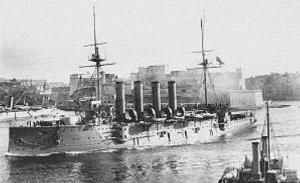 On September 20th 1914 Alfred Libbiter was a 1st Class Stoker on HMS Aboukir. The Aboukir was an armoured cruiser and along with the armoured cruisers HMS Euryalus, HMS Hogue and HMS Cressy, was going on patrol in the North Sea.
They were roughly 40 miles west of Den Helder, providing a shield for the transport of men and material to the British Expeditionary Force on the fledgling Western Front. However, the weather was bad and HMS Euryalus dropped out lacking coal and having damage to her wireless.
Early on September 22nd the German submarine U9 sighted the Cressy, Aboukir and Hogue. The patrols were supposed to maintain 12-13 knots and zigzag but the old cruisers were unable to maintain that speed and the zigzagging order was widely ignored as there had been no submarines sighted in the area during the war so far. HMS Aboukir was hit first and sank; the Hogue and Cressy then suffered the same fate. In all, 837 men were rescued but 1,459 died and among the dead was Alfred Libbiter, aged 23. Alfred is commemorated on the Chatham Memorial in Kent. His name is also on the Cranleigh memorial as his parents were living there at the time of his death.
| | | |
| --- | --- | --- |
| Born | Dorking, Surrey | |
| Lived | Betchworth, Surrey | |
| | | |
| Son of | William and Fanny Libbiter of The Street, Betchworth | |
| Husband of | Nellie Sennen | |
| Brother of | George Libbiter | |
| | | |
| Regiment | H.M.S Aboukir, Royal Navy | |
| | | |
| Date of Death | 22nd September 1914 | |
| Place of Death | North Sea | |
| Cause of Death | Killed when HMS Aboukir torpedoed off the Dutch coast | |
| | | |
| Age | 23 | |
| | | |
| Memorial | Chatham Naval Memorial | |