Thank you to Karen Wilson from Betchworth Village Archives for allowing us to publish her research.
William Wallis was born in Buckland on November 5th 1890; his parents, Thomas and Maria Wallis were living in Dun-gates Lane at the time of his birth. Thomas Wallis was a stockman and had worked on farms since he left school in his native Essex. William was the youngest of Thomas and Maria's sons and he attended St. Mary's school in Buckland.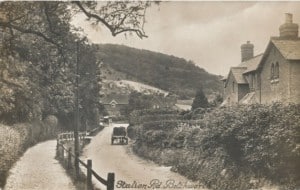 The family moved to Holmes Cottages when Thomas and three of his sons began work in the Lime Pits.
On July 6th 1909 William joined the Navy as a stoker; his enlistment papers show that he was only 5' 3" tall but had a 351⁄2" chest measurement. He started his naval career at Dover but in March 1914 moved to Chatham. His papers show that from March 1914 until May 1915 he served on HMS St. George, a depot ship. Depot ships were harbour-based and provided facilities to the vessels of its flotilla; it was a power plant, workshops, stores etc. when they were in port. These depot ships were usually out of date warships. The log books for HMS St. George for this period show that war routine was instituted and included cleaning torpedo tubes and refilling Maxim guns alongside duties such as that on January 21st: 'Hands employed cleaning torpedoes, assisting [HMS] Meteor into dock, transporting her dead.'
At some point in 1915 William volunteered to join the submarine service. He then spent six months on HMS Dolphin, a submarine base and training facility located at Gosport near Portsmouth. In October 1915 he spent ten days on HMS Maidstone, a submarine supply ship, and was then transferred to submarine E6.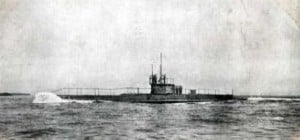 On 26th December 1915 HMS E6 left Harwich to carry out an anti-submarine patrol in the North Sea. As the submarine neared the Sunk Light Vessel she was signalled by a patrolling torpedo boat to keep clear. E6 continued on her course and within view of the torpedo boat, struck a mine and disappeared. All hands were lost including Stoker, 1st Class, William Guy Wallis. They all are remembered on the Chatham Naval Memorial.
Thomas and Maria Wallis were informed of William's death in a communication which read: 'Lost his life on duty while in one of H.M. ships on war service. William Guy Wallis Stoker, 1st Class, R.N.' The Surrey Mirror and County Post of January 7th 1916 also stated that 'He was bright and intelligent, and of a most sunny disposition, and was dearly loved by all who knew him.'
| | | |
| --- | --- | --- |
| Born | Buckland, Reigate, Surrey | |
| Lived | Betchworth, Surrey | |
| | | |
| Son of | Thomas and Maria Wallis of Holmes Cottages, Betchworth | |
| | | |
| Regiment | H.M.S E6, Royal Navy | |
| Number | K/22270 | |
| | | |
| Date of Death | 26th December 1915 | |
| Place of Death | North Sea | |
| Cause of Death | Killed in Action | |
| | | |
| Age | 25 | |
| | | |
| Memorial | Chatham War Memorial | |