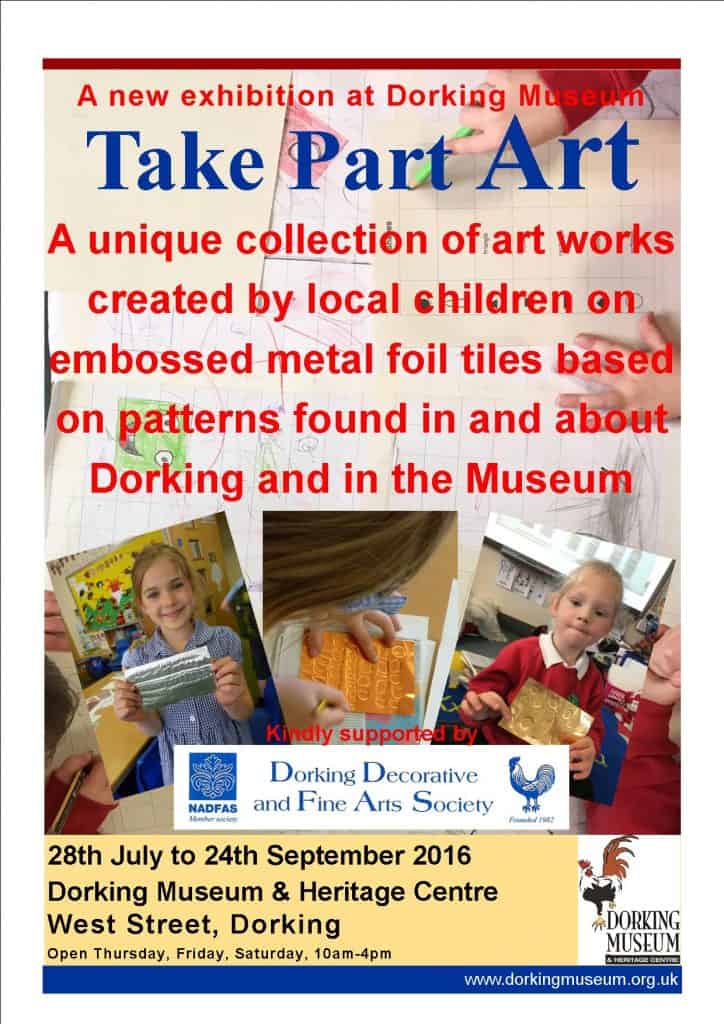 The new exhibition features a unique collection of artwork. 'Take Part Art' is an art project for local children run by Dorking Museum and supported by the Dorking Decorative and Fine Arts Society (DDFAS).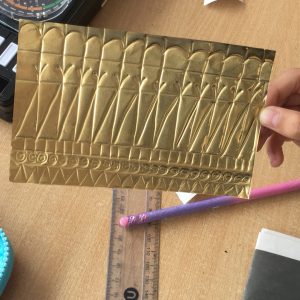 Over the past few months, local children have been creating unique works of art with embossed metal foil tiles. The artwork has been created in four local primary schools – St. John's, St. Martin's, St. Paul's and North Downs – as well as at the Museum's Family Saturday Activities which took place in June and July.
The designs created by the children on metal foil are based on patterns they have observed in the Museum or in and around Dorking.
Children participating in the Take Part Art project have been as young as three and up to ten years old. The children have looked at and discussed photos from all around Dorking, discovering patterns and details in the buildings, building materials, street furniture and objects that are all around them. In addition, children visiting the museum could also draw their inspiration from the wealth of objects on display.
Lisa Geelhood, head of the Museum team creating the project told us, "The support of the local DDFAS group for the project has been both a benefit and a pleasure." The DDFAS supports and encourages children and young people in the local area to take part in art activities.
DDFAS Young Arts representative, Catherine Cain, said, "I have enjoyed visiting local primary schools to show and discuss pictures of heritage buildings in Dorking and to hear the children talk about the patterns they were able to identify. It has been fun to see the children working on their decorative ideas and to help them to transfer these patterns onto colourful metal foil. Working as a team with Dorking Museum has been a very positive experience."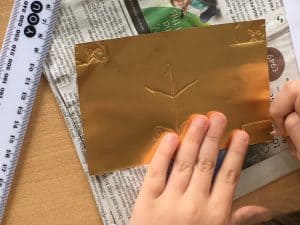 Mrs. Dawn Weill's Nursery Class at St. John's Primary School was the first class to participate in Take Part Art. Mrs. Weill was delighted with the "wonderful learning the children took from the experience and the work they produced" and the project met a number of Early Years curriculum points.   She felt that the children benefited hugely in the area of Mathematical development, such as noticing simple shapes and patterns in pictures, showing awareness of similarities of shapes in the environment and being able to use simple shapes to create and recreate patterns.
Lisa described working with the children at St. John's as "a real pleasure. The project team were able to see the benefits to their self esteem when undertaking a new task which was unfamiliar to them.  It was lovely to observe their ability to produce an end product of their own and subsequently their pride in their achievements."
Once a month, Dorking Museum has a Family Saturday Activity that is free with entrance to the museum. Sarah Brogden, who oversaw the June family activity says, "The children really enjoyed collecting ideas for their patterns from around the museum. They were surprised to find so many shapes and designs 'hidden' within the museum's collection."
Coverage of Take Part Art in the Dorking Advertiser