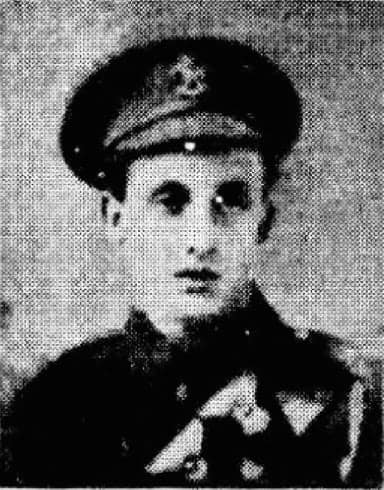 Thank you to Elizabeth Simmons for the following research.
Walter James Boorer was born on 15 January 1897 in Dorking. He was the eldest son of Walter G. Boorer, a printer and publisher from Dorking, and Rachel Boorer, née Butler, from Tooting in London. Before marrying Walter G. Boorer, Rachel Butler was a domestic servant in an infant school in Tooting. On the 1891 census, however, she is living in Dorking where she is a domestic cook in the home of Alex Brock, a medical practitioner, at 40 South Street, which is the site of the current Michael Frith Medical Practice.
Walter James Boorer was baptised in Dorking on 15th March 1897.
On the 1901 census Boorer is four years old and listed as living at 70 Rothes Road, Dorking with his parents and younger brother Albert M. Boorer who is two years old. He is also listed as living with a boarder called Frederick Boorer, who is 22 years old and a printer. After researching into a possible family connection it can be concluded that Frederick Boorer is the brother of Walter G Boorer, and therefore is Walter James Boorer's uncle. Mary K. Butler, who is 25 years old and from Tooting is also listed as visiting the family on the night of the census, and is likely to be Rachel Boorer's sister, although no census evidence could be located.
On the 1911 census Boorer (14) is living with his parents on the High Street in Cobham Surrey. His father is listed as a Letter Press Printer. He is also shown as still living with his younger brother Albert M. Boorer (12), however he is listed on this census as Bertram Malcolm Boorer. After further investigation on the birth index it can be concluded that these two people are one and the same person. On the 1911 census Boorer also has two more siblings who are his brother Harry Francis Boorer (9), and his sister Kathleen Rachel Boorer (3), who were both born in Dorking. Walter James Boorer was educated at St Martin's National School in Dorking.
He voluntarily enlisted to fight in the First World War on 24 May 1915, whereupon he joined the 1/1st West Kent Yeomanry, which was linked to the Household Cavalry and Cavalry on the Line. This regiment had its headquarters in Maidstone in Kent.
His regiment left England on 24 September 1915. It arrived at the Daradanelles on 8 October 1915 where it came under the orders of the 42nd (East Lancashire) Division.
The Battle of Gallipoli occurred between February 1915 and January 1916, and was arguably one of Britain's famous military failures during the First World War, which also led Winston Churchill to lose his position as First Lord of the Admiralty and go to fight on the front line himself. A total of 214,000 allied soldiers were killed during this campaign, one of which was Boorer.
He was killed in the trenches at Gully Ravine in the Daradanelles on 8 November 1915. He was 18 years old.
On the Roll of Honour his Major wrote:
"Your son and another man were both killed by the same shell, which came down the trench in which they were in. Death was almost instantaneous, and he could have suffered no pain. He had not been long in my squadron, but during the time he was with me he did his duty as a soldier, and displayed great courage under fire."
© Ancestry.co.uk
He is now commemorated at the Twelve Tree Copse Cemetery. He was awarded the 1914-1915 Star as well as the British War Medal and the Victory Medal. Boorer's brother Albert Malcolm Boorer also fought in the First World War as a Trooper in the Royal Horse Guards 3rd Battalion of the Guards Machine Gun Regiment, part of the Household Cavalry and Cavalry of the Line in the last year of the war, however it is believed he survived.
| | | |
| --- | --- | --- |
| Born | | Dorking, Surrey |
| Lived | | Cobham, Surrey |
| | | |
| Son of | | Walter and Rachel Boorer of Dorking, later Cobham |
| | | |
| Regiment | | 1st / 1st Battalion. West Kent Yeomanry |
| Number | | 1839 |
| | | |
| Date of Death | | 8th November 1915 |
| Place of Death | | Gallipoli |
| Cause of Death | | Killed in action |
| | | |
| Age | | 18 |
| | | |
| Cemetery | | Twelve Trees Copse Cemetery, Gallipoli, Turkey |