by William Albert Tyler (1920-2010)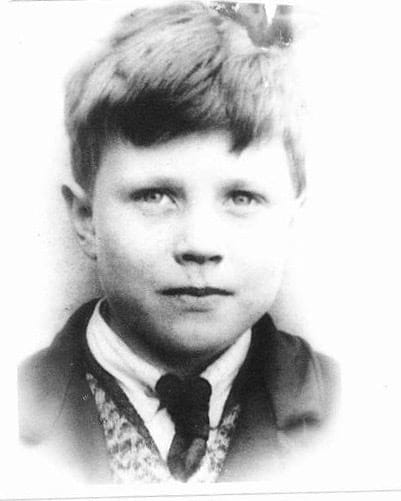 Thank you to Ray Tyler, who first published his fathers story on the Memories of Dorking Facebook page. We are grateful to Ray for allowing the Museum to reproduce them here.
"I was born in 1920 and well remember Dorking, as it was in my childhood.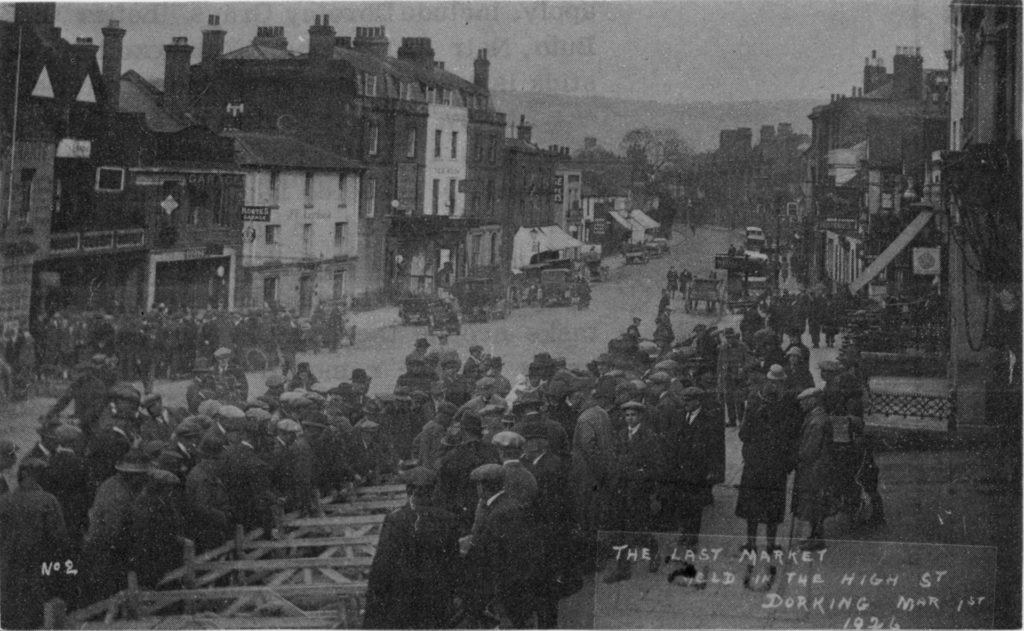 lt was a quiet town, although Market day could be very lively, especially when cattle escaped their pens and joined the traffic in the High Street. l was 6 years old when the cattle market ceased to be held on the cobble stones in the High Street, and can remember the smells and noise of those days. Horse drawn vehicles were in the majority, and manure, etc. was to be seen in most streets although the efficient street cleaners and the many keen gardeners kept it under control.
Saturday evenings seemed special to me; most shops stayed open until 8 o'clock and there were market stalls on the cobbles and various sellers of haberdashery. Usually, there would also be at least one itinerant busker, often playing a dulcimer or other unusual instrument. At dusk the stalls were lit by naptha flares and the hissing noise they produced frightened me somewhat. The butcher shops would be selling off cheap joints as lack of refrigeration meant they would have been unsalable by Monday. Only newsagents and tobacconists were open on a Sunday, and then only till mid-day.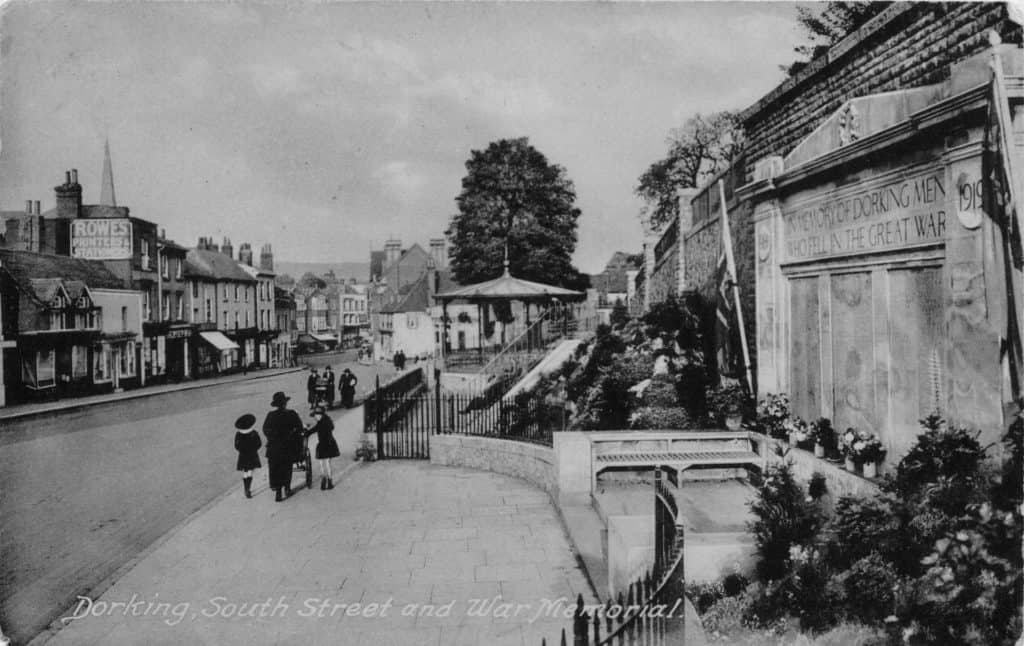 The Town Band, on Saturday evenings in the summer, gave concerts in the Bandstand in South Street. My granddad and I were usually there, for granddad had played the cornet in his younger days, and was a keen follower of the band. I remember some of their items and was fond of hearing " ln A Monastery Garden" and "Bells Across The Meadows " as then the tubular bells were played to good effect. I also liked a cornet duet called "Alpine Echoes", one player standing up in the bandstand, and the other on the flat roof of Banbury's clothing shop, opposite, and playing an Echo cornet, which had a built-in mute. To me the sound was magical.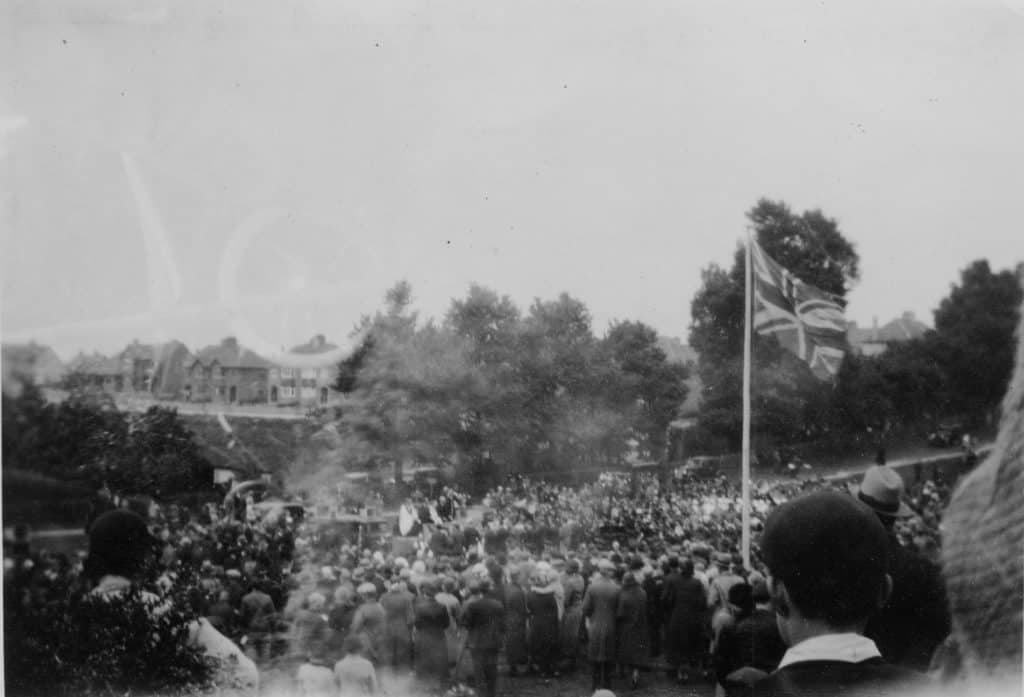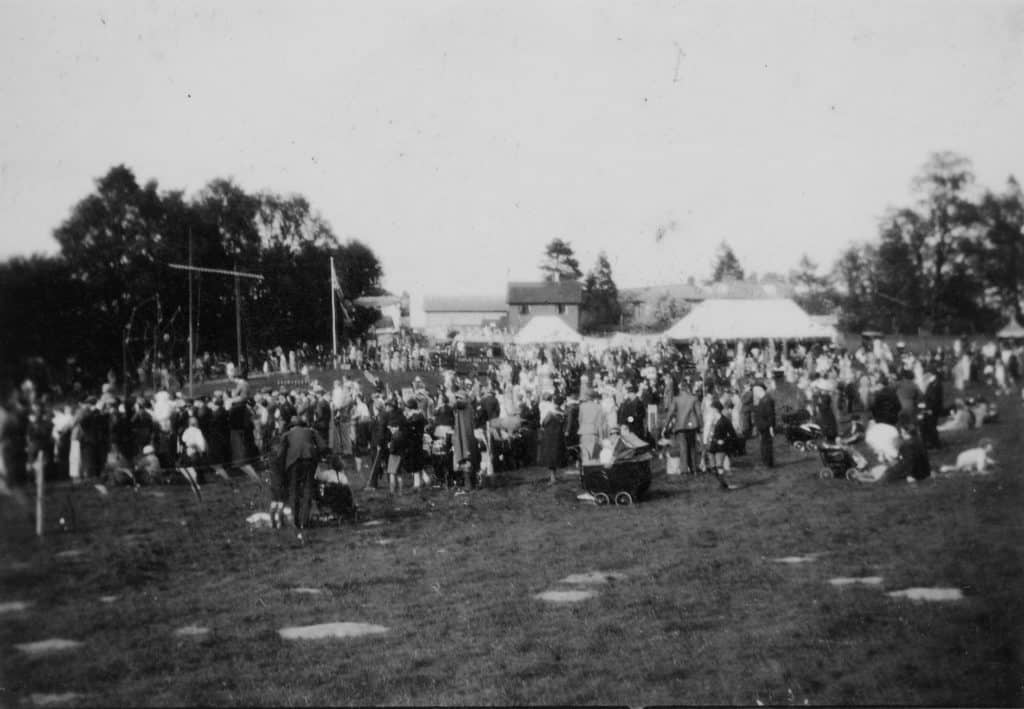 In 1935 a service was held in the Nower to mark the Jubilee of King George the Fifth, and the town band led the hymn singing, augmented by the small Salvation Army band , of which I was a member. Choirs and band were rehearsed and conducted by Dorking's respected and well loved musical celebrity, Dr. Ralph Vaughan Williams, and this occurred again to celebrate the Coronation of George the Sixth. The band played at various events and I can remember them at Denbies for Lord Ashcombe's Harvest Home, although I can't recall what waltzes were played.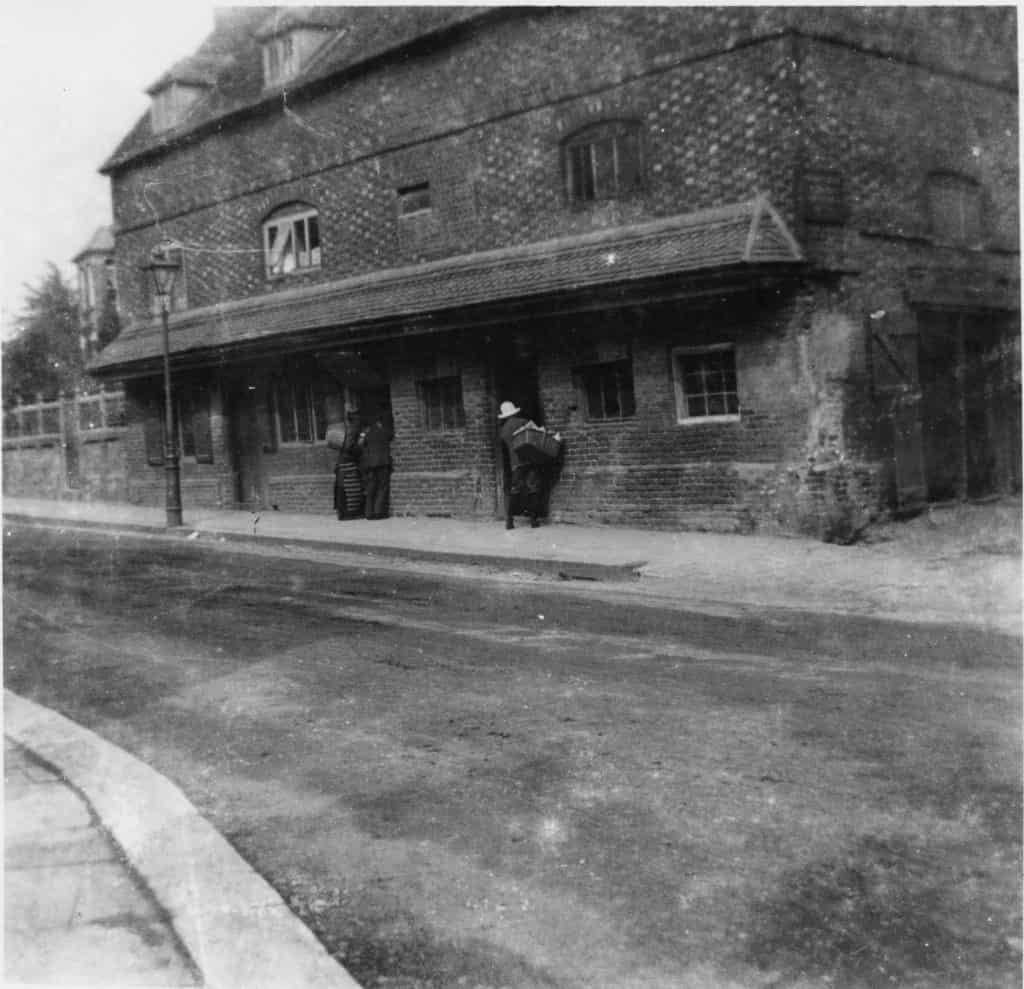 West Street. seemed to me to be almost a town in itself, as almost every kind of shop was there. Coming from Westcott on the left hand side you saw the Forge, just before Station Road. Here you could see massive farm horses being shod. The pungent smell of seared hoof as a new shoe was put on the patient beast is with me to this day! Once or twice the farrier saw me looking over the half – door of the forge and called me in to turn the handle of his grindstone while he sharpened his chisels.
The first shop on the left was a confectionary, tobacconists and toy shop, owned by two sisters named Shepherd. The senior Miss Shepherd was a rather severe lady and would correct any slip you made when requesting a purchase. l remember being told that 'onion' was not the correct pronunciation for Union ( the name of a Toffee bar). Her sister however, was always nice to we noisy lads.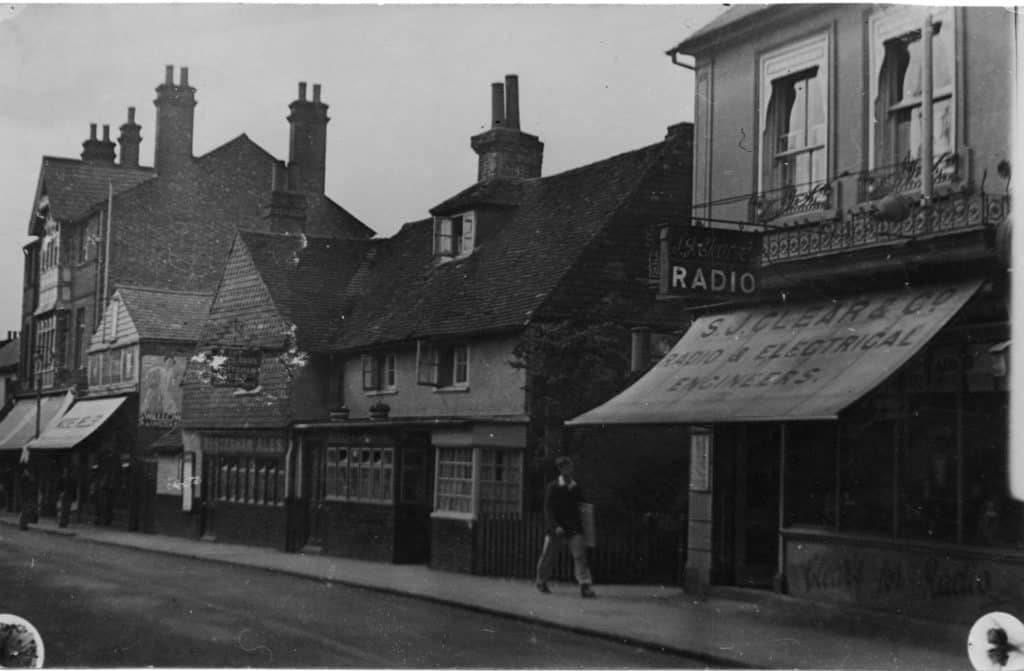 I cannot remember the order of all the shops but a dairy and a shoe shop led to Mr Butcher's bread and cake shop, then Giddings the Grocer. l can hear the "Zing" of the bacon slicer, and the slap of the butter pats now. Butter and margarine was cut from a block, weighed to your request, and wrapped in grease-proof paper. Flour came in proofed cotton bags, very useful for holding marbles, etc. when discarded by mother. You went down a step into the shop and at the door would be a barrel of broken biscuits. You helped yourself, putting them in a paper bag to be weighed and paid for at the counter. Shops like these always had beautiful aroma, produced I expect by the dried fruits, sugars, spices, and perhaps, too, the cheeses.
Gilliams, the Monumental Masons did not seem a very cheery place , but you soon came to Mr Funnels, the fruiterer, where you could buy "specs", that was fruit slightly past its best, at a very low cost.
Soon you came to Beckets which later became the property of Mr Tigwell. and here you could buy stationary, china , and a variety of toys, small and large, such as steam engines, magic lanterns, etc. Mr Tigwell's wife was in charge here, and I spent many longing moments gazing at the items in the Toy department. A seed merchants and a place with a delicious smell where a machine in the window was grinding coffee and roasting was taking place in the shop was near-by.
Soon you came to "Wooly Whites", a shop much missed, as there is nothing like its usefulness to be found now! Children's clothing was a speciality and many other items that could not be found elsewhere. Where the H.S .B.C. bank now stands Mr Tigwell had his main shop, a tobacconists and newsagents. He also had a small Lending Library, lower down the street.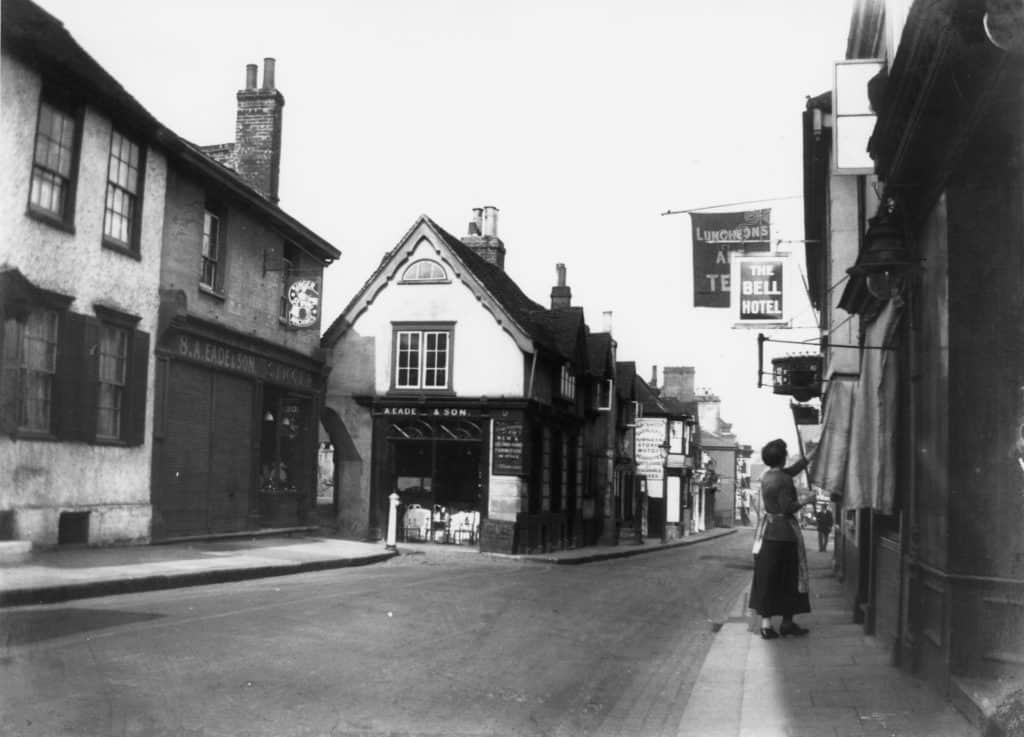 Crossing the road at Pump Corner and descending towards the Fire Station we come to a number of small shops and a butchers where the hooks for hanging poultry etc. can still be seen on the frontage. Mr Adams, a maker of harness, riding equipment, cabin trunks, etc had his premises about here. Soon we come to the two antique dealers, side by side. Mr Turner had in his window a large figure of a pearl diver trapped in the tentacles of a huge octopus. Neighbour Mr Ede (known to his friends as "Happy") had as his main exhibit a large muzzle – loading gun, known I think as a punt or duck gun. This stretched right across his window and was there for some years.
The Temperance Hotel with its pillared entrance was the next notable building, giving the street a nice moral tone to balance the three pubs, which were The King's Arms, The Bell, which has gone, although the carved wooden bells of its name can still be seen, and then The Old House At Home.
Lower down was Mr Forss' the butchers where lovely beef sausages could be had at six old pence a pound and best pork ones at nine pence!
I was waiting there for a "target" for Mum to make mutton stew, when I heard a loud crash, and rushing to the door, saw that a motor cycle had shattered the next door window and a very shaken policeman was extracting himself from the wreckage. Chasing a miscreant, he had been forced off the road. Luckily he was unhurt. I believe he was the first motor cycle cop in Surrey and his name was Mr Chitty. This was about 1931.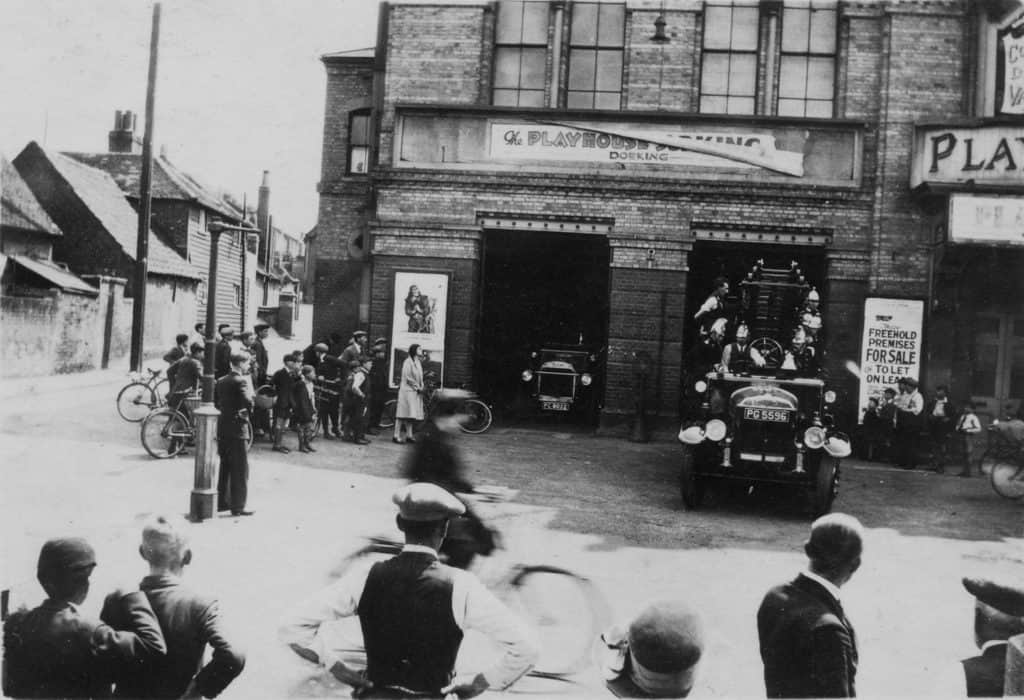 A Mr Millman had a watch and clock repair shop adjoining the 'Old House at Home', and then we are at the Fire Station. This was the place to be when the Fire Alarm sounded! There was a loud hooter which could be heard over a vast area and which originated from the Council yard in Station Rd. and was operated by steam produced by what we called the 'Dust Destructor', an incinerator.
The volunteer firemen very quickly began to appear; several of them worked for Trollop and Coles in Arundel Rd. and were soon clambering aboard the red Dennis engine, adjusting their brass helmets and axes, etc. as they took seats on either side of the escape ladder. The Chief Fireman, in a silver helmet, sat next to the driver, and another man operated the clanger of the bell to clear the road, as with great style the engine dashed off, turning left or right depending on the location of the conflagration.
The fire station was built on to the side of what used to be the Town Hall but was now a cinema called The Playhouse, and here were shown the latest films, silent of course. On Saturday afternoons for two old pence we boys would revel in the exploits of Tom Mix or roar with laughter at Buster Keaton, while the girls could weep with Pearl White, and shiver at the dangers facing Mary Pickford. Sometime in the early thirties we heard the first Talkies, the manager coming on to the stage to tell us not to talk as we would not hear the dialogue… The silent pictures had captions and every one read them aloud, so a silent show was actually quite noisy!
Another cinema called the "Electric" was in South St. but 'Talkies' were not regularly seen until the mid thirties when the Pavilion was built in South St. and the silent films became obsolete. Mr Swaddling's shop, Trollope and Coles, opposite the Co-op row of shops in South St. was a great attraction. As well as bicycles and perambulators he sold the latest Hornby and Basset Loke engines and rolling stock. A large working model made with Meccano would often be in the main window, and I always thought that these were constructed by Mr Swaddling's sons until many years later Mr Cyril Swaddling told me that they were actually supplied by Messrs Meccano.
The streets of Dorking were lit by gas at dusk until the mid twenties and faulty lamp mantle made a loud hissing sound which quite scared me in my pre-school days. Many homes were still lit by gas and most working class folk had slot meters which took pennies, and an old penny gave quite a lot of gas. Electricity was generated at the power station in Curtis Rd, by steam driven dynamos, the current being D.C.until the National Grid system came into being in the thirties, and then parts of Dorking had the modern A.C .supply. For a while one side of the High St. was A.C. and the other side remained on D.C current. The direct current was maintained by rotary converters in Curtis Rodd. and mercury arc rectifiers in Chequers Yard.
ln most years the mill pond froze, so that we could go skating or make slides. Usually someone would come to school with the glad news that the pond was "bearing". and later, "taint safe no more".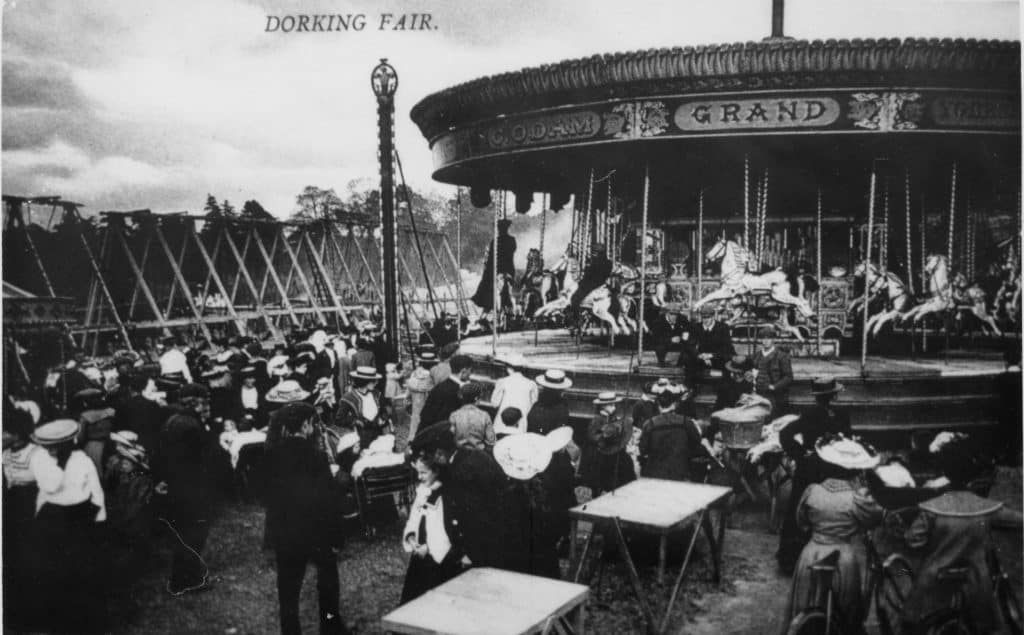 Another great event was the annual statute fair on Cotmandene and shortly before Ascension Day we would be on the lookout for the first engine to come rumbling up the London Road These magnificent steam engines, all shining brass and gold lettering, came towing other fair equipment, the parts to make the merry-go-round, the switch back, the helter-skelter and the chairoplanes . They also provided the electricity for the many light bulbs, by means of a generator mounted at the front of the engines. The fair was quite big in those days; there would be at least two roundabouts, besides those other contrivances for swirling us round and throwing us about. Several swing boats, and coconut shies gave the young men plenty of chance to show-off to their girl friends. Not to mention the rifle ranges and other stalls where you could demonstrate your skill at Darts or Hoopla. Pulled toffee and humbugs were made while you watched (probably most unhygienic).
The sound and the excitement was terrific as each booth added its own to the loud music from the steam organs of the roundabouts,' Lily of Laguna' competing with 'Colonel Bogey'… I don't ever remember being bored in my youth, although C.Ds and television were far in the future, there was always something to keep our minds occupied.
We also played marbles, and everyone had a bag of them to challenge your mates with, and then suddenly, it would be whip and top time, and you needed to have at least one "window breaker" and a peg top, to be in the fashion. Then as the year advanced it would be "conker" time, and you scurried around to find the largest horse chestnuts. The school playground was the scene of many a contest.
In the colder weather, a favourite game was "bus horses". Horse drawn omnibuses were still in memory, and so we linked our hands behind our backs, and charged around the playground in pairs, and woe betides any who got in our way!
ln the summer, during the holidays, we went swimming in the Mole, at the Stepping Stones or at Brockham . We did not often see the sea, although most of us attended Sunday school at one or other of the churches, and so were entitled to go on their annual outing to Bognor or Littlehampton. Aldershot and District buses were used and were loaded with happy children shouting their annual cry ,"we are the boys that make no noise", until we would eventually arrive at the coast, where a grand time was spent getting sun burnt and spending our hoarded pennies. On the journey home, we would add to our earlier shout, "D.O.R.K.I.N.G." and throw coloured streamers out of the windows. This untidy habit was popular, too, with the week-end patrons of the charabancs (*we called them 'sharrass' ). After a bank holiday we would go out looking for rolls of streamers which had not unrolled. These were considered quite useful trophies!
There were several other small confectioners' shops in the town and one which I often visited, when in receipt of my Saturday penny, was Mrs Kelsey's in the High Street. Here you could buy Surprise Eggs and Lucky Horseshoes, both made of sugar, and containing a small trinket or toy. Most sweets cost "two ounces a penny" and I remember that aniseed balls were 16 a penny, and that sherbert fountains and dabs , sweet cigarettes, and many types of toffee bars were a halfpenny each.
As it came near to Guy Fawke's Night, most of these shops sold fireworks, and you could pay into a firework club, and a few days before the Fifth of November, collect your halfpenny bangers, etc. Granddad always made me a "Guy", and a good bonfire from garden refuse and ensure that a very lively time was had by me and my friends; but I don't think that my sister enjoyed the "bangers" so much!
I attended the Powell Corderoy School, as did my mother before me. When l first started there, Mr Cousins, who was the first headmaster when the school was built, was still there. His wife, whom we called 'Governess', was in charge of the three "baby" classes. His daughter, Muriel composed the school song, "Each for the school and the school for us all ", and the "Pledge of Loyalty" devised at about the same time. The May Festival was a great occasion, everyone taking part, the year's elected May Queen enthroned with her attendants, and the school captain bearing the school banner at her side. He would lead us in the Pledge, which began "I pledge myself to remember that at all times and in all places; I am the school's representative." The Maypole was danced around by the girls, in period costumes, while the boys performed a sword dance and gave a gymnastic display. The school had a good reputation for sport, and competed well with the other schools in Dorking. There were six standards, with a seventh if you showed a little extra ability.
This class was known as the Headmaster's class, but was usually supervised by Miss Scragg. This lady had been a pupil teacher in my mother's day, and so was one of the older teachers. All of our teachers were good and it would be invidious to pick any one out, but "Gertie", as we irreverent boys called her, was lovely, she could make a history session fascinating and even maths interesting. Most of what I learned I owe to Miss Scragg. Her reading of the works of Thomas Hardy, to me, was entertainment beyond compare!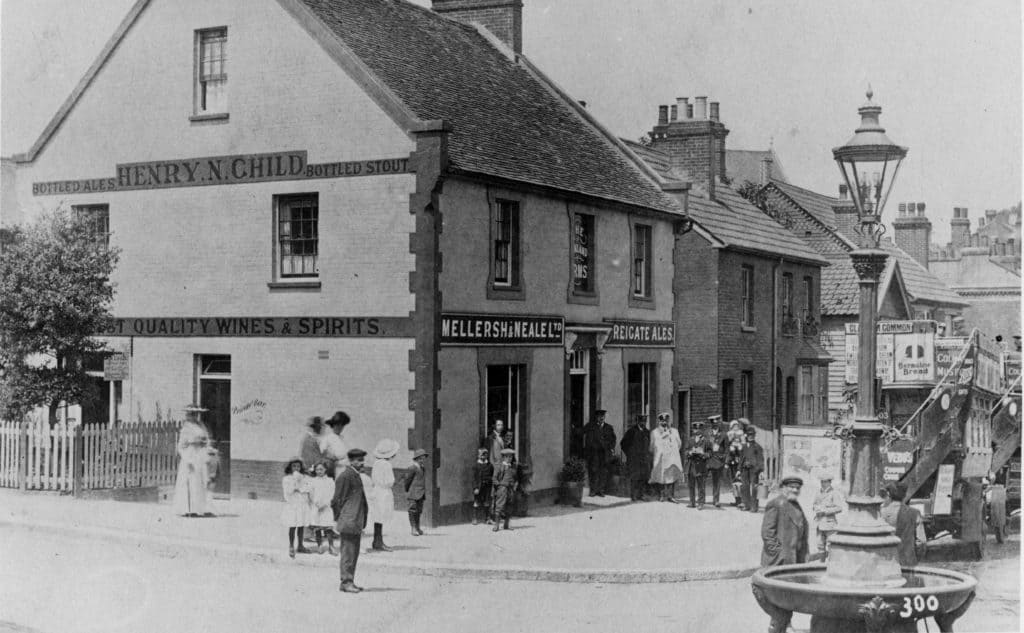 A part of old Dorking needs, I think, special mention. The area known as The Falklands, consisting of Hampstead Rd. Hampstead Hill, and Falkland Rd. Was again a small township. lt boasted a pharmacy, a dairy, haberdasher, cycle repairer, newsagents, greengrocer, general store, bakery, butcher, fish and chip shop, as well as two public houses, The Prince of Wales and The Falkland Arms. The latter was the terminus for all the buses that came in to Dorking. At the junction of the roads there stood a circular horse trough, and round this the omnibuses had to swing. Open-top General buses were the most frequently seen. Barrington house stood in its own grounds where Barrington Court now is. This was a fine old residence which was built, l believe, in the seventeenth century.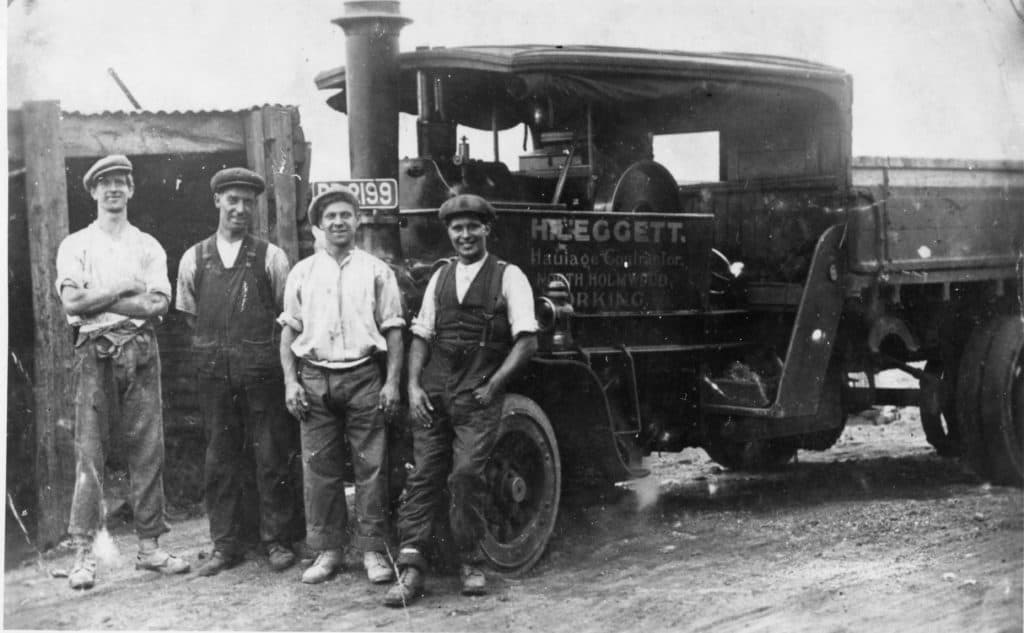 There were still many steam driven wagons and lorries to be seen in my early days. Harry Legget's were worth watching out for, as they rattled down West Street, sparks showering from their fire boxes, quite spectacular after dusk. Steam engines needed frequent water replenishment, and to supply this, the bridge over the brook at Milton Court had a gap in its wall, so that traction engine and steam roller drivers, etc. could lower a hose down to the water to take in supplies.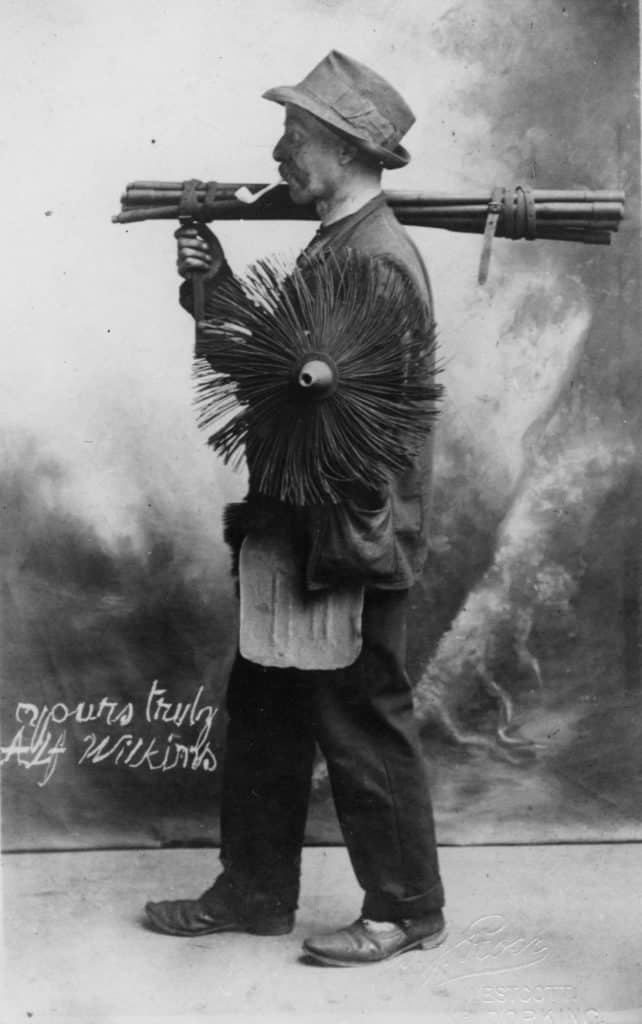 The street cries of several trades could still be heard. "Sooty" Woolgar's shout of "Swee-ep" was recognisable streets away. The rag and bone man, who also bought rabbit skins and sometimes old iron, would make his presence known by ringing his bell and his cry of "Ray-bone". Sometimes too, the Muffin Man would be heard, and Warren's coal cart driver would call out to let you know that fuel was available. Coal fires were in every home, and many folk bought coal from him weekly, by the sack load.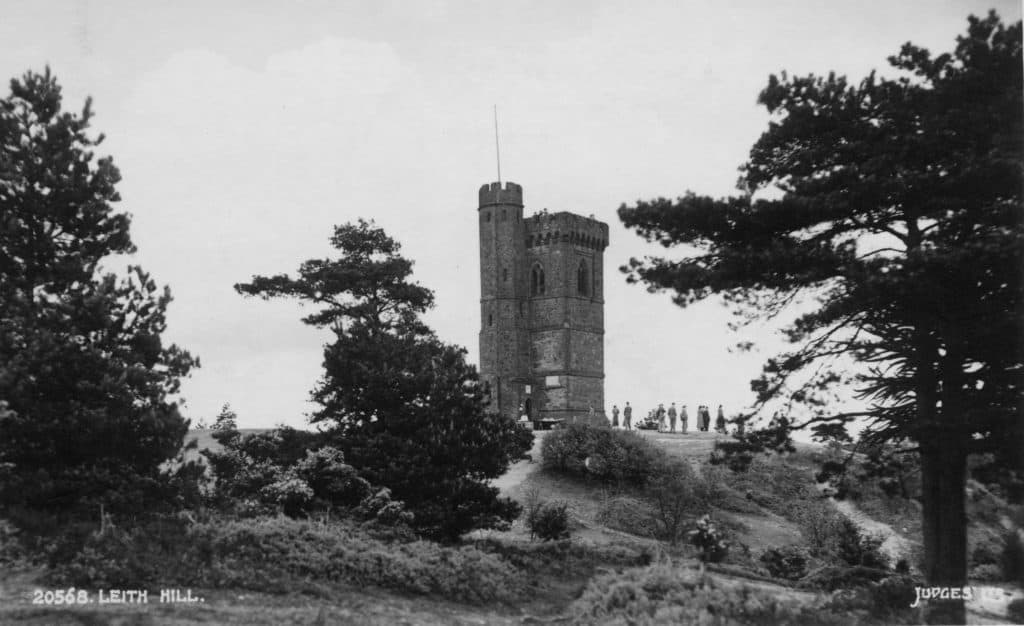 Mother Nature provided us with several occupations during the year. Spring brought us bluebells and primroses to gather for our mothers, and in the summer we would climb to Leith Hill in search of "Hurts". These are known as Whinberries in Wales and Yorkshire, and Whortleberries elsewhere, whilst the cultivated version (big and tasteless) are called Blueberries. lf you've never tasted 'hurt tart' you've never lived ! Blackberries came next for us to gather, for tarts and to make jam; then in the Autumn there were Chestnuts from the Nower to take home and roast or boil.
We roamed the countryside freely and without fear in those days. On Saturday we knew when it was time to head homewards for dinner, as at twelve o'clock a hooter was sounded at the Council yard in Station Rd. which could be heard for miles!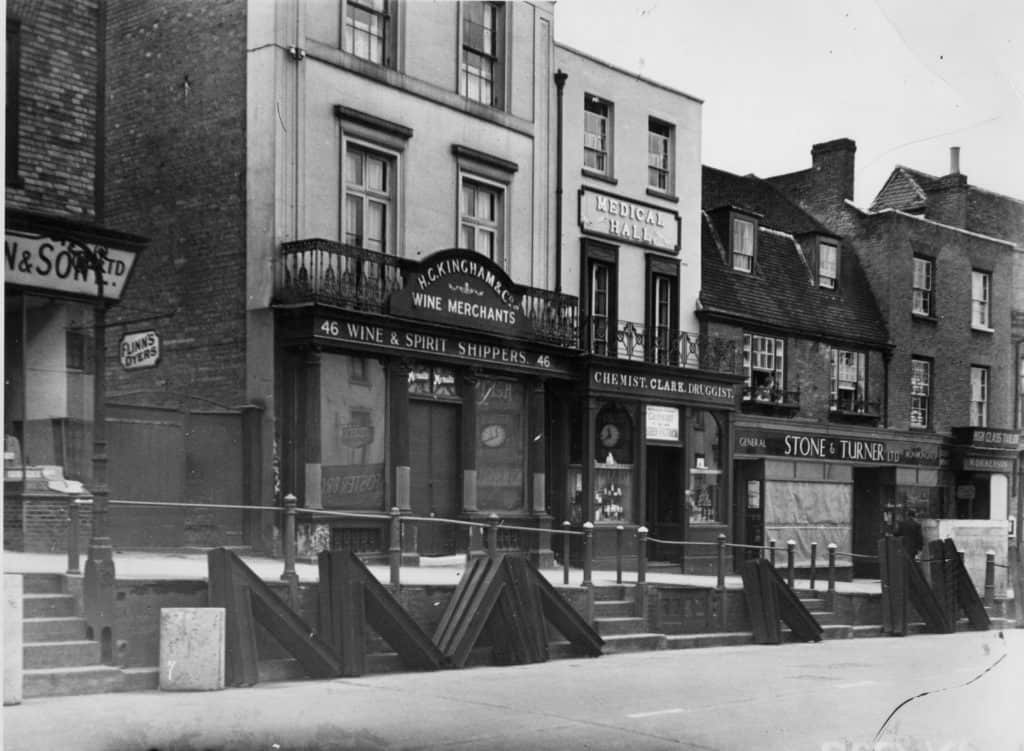 St. Martin's church clock gave us the hours and quarters, and if we were in the town, then we would check the time by Messrs Kinghams' clock which overhung the pavement in the High St. for many years. Dorking was, and still is, a very interesting town to live in.
W.A. Tyler – 1920 – 2010