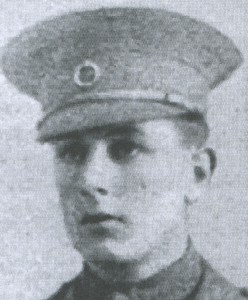 Thank you to John Callcutt for letting us reproduce the following information, taken from his book: A Village at War. Newdigate in World War One.
Cyril Douglas Herron was born near Canterbury, Kent in 1895 and educated at Wellington College from 1909 – 1912. His father, Robert Douglas Herron was a Captain in the 2nd Dragoon Guards (Queen's Bays). Cyril lived with his mother Emily Sophia Bloor Herron, nee Bradwell (1864 – 1941) who was known as Ella, and his youngest brother, Robert Roy Herron, at Manor Farm House on Eggars Hill in Aldershot, close to where his father's regiment was stationed. The Queen's Bays were ordered to prepare themselves for overseas service and on the 16th November 1901 they left Aldershot and sailed for South Africa with Capt. Robert D. Herron the squadron leader of 'A' Squadron. At dawn on the 1st April 1902 the regiment rode into a laager of 500 Boers, a number far greater than anticipated, and during the ensuring struggle Capt. Herron was amongst 80 men who were killed that day at Holspruit.
It was therefore no surprise that Cyril joined his father's regiment, and he was commissioned on the 15th August 1914. They sailed for France on the 16th November 1914 as a component of the 1st Cavalry. In May 1915 an officer described the conditions in France at that time: 'Cavalry has been in the trenches on and off for the past three weeks and have had severe casualties. The Germans attacked with gas and large numbers of men were asphyxiated. The respirators do not have the desired effect and unless we make an effort to produce noxious gasses quickly then we will be fighting at an enormous disadvantage.' The last 24 hours of Lt. Herron's life can only be described as hell; the following extract from the regiment's war diary and history illustrates this. 'The regiment remained in billets until the 9th May when it was ordered into reserve trenches south of Potijze, relieving the 9th Lancers. On the 12th May the Bays moved into the very first line trenches, taking over from the 19th Hussars. These trenches were in a very bad condition, being shallow and straight, and as the men improved them at night they were digging through decomposing corpses. The noise, too, attracted some snipers and the RSM, Mr Turner, was killed by a bullet through the neck. On the 13th May, from 3am to 7am the Germans opened a bombardment of heavy howitzer shells, 'coal boxes and ' Jack Johnsons'. All telephone lines were cut and the trenches of 'B' squadron on the left were largely destroyed. One troop on the extreme left had only Sergeant Isles and one trooper left. 2nd Lieutenant Herron being killed and all others of his men killed or wounded, some of them buried in the wreckage of the trench. Even so a mouth-organ concert was improvised during the continual bombardment.'
2nd Lieut Cyril Douglas Herron did not hear the mouth-organ as he was killed on that day and is buried in the Potijze Chateau Grounds Cemetery. A memorial to him and his father can be seen in Newdigate Church and he is remembered on the Wellington College of Roll of Honour.
In September 1918 Cyril's brother Robert became a 2nd Lieutenant in the 1st Dragoon guards and was stationed in India. He later transferred to the Royal Field Artillery and survived the war.
Born                            Canterbury, Kent
Lived                           Eggars Hill, Aldershot
Son of                         The late Captain Robert Douglas Herron and Emily Sophia Bloor Herron (nee Bradwell)
Brother of                    Robert Roy Herron
Regiment                     2nd Dragoon Guards, The Queen's Bays
Date of Death              13th May 1915
Place of Death             Flanders, Belgium
Cause of Death            Killed in Action.
Age                             19
Cemetery                     Potijze Chateau Grounds Cemetery, Belgium
Previously : Kenneth C. Herron                                                              Next : Cecil T. Hills