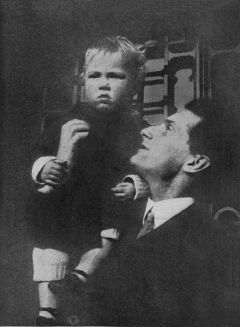 Thank you to Dominik Wujastyk and Susan Timberlake (nee Legg)  for allowing us to publish their research. More details can be found on James Skene's page at Geni.com
Personal Life
James Henry Skene was born in early 1878 in Hammersmith, London. He was the fourth child and would have six younger brothers and sisters. His father had been born in Athens and had returned first to Scotland and then London.
James performed as a professional pianist under the name Hener Skene.
On 14 December 1905 The Times reported a concert at Leighton House the previous day: "Mr Hener Skene played on the piano Rubinstein's G minor barcarolle and Chopin's C minor study, with the prominent part for the left hand. His quiet demeanour at the keyboard calls for commendation, but a more demonstrative manner would easily have been forgiven in the etude if a larger proportion of right notes had been played, as they might have been at the pace more usually adopted."
Hener was a pianist in rehearsals and performances for the famous dancer Isadora Duncan who "both in her professional and private lives, flouted traditional mores and morality". He is first mentioned in Isadora's autobiography "My Life" in 1908.
Hener performed at the Queen's Hall in the proms on 18th August 1909, playing Camille Saint-Saens' "Symphony No3 in C Minor, Organ", for orchestra, organ and two pianists in the Queen's Hall. The conductor was Henry Wood.
Hener was in the same circle as Aleister Crowley, who was well known for using drugs and involvement in sex magic, and it would seem that although Crowley incorporated Hener into one of his plays, the two never really got on. Crowley refers to Hener as a 'prig'. In October 1911 Hener invited Crowley to a party at the Savoy, to which Crowley went but only to meet Isadora Duncan.
Hener is mentioned several times more in Isadora's autobiography including discussing the 1913 tour of Russia that they made together. They returned to Paris in April of 1913 to perform at the Trocadero. In the book there is a picture of Hener holding Isadora's nephew on his shoulder. Later that same month, Isadora's children were drowned in a car accident. Isadora moved to Florence where she sent for Hener, who was certainly a friend as well as an accompanist, and he then stayed with her when she moved to Rome.
Family
Hener's brother Robin (or Robert) qualified as a pilot in July 1913. He joined the Royal Flying Corps and died early in the war. His Bleriot aircraft was very heavily loaded. "Lieutenant Robin R Skene, one of the first members of the Royal Flying Corps, was buried in the churchyard after crashing in his Bleriot monoplane shortly after take-off from Netheravon, Wiltshire, in 1914 on August 12th en route to Dover and France at the start of the First World War. He and mechanic R. Barlow were the first members of the Royal Flying Corps to die on active duty and among the British first casualties of the war.".
https://en.wikipedia.org/wiki/Send,_Surrey
Robin was buried in Send churchyard in the same grave as his mother.
James' father Felix James Henry Skene was born in 1844 in Athens. He returned to Scotland and became the Head Clerk in the Lord Treasurer's Office, before moving to London, where he was clerk in several Parliament offices. Following his retirement, in 1913 the family moved to Send, Surrey. Felix's wife, Jane, died in December that year and is buried in Send churchyard.
The family were descended from the Skene of Rubislaw branch of an ancient Scottish family, Skene of Skene. Further information on James' ancestors over many generations appears in "Memorials of the family of Skene of Skene" at http://archive.org/stream/memorialsoffamil00sken#page/138/mode/2up
Felix moved to Brookmeadow, Holmwood by 1915. The property had been bought by Olaf Ranson Cuthbert and his widowed mother Marion, just before the war. Olaf married, in November 1915, Millicent Down, whose family were solicitors in Dorking, and she continued to live with her father in Tower Hill Road. Olaf was a Temporary Captain in the 8th York and Lancaster regiment and was killed at the battle of the Somme in July 1916, 12 days before James was killed.
James's sister, Zoe Skene, (born 1884) married Courtenay Howard Newton in early 1915. Courtenay had previously been married and was divorced in 1913. By May 1915 they were living at Brookmeadow and Zoe was advertising for a cook. Because of his age Courtenay only became liable for military service in April 1918 when the upper limit was extended. He then applied for exemption from a military tribunal, which was rejected, but they did rule that he was not to be called up for 21 days (reported in the Dorking advertiser of 22nd June 1918). He attested in the Royal Air Force on 12th July and started his service on 24th September. He was employed as a hospital orderly until 11th April 1919, when he was placed on the reserve and finally discharged on 30th April the following year. Courtney and Zoe probably continued to live at Brookmeadow with her father until Olaf's executors sold the house in 1922. They were divorced in 1926.
James' brother, Charles Edward Skene, (1889-1965) was a political officer in the Gold Coast (now Ghana) from 1912 until at least 1932. He was also an officer in the Gold Coast Volunteers. When he returned on leave to Britain in March 1920 and February 1922 he gave his home address as Brookmeadow, Holmwood.
Other siblings
Three siblings died in childhood: Felix George William Skene 1870 – 1880 Rhalou Jane Skene 1882–1885 Beatrice May Skene1886 – 1886
William Forbes Skene (1874–1923) volunteered early in the war and was commissioned into the Reserve Cavalry in December 1914, aged 40.
Ethel Mary Skene (1875–1969) was married in 1905 and moved away from the family
George Alexander Skene (1880–1948) returned to England from Rangoon, Burma in January 1915 and within a few months married Berthe Eugene (nee Lintilhac). Berthe had previously been married to Courtenay Howard Newton, who had petitioned "for a divorce from his wife, Bertha Eugene Newton, on the grounds of misconduct with George Skane (sic)" 03 July 1914 – Exeter and Plymouth Gazette. Courtney married George's sister Zoe in 1915. George joined the Artists Rifles, an Officers Training Corps, and was commissioned in April 1917 as a "temporary second lieutenant while under the Director of Timber Supplies". (London Gazette)
Olive Maud Skene (1887 – 1976) seems to have gone to Canada for a time in 1910. She married Wilfred Willey Legg in 1919 in Marylebone. He was in the Honourable Artillery Company (part time) before the war and served as a driver (and later gunner) with their Royal Horse Artillery battery, going to Egypt in 1916. He was then commissioned as a Lieutenant in the Royal Flying Corps. He again served part time in the Royal Artillery from September 1920 until January 1923 to complete his commitment.
War Service
James joined the Royal Berkshire Regiment. He rose to the rank of acting Sergeant in 5th (Service) Battalion. This battalion was formed at Reading on 25th August 1914 from volunteers for the new army. It moved initially to Shorncliffe, Kent. Henry left this battalion and received around four months training to become an officer. He was commissioned as a temporary 2nd Lieutenant on 1st April 1915, according to the London Gazette. (Another entry giving the date as 12th October was later corrected.)
He had now joined the 2/4th Battalion, which formed at Reading on 6th November 1914 as a second line unit, when the 4th (Territorial Force) battalion was split. Territorials at the time had no obligation to serve overseas and those who had agreed to go were formed into the 1/4th battalion, with the 2/4th initially for home service only. Both battalions were joined by many new recruits from September 1914 onwards.
1/4th battalion became part of the 48th (South Midland) Division and went to France in March 1915.
James and the 2/4th battalion moved to Maidenhead in February 1915, forming part of 61st (2nd South Midland) Division. Drafts began to leave for the first line units, and their places were taken by new recruits. Along with other second line divisions it suffered greatly from lack of equipment of all sorts, and training was inevitably affected. In April 1915 the battalion moved to Chelmsford. There is a picture in the regiment's museum of the officers there. The division was inspected by Lord Kitchener on 6th August. In February and early March 1916 the division moved to Salisbury Plain. King George V inspected it there at Bulford on 5th May 1916.
The details of the battalion's actions are given in the war diaries. This is a summary of the movements, actions and casualties, giving the details that were recorded of James Skene's part.
On 25th May 35 Officers and 850 other ranks moved from Salisbury onto trains at Tidworth for Southampton, then onto a boat for Le Havre. They arrived in the area of Merville – Gonnehem – Busnes – Thiennes, about fifty miles from Calais, where they undertook further training including route marches and range work.
On 7th June they prepared to move into the trenches. The next day they were attached for instruction and 1 officer was wounded. They were preparing for a routine where they would rotate between three locations every few days: in the trenches, or a mile or so back in a reserve area, or a couple of miles back still in rest areas. They would normally be replaced by other Battalions of the Division. Movement in and out of the trenches usually took place under cover of darkness. The area they had been sent to was considered quiet and a suitable place for inexperienced troops to cover, but the Germans opposing then had been there for over a year and were seasoned troops.
On 9th June a trench mortar falling on "D" company lines killed 3 men.
On 10th June during the night the battalion replaced the 10th South Wales Borderers in the trenches at Fauquissart Section 3½ miles SE of Laventie. The weather was cold and wet.
Casualties Other ranks: 2 Killed, 1 Wounded.
The battalion stayed in the trenches until 15th June when they were relieved by 2/4 Oxfords at 11pm and moved back to billets in reserve area at Laventie. While in this area they provided working parties.
On 21st June the battalion went back to the trenches to relieve 2/4 Oxfords. Listening patrols went out and a sap trench towards the enemy was started.
23rd June was a quiet day, but there was heavy shelling of the new saps at night.
2/Lt Skene went out with a small patrol after the shelling ceased to see if the enemy were approaching sap.
Casualties Other ranks: 1 wounded.
25th June was another quiet day. Then there was heavy shelling of the enemy front line at 10pm for half an hour. The enemy replied with intense fire, probably 20 machine guns, also rifle grenades and trench mortars from 11.15 to midnight.
A patrol under 2/Lt Skene went out at 12.25 to report on the enemy wire and found it cut. The party was fired on at close range. Skene carried a wounded man back to his line and received a slight bayonet wound in the leg but continued on duty.
Another patrol went out and reported the wire was not well cut in front of "A" Company.
Casualties Other ranks: 1 wounded.
At 12.30am on 27th June patrols under 2/Lt Skene, and three other officers went out. One officer was hit in both arms. An officer attached for instruction from 2/6 Glosters lost his way and was not seen again. Very wet night.
Casualties Other ranks: 1 wounded.
On 27th June the morning was quiet. The battalion was relieved by 2/4 Oxfords by 9.30pm, returning to the reserve area at Laventie as before.
The commanding officer was replaced by an officer from another regiment.
On 3rd July the battalion was relieved from the reserve area by 2/6 Glosters and marched out of Laventie at 8.30am arriving in the rest area at La Gorgue at 9.35am going into billets.
6th July After a Route march of 8 miles, during which 1 man fell out, at 3pm the battalion received orders to move as soon possible to Croix Barbee (in the reserve area) and await orders. It marched out at 4.20pm and arrived at 6pm. It was then ordered to relieve 1/1 Cambridgeshire Regiment in the left Sub-Section of Ferme Du Bois.
The morning of 8th July was quiet. Enemy artillery and machine guns were active during the night.
One patrol went to examine the enemy's wire by La Bassee Road and found it uncut.
Another patrol under 2/Lt Skene visited the enemy's wire and cut some gaps.
On 10th July the left Company took over an additional 500 yards of front from 2/5 Royal Warwicks.
2 Patrols, one under 2/Lieut J H Skene, went out at night.
Casualty Other ranks: 1 wounded.
On 12th July there was a heavy bombardment on the right at 1am, followed by a quiet morning.
At 3pm the battalion was relieved from the front by 2/4 Oxford and Bucks and marched into billets West of Croix Barbee (or Barbet), in the reserve area.
Casualties Other ranks 1 Killed and 1 Wounded.
13th July: Cleaning up in the reserve area.
Preparation for raid by party from "A" Company, consisting of 4 officers, including 2/Lt Skene, and 100 Other Ranks. 2/Lt Skene was in command of a small group with a Royal Engineers sapper who had a Bangalore Torpedo to blow up the enemy's wire but owing to casualties only 2/Lt Skene with a few men were able to get through the wire. The raiding party returned at 10.50pm. The full orders for this raid can be found on-line.
Casualties Officers: 1 Killed, 3 wounded, 1 missing (2/Lt Skene) (All the officers involved in the raid were casualties)
Other ranks: 6 Killed, 14 Wounded, 1 Shell shock, 12 missing.
14th July The Battalion marched to the rest area at La Gorgue and went into the same billets as on 3rd July.
15th July At 10am the Battalion was ordered to march forthwith to Laventie where it arrived at 12.45pm. It then assisted the Royal Engineers with digging fatigues. At 8pm it went into the trenches and took over the left Sub-Section of Fauquissart Sector
On 16th July the battalion prepared for an attack.
Casualties Officers: 1 killed and 1 wounded
Other ranks: 3 Killed, 7 Wounded (1 accidentally).
17th July The attack was cancelled owing to the guns being unable to see clearly their targets on account of misty weather. In the afternoon the battalion returned to positions occupied on night of 15 June in Laventie.
Casualties Other ranks: 8 wounded
On 19th July the artillery preparation opened at 11am and the attack took place at 6pm. This was the first major action that the battalion and its division had been engaged in. The inexperienced British and Australian troops were against seasoned Germans in heavily fortified positions. No British troops from any battalion succeeded in entering the German lines. The battalion was relieved by 2/4 Oxford and Bucks Light Infantry at 10.30pm and marched back into billets in a rest area at Rue De La Lys, where they cleaned up the next day.
Casualties Officers: 3 Killed and 2 wounded.
Other ranks: 35 Killed, 115 Wounded and 8 Shell Shock.
The battalion had first been in the trenches 6 weeks ago. During this time 12 out of the 35 officers who landed had become casualties (34%) while 236 out of 850 other ranks who landed were casualties. (28%)
The official name later given to the action on 19th and 20th July was the "Attack on Fromelles". It was intended to divert German troops from the Battle of the Somme, which was taking place further south but the whole division suffered very heavy casualties for no significant gain and no enemy reserves were diverted from the Somme. Because of this disaster the division was not used again, other than for holding trench lines, until 1917.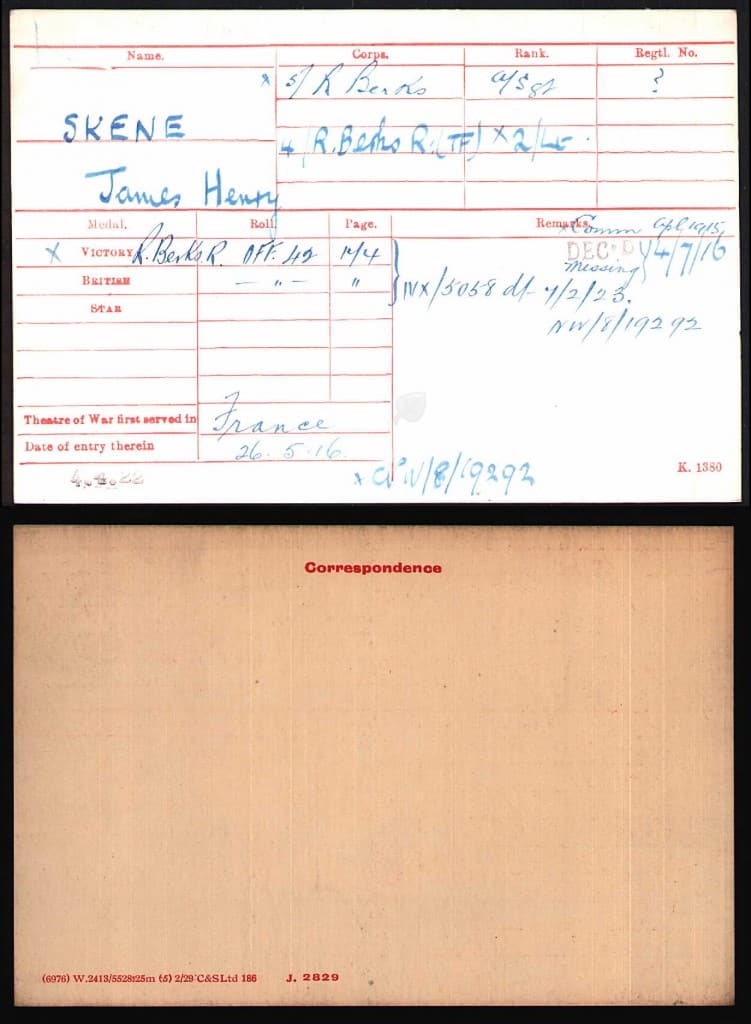 | | | |
| --- | --- | --- |
| Born | Hammersmith, London. | |
| Lived | Brookmeadow, North Holmwood, Dorking | |
| | | |
| Son of | Felix John Henry Skene | |
| | | |
| Date of Death | 13th July 1916 | |
| Cause of Death | Pas de Calais, France | |
| | | |
| Age | 38 | |
| | | |
| Memorial | Loos Memorial | |