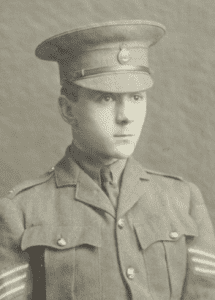 Thank you to Lenka Cathersides for the following research.
Martin Frederick Heath-Caldwell was born in October 1893 in South Holmwood in the District of Dorking and was baptised on the 20th of November 1893 in Holmwood, Surrey.
His parents were Constance Mary Helsham Helsham-Jones and Major General Frederick Crofton Heath-Caldwell, he had only one brother: Cuthbert Heath-Caldwell.
At the time of the 1891 Census, Frederick, Constance, their son Cuthbert and a housemaid, cook and nurse lived at Aldershot, Hampshire. Frederick was stated to be a Captain and Major of the Royal Engineers.
During the 1901 Census, Constance and seven year old Martin were staying with her 61 year old aunt Henrietta Helsham-Jones at Vigo in South Holmwood. The household also consisted of a cook, parlourmaid and maid domestic.
During the 1911 Census, Frederick and Constance lived at West Ham House in Basingstoke, Hampshire. They employed a cook, lady maid, parlourmaid and kitchen maid. The house had 25 rooms.
Martin, was at this time, a student at Wellington College in Crowthorne, Berkshire.
In 1913, Frederick Crofton Heath assumed the additional surname Caldwell under the will of great uncle James Stamford Caldwell of Linley Wood and succeeded to a property known as Linley Wood, Talk-'o-th'-Hill (Talke) in Staffordshire.
It was here that Martin lived at the time of his enrolment. On the 19th of December 1913, Martin received a commission in the Royal Field Artillery
On the 18th of August 1914 Martin disembarked in France.
In January 1915, Martin Frederick became the 2nd Lieutenant of the Royal Horse Artillery, 'A' Battery, the Chestnut Troop.
To read more about Martin's time in the trenches visit http://www.heathcaldwell.com/timeline_lw/1914
Martin was killed in action on the 16th of May 1915 in France. According to his Commanding Officer he was scouting at the front when killed with a single shot from a sniper near Richebourg I'Avoue France.
Martin is buried at Bethune Town Cemetery in France. His grave reference is II.H.2. On the headstone is simply engraved 'Younger Son of Major General and Mrs C. Heath-Caldwell of Linley Wood Talke Staffordshire'.
His father, Major General Frederick Crofton Heath-Caldwell, was given £7 and 2s in 1915, £7 and 10s in 1916 and £35 in 1919 of Soldier's Effects. His father was also benefactor of £191 in the Probate.
Martin Frederick Heath-Caldwell received the British War and Victory medals and the 1914 Star. He was 22 years old.
| | | |
| --- | --- | --- |
| Born | Holmwood, Surrey | |
| | | |
| Son of | Major General and Mrs F.C. Heath-Caldwell of Linley Wood, Talke, Stoke-on-Trent | |
| Grandson of | Admiral Sir Leopold Heath, of 'Anstie Grange', Holmwood and of.Col Henry H Helsham Jones of 'Moorfields', Holmwood | |
| | | |
| Regiment | "A" Battalion. The Chestnut Troop. Royal Horse Artillery | |
| | | |
| Date of Death | 16th May 1915 | |
| Place of Death | Richebourg I'Avoue France | |
| Cause of Death | Killed in Action | |
| | | |
| Age | 22 | |
| | | |
| Cemetery | Bethune Town Cemetery, Pas de Calais, France | |