Thank you to Lenka Cathersides for the following research.
William Edwin Forrest Curror was born about 1882 in Fife, Scotland to commission agent John and Annie Forrest Curror (nee Currie).
His father, John was born on 10th October 1845 in Beath, Fife to farmer John, born about 1808 in Fife, and Catherine Leslie, born about 1826 in Burntisland, Fife. John was baptised on 29th October 1845 in Beath. His mother, Annie was born on 26th March 1853 to builder Thomas, born about 1814 and Helen Ovenstone, born about 1813, all three in Fife. Annie was baptised on 29th May 1853 in Elie, Fife. John married Annie on 5th August 1874 in Elie.
At the time of the 1881 Census, the family lived at Lochburn House, 9 High Street, Elie. John was working as a grain and potato commission merchant and Annie was at home. The family was looked after by a servant.
At the time of the 1891 Census, William was staying with his maternal grandfather, retired architect and builder, the widowed, Thomas at Carmurrie House, Elie. The household further comprised of William's parents, Thomas' granddaughter Helen Laing and a servant.
The 1894 and 1897 Surrey, England, Electoral Registers read that John Curror Jnr., lived at West Lees farm in Dorking. The farm comprised of a tenement and land.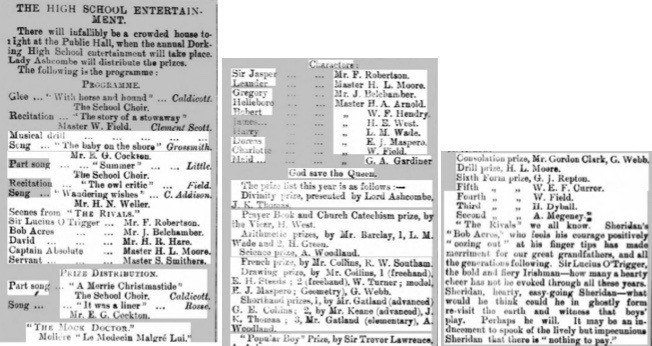 The 1895 Dorking Advertiser reads that William received the 5th Form prize at the Dorking High School annual entertainment. Prizes were distributed by Lady Ashcombe.
William´s father John, died in the 4th quarter of 1901 in Romford, Essex. He was 67 years old.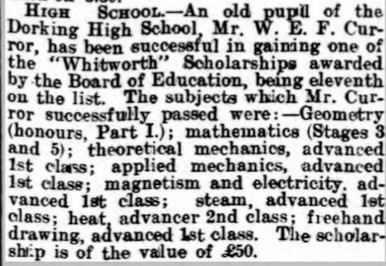 An old pupil of the Dorking High School, Mr. W.E.F. Curror, has been successful in gaining one of the ´Whitworth´(engineering) Scholarships awarded by the Board of Education, being eleventh on the list. The subjects which Mr. Curror succesfully passed were: -Geometry (honours, Part I); mathematics (Stages 3 and 5); theoretical mechanics, advanced 1st class; applied mechanics, advanced 1st class; magnetism and electricity, advanced 1st class, steam; advanced 1 class, heat, advancer 2 class; freehand drawing, advanced 1st class. The scholarship is of the value of £50.
William Curror Scholarship Report 1902 © Dorking Advertiser findmypast.co.uk
At the time of the 1911 Census, Annie and her son William, an engineer draughtsman lived at 155 Queens Gardens, Ilford, Essex. Annie stated that she had given birth to a one child. The house had five rooms.
William Curror enlisted into the 14th (County of London) Battalion (London Scottish). He was a 2nd Lieutenant. William disembarked on 3rd April 1916 to France.
He was killed in action on the 1st July 1916, on the Somme in France

His body was later found, identified by his disc and re-buried at the Gommercourt British Cemetery No. 2 Hebuterne in France. His grave reference number is: V.C.1.
William Curror was awarded the British War and Victory medals.
William Curror of 16 Vaughan Gardens, Ilford, Essex left to his mother Annie £415, 2s and 1d in probate.
The widowed Annie of Lily Bank, Bridge of Allan, Stirling, Scotland died on 27th April 1919. She left £1738 and 4d to her relative, medical practitioner James Thomas Currie Laing in probate.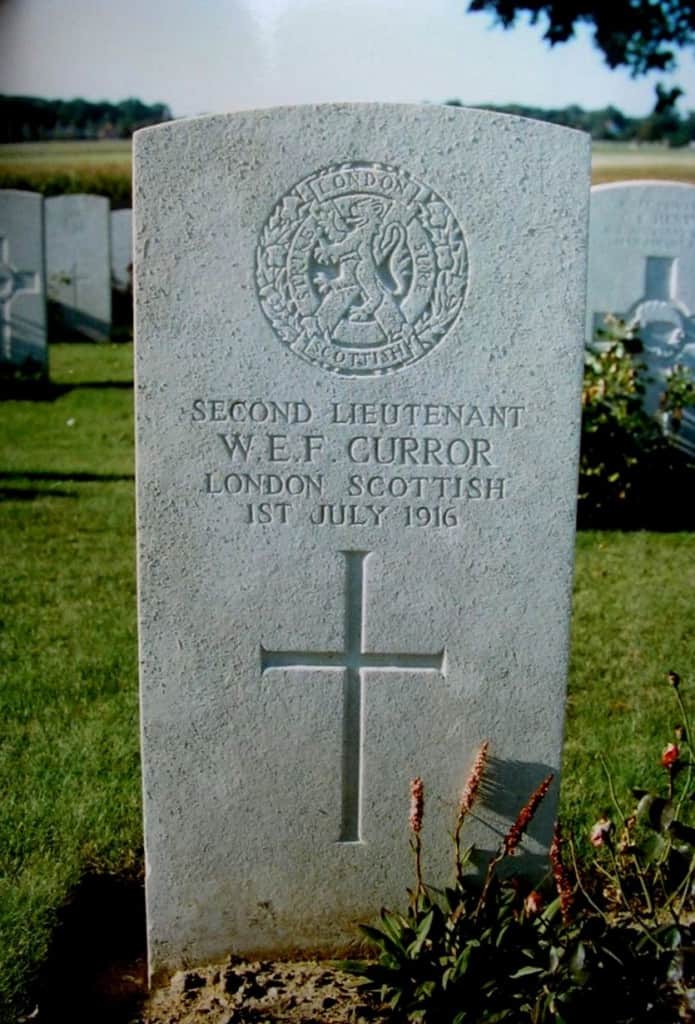 | | | |
| --- | --- | --- |
| Born | Fife, Scotland | |
| | | |
| Son of | John and Annie Forrest Curror | |
| | | |
| Regiment | 14th London Regiment (London Scottish) | |
| | | |
| Date of Death | 1st July 1916 | |
| Place of Death | Somme, France | |
| Cause of Death | Killed in action | |
| | | |
| Age | 34 | |
| | | |
| Cemetery | Gommecourt No. 2 Cemetery, Hebuterne, Somme, France | |