Thank you to Lenka Cathersides for the following research.
Frank Henry Mackrell was born on the 2nd of March 1895 in Dorking to painter, carpenter and printer's compositor Robert Henry born about 1858 in Dorking and Lois Mary nee Kempshall, born about 1859 in Newdigate. Robert and Lois married in the 4th quarter of 1878 in Reigate. Lois died in the 1st quarter of 1895 in Reigate.
At the time of the 1901 Census, the widowed Robert lived at 64 Orchard Road, Dorking. The household further comprised of his children: Harriett, printer's errand boy William, gardener's boy Albert, Kate, Charles, Ernest, Percy, Frank and Alice. and Robert's granddaughter Lois. Robert was working as a printer's compositor.
Robert died in 1911. He was buried on the 23rd of December 1911 in Dorking Cemetery.
At the time of the 1911 Census, Frank was an inmate of Reformatory School Ship, Cornwall, Purfleet, Essex.
Frank Mackrell enlisted into the Royal Navy on the 7th of April 1914 in Chatham. His service number was SS4923 and he was an Ordinary Seaman. Prior to joining the Navy he was a merchant seaman. He had a fair complexion, brown hair and blue eyes. He had several tattoos: a horseshoe and crossed hands on his right forearm and a name; Kate Martin, flowers, crossed hands, heart, true love and a bird on his left forearm. He served on several ships.
Frank was seriously wounded in action during operations in the Dardanelles on the 25th of April 1915.
He became an Able Seaman on the 1st of October 1915.
On the 10th of July 1918 Frank was invalided out the Navy Service due to a psoas abscess at The Royal Naval Hospital Chatham. At this time he served at Pembroke I., the Royal Navy barracks at Chatham.
Frank married Hilda May Taylor on the 2nd quarter of 1918 in Rochford, Essex.
Hilda was born about 1895 in Clapton, London to architect Edgar, born about 1862 in Worcestershire and Edith Alice, born about 1864 in Suffolk. Hilda was baptised on the 6th of December 1895 at St John's church in Hackney.
Frank Mackrell died in March 1921 in Essex.
He received the British War and the Victory medals.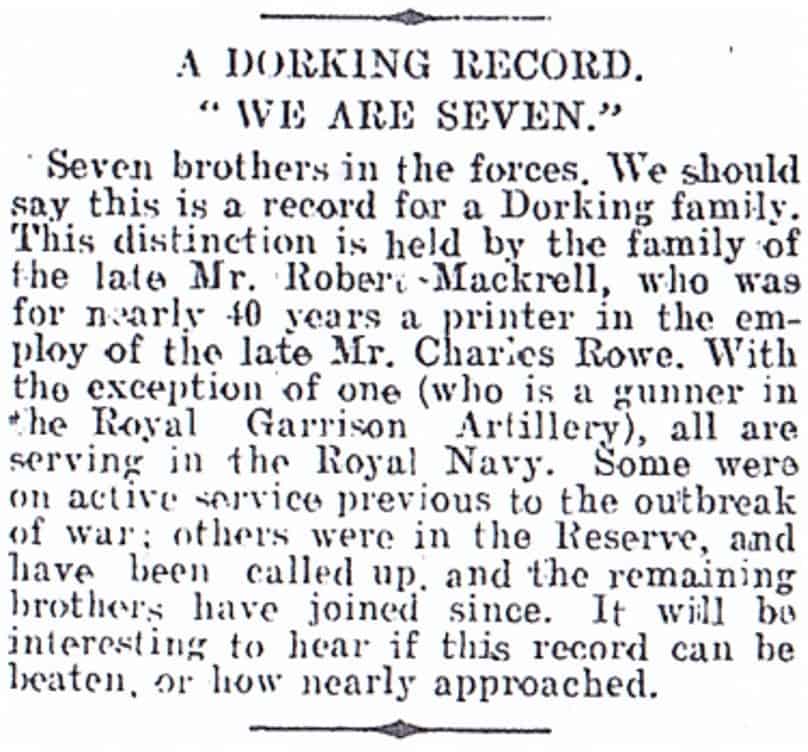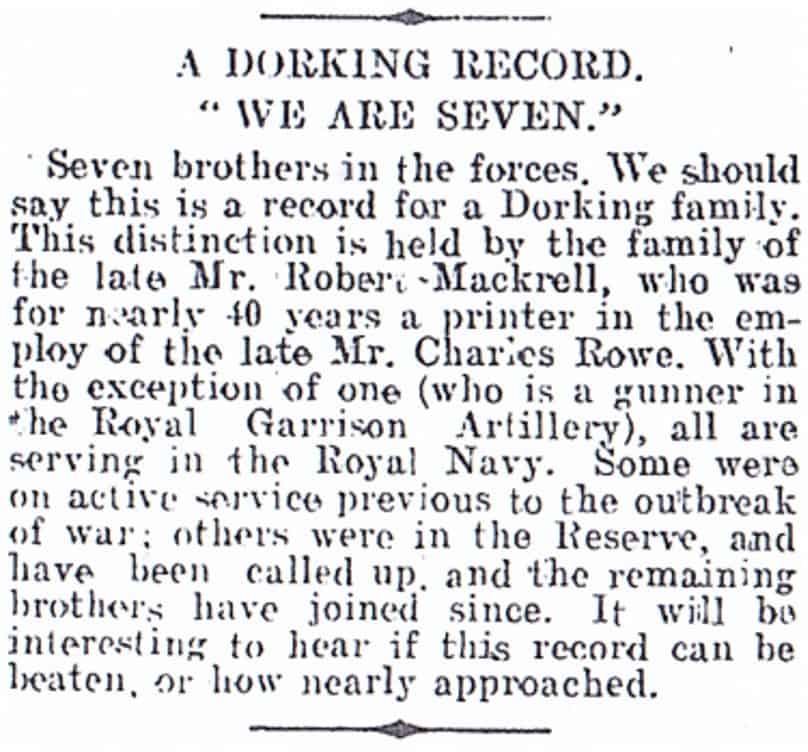 | Born | | Dorking, Surrey |
| --- | --- | --- |
| Lived | | Rochford, Essex |
| | | |
| Son of | | Robert Henry and Lois Mary (nee Kempshall) |
| Brother of | | Percy John Mackrell |
| Husband of | | Hilda May Taylor |
| | | |
| Regiment | | Royal Navy |
| Number | | SS4923 |
| | | |
| Date of Death | | March 1921 |
| Place of Death | | Essex |
| Cause of Death | | Unknown |
| | | |
| Age | | 26 |