18th July 1918 – Letter of Condolence from a fellow Soldier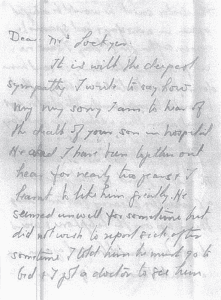 Dear Mrs Lockyer
It is with the deepest sympathy I write to say how very very sorry I am to hear of the death of your son in hospital. He and I had fun together out here for nearly two years and I learnt to like him greatly. He seemed unwell for some time but did not wish to report sick. After some time I told him he must go to bed and I got a doctor to see him.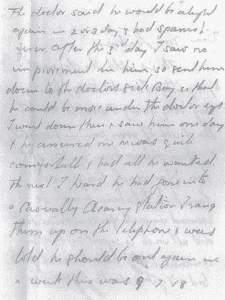 The doctor said he would be all right again in 2 or 3 days and had Spanish fever. After the third I saw no improvement in him so sent him down to the doctor's sickbay so that he could be more under the doctor's eye. I went down there and saw him one day and he assured me he was quite comfortable and had all he wanted. The next I heard he had gone into a Casualty Cleansing Station. I rang them up on the telephone and was told he should be out again in a week. This was 9/7/18.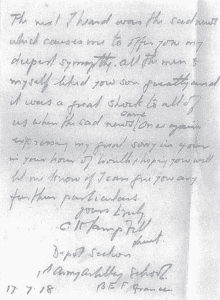 The next I heard was the sad news which causes me to offer you my deepest sympathy. All the men and myself liked your son greatly and it was a great shock to all of us when the sad news came. Once again expressing my final sorry in your hour of ? and hoping you will let me know if I can find you any further particulars.
Yours truly,
C. Mansfield?
Depot Section
1st Army Artillery School
B.E.F France
20th July 1918 – Letter of Condolence from W. B Cull, Willie's employer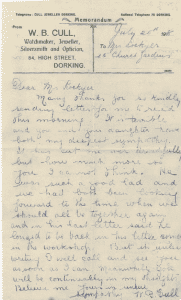 Dear Mrs Lockyer,
Many thanks for so kindly sending letter for me to read this morning. It is terrible and you and your daughter have both my deepest sympathy.
It has cut me over dreadfully but how much more so you I cannot think.
He was such a good lad and we had both been looking forward to the time when we should all be together again and in his last letter said he looked to be back in his little corner in the workshop. But it's useless writing, I will call and see you as soon as I can.
Meanwhile you will be continually in my thoughts.
Believe me, Yours in Sympathy W. B. Cull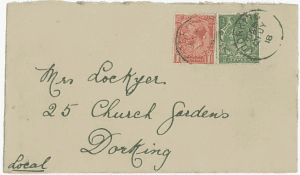 25th July 1918 – Letter of Condolence from Willie's Cousin E. F. Lockyer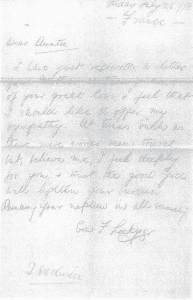 Friday July 25/18
France—–
Dear Auntie
I have just received a letter from Mother containing news of your great loss and feel that I should like to offer my sympathy. At times such as these, mere words seem trivial, but believe me I feel deeply for you and trust the good God will lighten your burden.
Remaining your nephew in all sincerity
E. F. Lockyer
28th July 1918 – Letter of Condolence from Bert, Mrs Lockyers Nephew
WITH THE BRITISH EXPEDITIONARY FORCE
France, Sunday 28 July 1918
My dear aunt and cousin,
I was most grieved to read, in Lily's letter received today, of your great loss, and wish to assure you both of my sincere sympathy.
It was not my privilege to know a great deal of Willie, but judging from the way Aunts Emily and Kate have described him to me, and also by his sister's ladylike manners, I am positive that, in my cousin, the country has lost a gentleman, and one of the sort it can ill afford to lose.
Moreover, his splendid devotion to his country by joining up quite voluntarily, proved the unselfishness of his character, hence I feel, with you, how great is our family loss, but after all the hard work aunt has done, during her widowhood, to train educate Willie, the burden must indeed be terrible to bear.
However, I am thankful to have the realisation that our loving Heavenly Father never gives us more to suffer than we are able to endure, that not even a sparrow falls to the ground without his knowledge that in what seems our weaknesses he makes us strong. Therefore, dear aunt and cousin, cheer up all you can, trust in and pray to the Lord Jesus Christ for help and comfort, and he will give you all help necessary until that day when all shall meet again, where there shall be no more sorrow, pain, crying or death, but all shall be joy evermore.
If you can let me know where Willie passed from death unto life, I will make every effort to visit his grave if at any time in the vicinity. I am feeling quite well, getting sufficient food and not overworked so am as happy as I can possibly be away from home.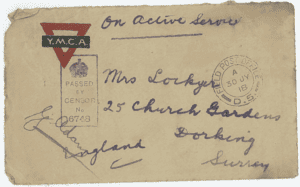 Now remembering the hero Willie proved himself to be, let us be grateful to think of our close relationship with one who made the world all the better for his living in it, for a man's worth is not proved by the number of years but the good which he does. Greater love than this hath no man. Yours lovingly, Bert.
(I believe aunt is entitled to a pension, so do not fail to enquire of the Pensions Committee whose address the Post Office will supply. Until a fortnight ago I was with Mr Baker of Dorking PO.)
31st July 1918 – Condolence Letter from G. S. Boorer
The Lockyer's neighbour who served in the R.A.F during WW1 and is buried in Dorking Cemetery.
A Flight
19th Squadron
RAF
31.7.18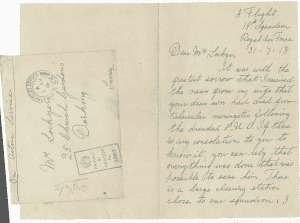 Dear Mrs Lockyer
It was with the greatest sorrow that I received the news from my wife that your dear son had died from tubercular meningitis following the dreaded 'PUO'. If there is any consolation to you to know it, you can rely that everything was done that was possible to save him. There is a large clearing station close to our squadron, and I have been down there to see several of our men suffering from the same complaint, for as perhaps you know, there have been thousands of men down with it in the army.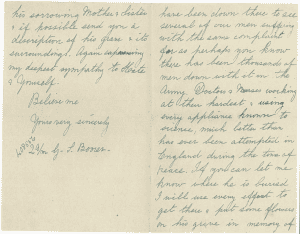 Doctors and nurses working at their hardest and using every appliance known to science, much better than has ever been attempted in England during the time of peace. If you can let me know where he is buried, I will use every effort to get there and put some flowers on his grave in memory of his sorrowing mother and sister, and if possible send you a description of its his grave and its surroundings. Again expressing my deepest sympathy to Katie and yourself.
Believe me, yours very sincerely, (408556) G S Boorer.
2nd September 1918 – Condolence Letter from E. Reg White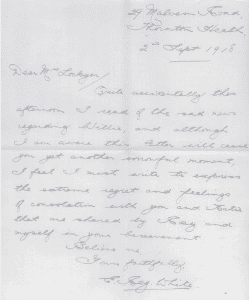 Thornton Heath
2 Sept. 1918
Dear Mrs Lockyer
Quite accidentally this afternoon, I read of the sad news regarding Willie, and although I am aware this letter will cause you yet another sorrowful moment, I feel I must write to express the extreme regret and feelings of consolation with you and Katie that are shared by myself in your bereavement.
Believe me, yours faithfully, E Reg White.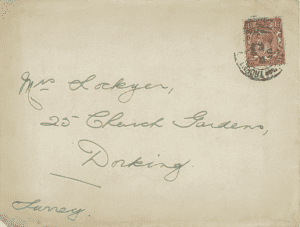 Condolence Letter – Sister Lily's Bible Class
Dorking Congregational Church
Dear Mrs Lockyer
We were very sorry indeed to hear that you had lost your only son. Will you please accept our loving sympathy and earnest prayers that God may comfort and help you in your deep sorrow.
May you experience just now that "underneath are the everlasting arms".
2nd October – Condolence Letter from Mrs. Harris. Greiving Mother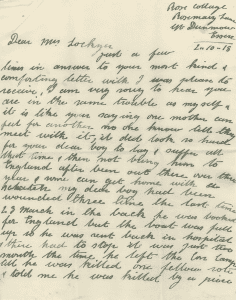 Dear Mrs Lockyer,
Just a few lines in answer to your most kind and comforting letter which I was pleased to receive. I am very sorry to hear you are in the same trouble as myself. It is like you're saying one mother can feel for another. No one knows till they meet with it. It did look so hard for your dear boy to suffer all that time, then not bring him to England after being out there over three years. Some can get home with a … My dear boy had been wounded three times, and the last time, 23 March, in the back, he was booked for England but the boat was full, so he was sent back to the hospital, and there had to stop. It was just two months by the time he left.
He was killed by a piece of shell but they had not found it so you can picture my thoughts about him. I feel quite ill and I do pray to God that he may comfort me. Give me strength to bear it for the sake of my other two dear boys. One of them is disabled for life and now they have sent him to a farm in York. He was wounded in the chest severely. I am afraid there will be thousands more like him. It seems by the paper they are gaining some ground but oh, what a price, and then to read that these men are all coming out on strike. It makes you wonder if the country and people are worth fighting for.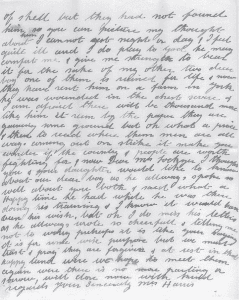 Now, dear Mrs Lockyer, I thought you and your daughter would like to hear about our dear boy as he always spoke so well about you both and said what a happy time he had while he was there doing his training and I know it would have been his wish, but oh I do miss his letters as he always wrote so cheerfully, telling me not to worry. Perhaps it is like you're saying that it is for some wise purpose but we must trust and pray they are forgiven and at rest in that happy land where we hope to meet them again, where there is no more parting or sorrow.
Will close now with regards.
Yours sincerely Mrs Harris.
Condolence Letter from an Unknown Grieving Mother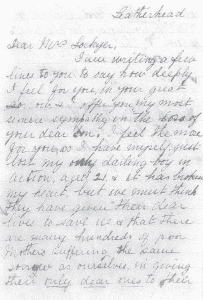 Dear Mrs Lockyer                                                                        Leatherhead
I am writing a few lines to you to say how deeply I feel for you, in your great sorrow, and I offer you my most sincere sympathy on the loss of your dear son. I feel the more for you as I have myself just lost my only darling boy in action, aged 21, and it has broken my heart, but we must think they have given their dear lives to save us and that there are many hundreds of poor mothers suffering the same sorrow as ourselves, in giving their only dear ones to their country. May God bless and protect you and help you now and in the years to come, is the earnest wish of a broken hearted. Mother(??).
He will remember them while the light lasts,
And in the darkness he will not forget.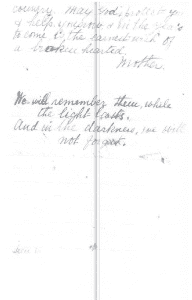 Return to Arthur William 'Willie' Lockyer Main Page