Caroline Baker, Grand-niece of Arthur William 'Willie' Lockyer kindly copied all the correspondence that Willie's mother kept. It shows a fascinating picture of the reality of war, both emotionally and bureaucratically.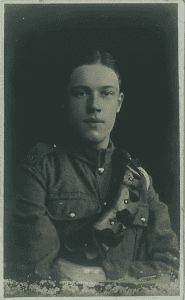 Thank you to Lenka Cathersides (Dorking War Memorial Genealogy Team) for additional information.
Thank you to David Bassett (Dorking World War One Team) for transcribing all the letters.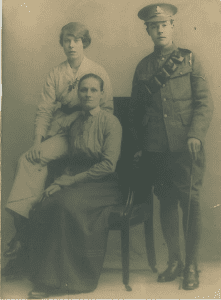 Willie Lockyer was born in October 1898 in Dorking to William and Matilda Lockyer. William passed away while Willie was a boy. Matilda worked as a laundress. Willie worked for the watchmaker, jeweller, silversmith and optician W. B. Cull of 84 High Street, Dorking. (The numbering of the High Street has changed – so this address is now 100-102 High Street). WiIlie joined the army voluntarily at 17 years old. He wrote to his mother often. She liked 'getting a letter almost every day'. Willie regularly included drawings in his letters.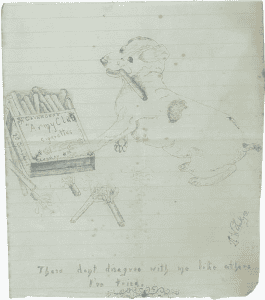 Willie joined the Royal Artillery, which was divided into two groups: the Royal Horse Artillery and the Royal Field Artillery (RFA) comprised one group, and the Royal Garrison Artillery the other. The RFA was organized into Brigades attached to Divisions and was responsible for the medium caliber guns and howitzer deployed close to the front.
CIV Brigade, RFA served with 23rd Division. The Division was established in September 1914 as part of Kitchener's Third New Army. In the third week of August 1915 proceeded to France landing to Boulogne and concentrating near Tilques. On 11th June 1916 the 23rd Division of Artillery moved to Chamblain Chatelain and Therouanne to begin intensive training for Battles of the Somme. They were in action in The Battle of Albert, Bazentin Ridge, Pozieres, Flers-Courcelette, Morval and The Battle of Le Transloy – phases of the Battles of the Somme in 1916. On the 18th January 1917, CIV Brigade left 23rd Division and became an Army Field Artillery Brigade on 25th January 1917.
Willie survived two gas attacks but died from tubercular meningitis on 16th July 1918. On the 14th July 1918, Sister Edith Aylett of 23, Clearing Station, wrote the first of two letters to Mrs Lockyer.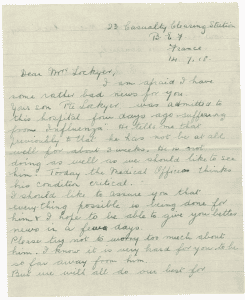 23 Casualty Clearing Station
France
14.7.18
Dear Mrs Lockyer
I am afraid I have some rather bad news for you. Your son Pte Lockyer was admitted to this hospital four days ago suffering from "influenza". He tells me that previously he has not been at all well for about three weeks. He is not doing as well as we should like to see him. Today the medical officer thinks his condition critical.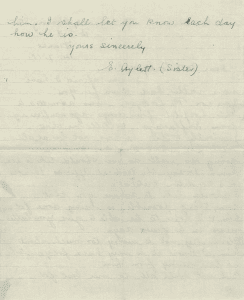 I should like to assure you that everything possible is being done for him and I hope to be able to give you better news in a few days.
Please try not to worry too much about him. I know it is very hard for you to be so far away from him.
But we will all do our best for him. I shall let you know each day how he is.
(Sister) Edith Aylett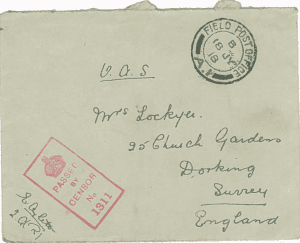 Three day later Sister Aylett wrote to Mrs Lockyer again.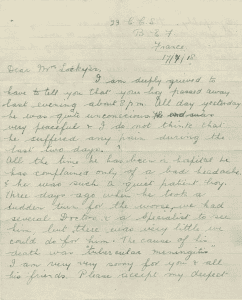 France, 17/7/1918
Dear Mrs Lockyer
I am deeply grieved to have to tell you that your boy passed away last evening about 8pm. All day yesterday he was quite unconscious but very peaceful and I do not think he suffered any pain during the last two days.
All the time he has been in hospital, he has complained only of a bad headache and he was such a quiet, patient boy. Three days ago when he took a sudden turn for the worse, we had several doctors and a specialist to see him, but there was very little we could do for him. The cause of his death was "Tubercular Meningitis".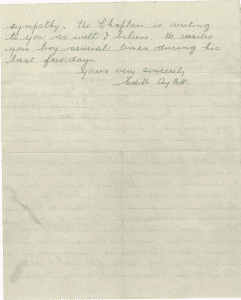 I am very, very sorry for you and all his friends. Please accept my deepest sympathy. The chaplain is writing to you as well I believe. He visited your boy several times during his last few days.
Edith Aylett.
The Chaplain from 23 Casualty Clearing Station wrote to Mrs Lockyer on the same day.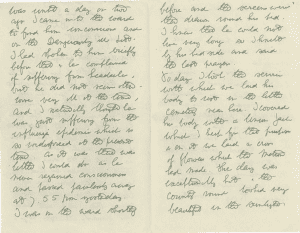 23 CCF
BEF
July 17th 1918
My dear Mrs Lockyer
The sister of his ward tells me that she has already written to you telling you the sad news of the death of your dear son in hospital. She will have told you the facts about his illness, which she knows of course much better than I do. But at the same time I think you would be glad to have a letter from me as Chaplain. It is a great regret to me that I did not know seriously ill your boy was until a day or two ago I came into the ward to find him unconscious and on the dangerously ill list. I had spoken to him briefly before that and he complained of suffering from a headache,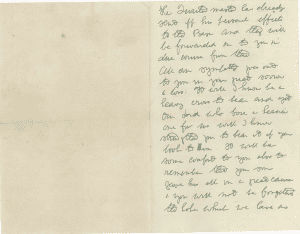 but he did not seem otherwise very ill at the time, and I naturally thought he was just suffering from the influenza epidemic which is so widespread at the present time. As it was, this was all I could do as he never regained consciousness and passes peacefully away at ?.55 pm yesterday. I was in the ward shortly before and the screens were then drawn round his bed. I knew that he would not live very long so I knelt by his bedside and said the last prayer.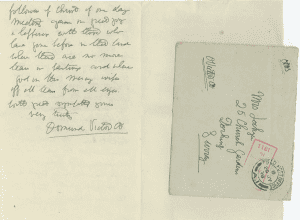 Today I took the service with which we laid his body to rest in the little cemetery near here. I covered his body with a linen sack(?) which I keep for the purpose and on it we laid a cross of flowers which the Matron had made. The day was exceptionally hot and the country round looked very beautiful in the sunlight.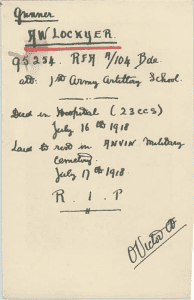 The service took place very simply at 3.30 this afternoon. The cemetery lies on the lower slopes of a hill side and is surrounded by cornfields nearly ready for harvest. Below that runs a main road and on the far side there are beautiful hills and woods. I enclose a letter-card which I think you may like to have in his memory. You will I hope see the vicar of your parish and ask him to enter your boy's name on the Roll of Honour of those who have laid down their lives for King and Country.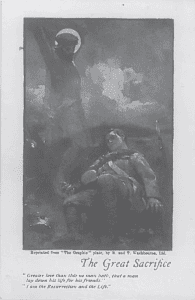 The Quartermaster has already sent off his personal effects to the Base and they will be forwarded on to you in due course from there. All our sympathy goes out to you in your sorrow and loss. It will I know be a heavy cross to bear and yet our Lord who bore a heavier one for us will I know strengthen you to bear it if you look to him. It will be some comfort to you also to remember that your son gave his all in a great cause and you will not be forgetting the hope which we have as followers of Christ of one day meeting again in great joy and happiness with those who have gone before in that land where there are no more tears or partings and where God in his mercy wipes off all tears from our eyes.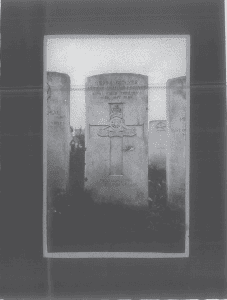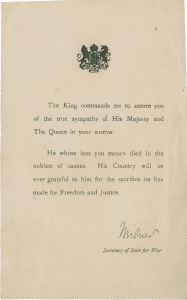 His mother received many condolence letters from other soldiers and grieving mothers.
Mrs Lockyer received Willie's possessions back after his death, including a postcard she had written to him.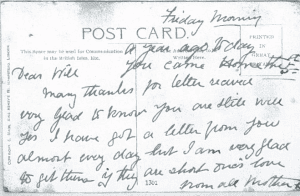 Friday Morning
A year ago today you came home
Dear Will,
Many thanks for letter received. Very glad to know you are still well. Yes I have got a letter from you almost every day but I am very glad to get them if they are short one's, love.
From All
Mother
Mrs Lockyer received envelopes of her letters that didn't make it to Willie in time.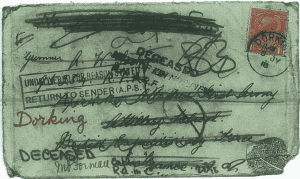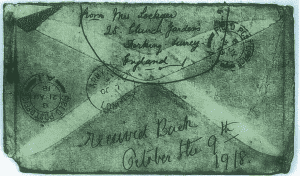 Willie's sister wrote to the Company Command in August to find out where Wille had fought.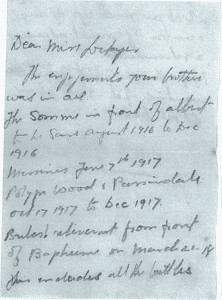 Dear Miss Lockyer
The engagements your brother was in are:
The Somme in front of Albert to Le Sars August 1916 to Dec 1916.
Messines June 7th 1917.
Polygon Wood, and Passchendaele Oct 17 1917 to Dec 1917.
British retirement from port of Bapaume on March 21 1918.
This includes all the battles which are made up of any number of small advances and retirements.
I hope this is what you were wanting. If it is not please let me know.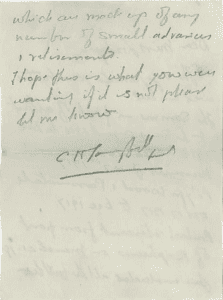 Mrs Lockyers archive also contains correspondence showing the 'admin' involved in a soldiers death.

He had two medals; British War Medal and Victory Medal.
His relatives; the Drewitt, Baker and Smith families still live in Dorking and are very proud of him.
Willie's Lockyer's name was read out on the 19th August 2014 at the Tower of London poppy-filled moat. View the full Roll of Honour here.
| | | |
| --- | --- | --- |
| Born | Dorking, Surrey | |
| | | |
| Son of | Matilda Jane Lockyer of 25, Church Gardens, Dorking | |
| Brother of | Kate Matilda Lockyer of 25, Church Gardens, Dorking | |
| | | |
| Enlisted | Guildford | |
| | | |
| Regiment | "A" Battery, 104th Brigade, Royal Field Auxiliary | |
| Number | 95254 | |
| | | |
| Date of Death | 16th July 1918 | |
| Place of Death | Flanders, France | |
| Cause of Death | Tubercular Meningitis | |
| | | |
| Age | 19 | |
| | | |
| Cemetery | Pernes British Cemetery, France | |