Thank you to Jane Anthony for the following research.
Given that Arthur Gibson was both a Company Sergeant Major and was awarded the Military Medal it was surprisingly difficult to find any information about him or, indeed what connection he had to Dorking. However luck would have it that reports from the Dorking Advertiser mentioned someone of that name being up before the magistrates in both 1907 and 1912.
The Gibson family were peripatetic. Both of Arthur's parents John and Julia were born in Stoke Newington where they married and their oldest two sons John and Henry were born. By the time Arthur was born in 1892 they had moved to Fulham, another son Frederick was also born there. By 1901 they had moved to Brighton where a fifth and final son Claud was born. John Gibson was a fish packer and both the older two boys were working as porters in local shops. John died in 1907 aged 42 leaving Julia to bring up her five sons single handed. By 1911 the family had moved to 35 Mill Lane Dorking. The head of the household was John, the eldest son, now 28 and working as a furniture packer, Arthur's mother Julian and his two younger brothers Frederick and Claud are still living at home but there is no trace of either Arthur or Henry. It is probable that Arthur had already joined the Army at this stage as Private Arthur Gibson, born in 1892 at Fulham is listed as being at the Woolwich barracks of the 6th Battalion Kings Own Rifles.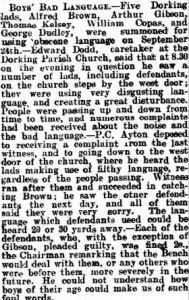 Prior to joining the army Arthur seems to have possibly been a bit of a trouble maker. On September 1906, only a few months after the death of his father in Brighton, he was one of a group of five boys, including William Copas, who were caught using bad language and making a disturbance outside Dorking Parish Church. All, except Gibson, apologised and pleaded guilty; they were fined 2 shillings. There is no mention of what punishment Arthur Gibson received.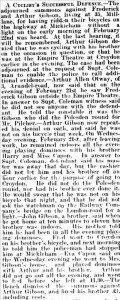 Another run in with the police occurred in 1912, by this date Arthur must have left the army as in his evidence he talks of returning home from work. Arthur and his brother Frederick were stopped by the police for the heinous crime of riding their bikes without lights. Frederick stopped and denied that he has riding the bike but claimed to be pushing it, however Arthur denied that he had been riding his bike but was at home playing dominoes. The case was adjourned for a fortnight, when further witnesses, including his brothers John and Harry, came forward to vouch for him. Frederick was fined £1 but Arthur was acquitted.
Presumably he rejoined his old regiment when war was declared in 1914; it was usually a condition when regular army recruits left either after they had left or had bought themselves out. He enlisted in the 10th Battalion Kings Rifle Corps which was formed, as part of Kitcheners Army, on 14th September 1914 at Winchester. As a former regular soldier Gibson must have been an obvious candidate for promotion for a non-commissioned officer. After several deployments for training the battalion arrived in France on 21 July 1915.
Arthur Gibson was killed on 2nd December 1917 at the Battle of Cambrai. This battle is famous as being the first where tanks were widely used. The attrition in this battle was very high with more than 40,000 casualties on both sides, one of which was Company Sergeant Major Arthur Gibson who was aged about 25 when he was killed. He has no known grave but is commemorated on the Cambrai Memorial.
His legatee was his wife Emily, it is not know when or where they married but as South Norwood was given as being his place of residence it must be assumed that they were living there after the marriage. Despite being awarded the Military Medal, reputedly more rarely awarded than the officers equivalent, the Military Cross, there is no citation or obituary available in contemporary newspapers.
| | | |
| --- | --- | --- |
| Born | Fulham, London | |
| Lived | Dorking, Surrey | |
| | | |
| Son of | John and Julia Gibson of Mill Lane, Dorking | |
| Husband of | Emily Gibson | |
| | | |
| Regiment | 10th Battalion, Kings Royal Rifle Corps | |
| Number | C/406 | |
| | | |
| Date of Death | 2nd December 1917 | |
| Place of Death | Cambrai, France | |
| Cause of Death | Killed in Action | |
| | | |
| Age | 25 | |
| | | |
| Memorial | Cambrai Memorial, France | |