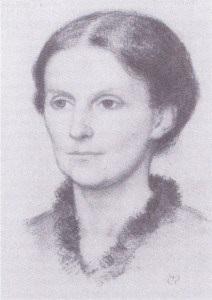 The Leith Hill Musical Competition was founded by Margaret (Meggie) Vaughan Williams and Evangeline (Eva), Lady Farrer of Abinger Hall, in 1904. Eva presided and Meggie acted as secretary, cycling between Leith Hill Place and Abinger Hall.
The image shows Eva Farrer who had studied at the Royal College of Music with Meggie's brother, Ralph, and had come to the Farrer household as a music teacher.
Drawing by C. Geoffroy Dechaume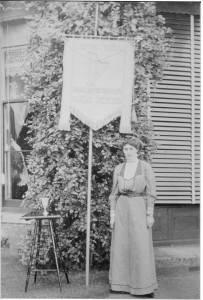 The first competition was held at the Public Hall in West Street, Dorking, on 10th May 1905. 8 choirs from villages within a 10 mile radius of Abinger Hall competed in 6 classes: full chorus, male voices, female voices, madrigal, quarter and sight reading. The evening concert was conducted by Meggie's brother, Ralph Vaughan Williams, who, with other musicians including Lucy Broadwood , chose the music.
The image shows Miss Constance Travers with a festival banner at Rokefield, the Westcott home of choir organiser Mrs Carey Druce, 1905.
Image: Dorking Museum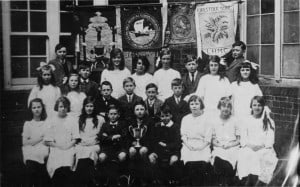 It was always intended to hold the competition annually. (The only complete break was during the First World War). In 1908 Eva wrote that 'Dorking was worked up to an unknown pitch of excitement. Such a concert has never been in Dorking before. Hundreds were turned away from the door – but they stood outside and heard a good deal and joined loudly in the applause!' Vaughan Williams attracted some of the most distinguished musicians of the day to participate. The composer Gustav Holst came in 1909 as an adjudicator and Hubert Parry presented the awards in 1911. The photo shows the Wescott Children's Choir in 1925.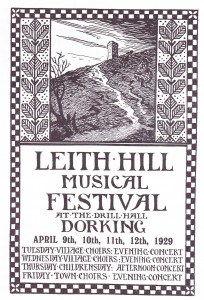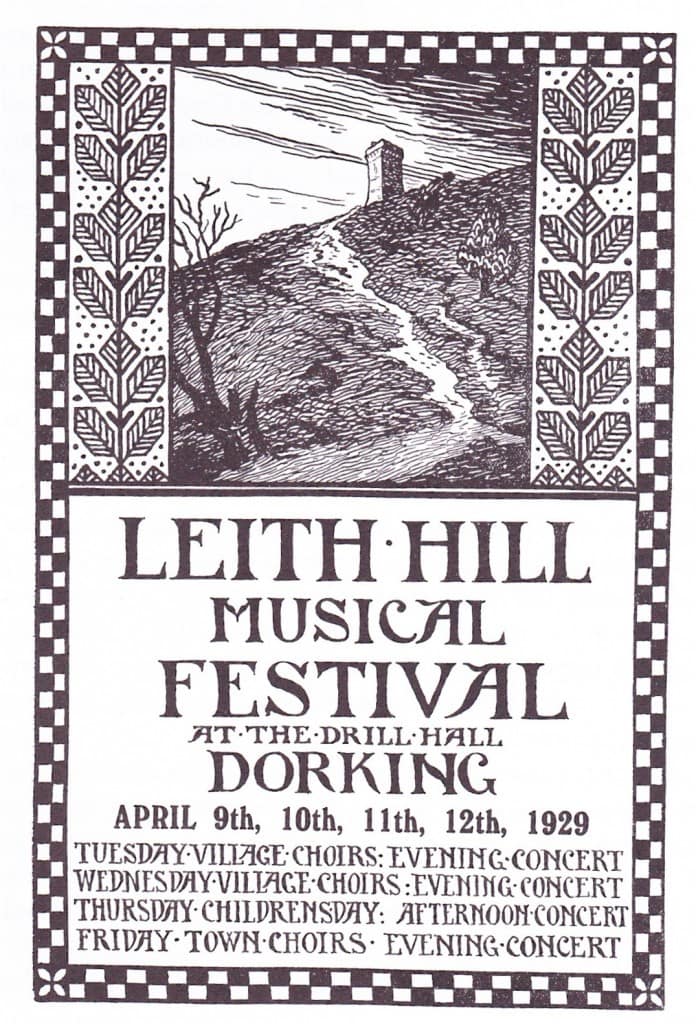 Ralph Vaughan Williams was devoted to the competition. He took village choir practices and inspired members to achieve difficult works. In 1931 Bach's St Matthew Passion was performed by a choir and orchestra of 800 in the newly opened Dorking Halls. The Leith Hill Musical Competition contributed to the building fund for the halls.
In 1950 the name was changed to the Leith Hill Musical Festival. After Vaughan Williams' death in 1958 Dorking decided to honour his memory in bronze plaques at Dorking Halls and at St Martin's church, and in its support for the Festival. In 2005 Dorking celebrated the centenary of this great community endeavour.
Last : Ralph Vaughan Williams                                                   Next : The Dorking Cockerel