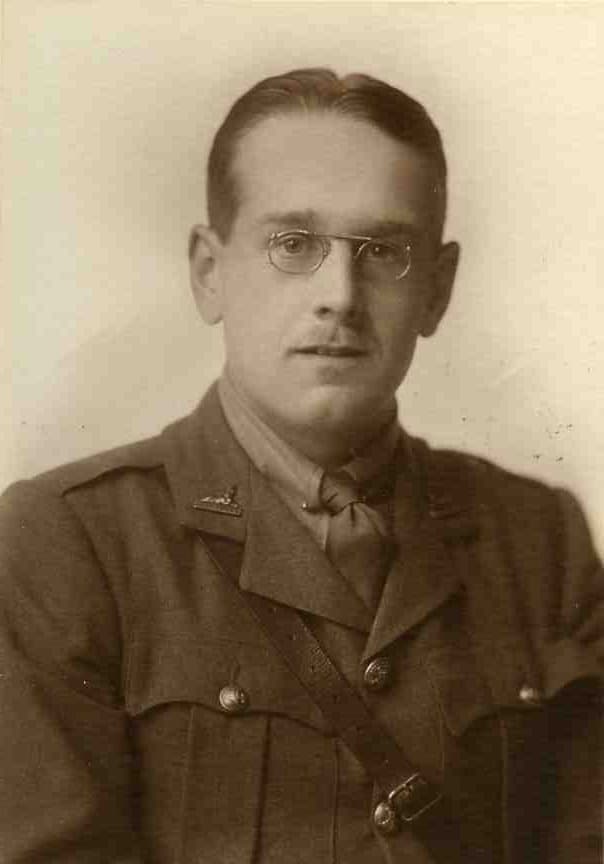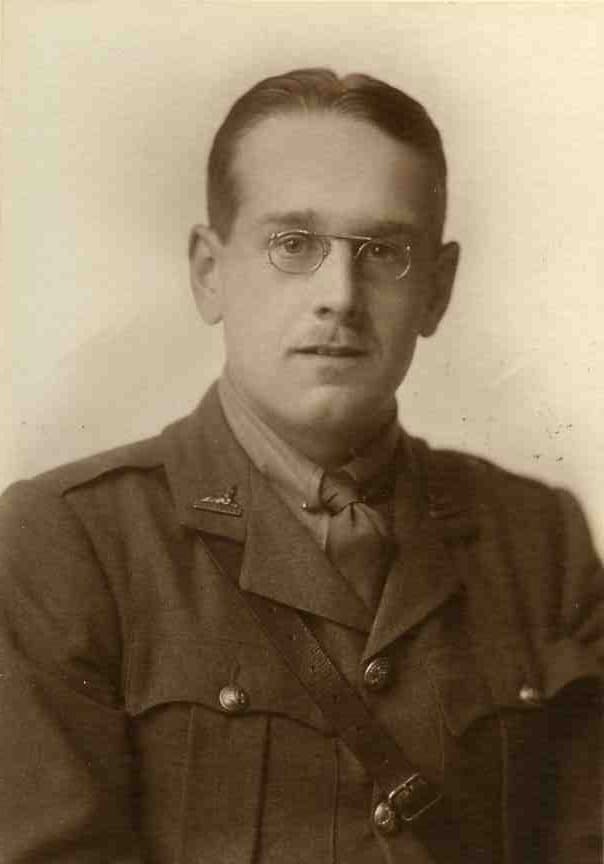 Thank you to Karen Wilson from Betchworth Village Archives for allowing us to publish her research, Lenka Cathersides from Dorking Museum for additional research and Radley College for allowing us to publish these photographs.
Albert William Lane Joynt was born on 5th July 1895 in Dublin to barrister Albert Edward Russell Lane Joynt and Annie Joynt nee Davie later Taylor.
Albert's parents, Albert and Annie, married on 3rd July 1894 at Bude Haven Parish Church in Cornwall. Albert died at the age of 40 in 1902, while the family were living in Dublin.
Albert's mother Annie re-married Glenleigh John Schill Taylor on 28th January 1907 at Holy Trinity in Chelsea. She stated to be a widow, living at 20 Holbein House in Chelsea. The groom's father was William Taylor. Glenleigh was a Lieutenant of the Horse Artillery and at the time of the marriage lived at Hulme Barracks in Manchester.
Albert was a member of the Radleian Society. A member was anyone associated with Radley College which Albert attended. He also attended Elstree College. Albert took part in Radleian Society play readings. For example in March 1913 he read the part of Cardinal Wolsey in the play 'Henry VIII'. The Radleian (Radley College journal) noted that he enjoyed himself in this role.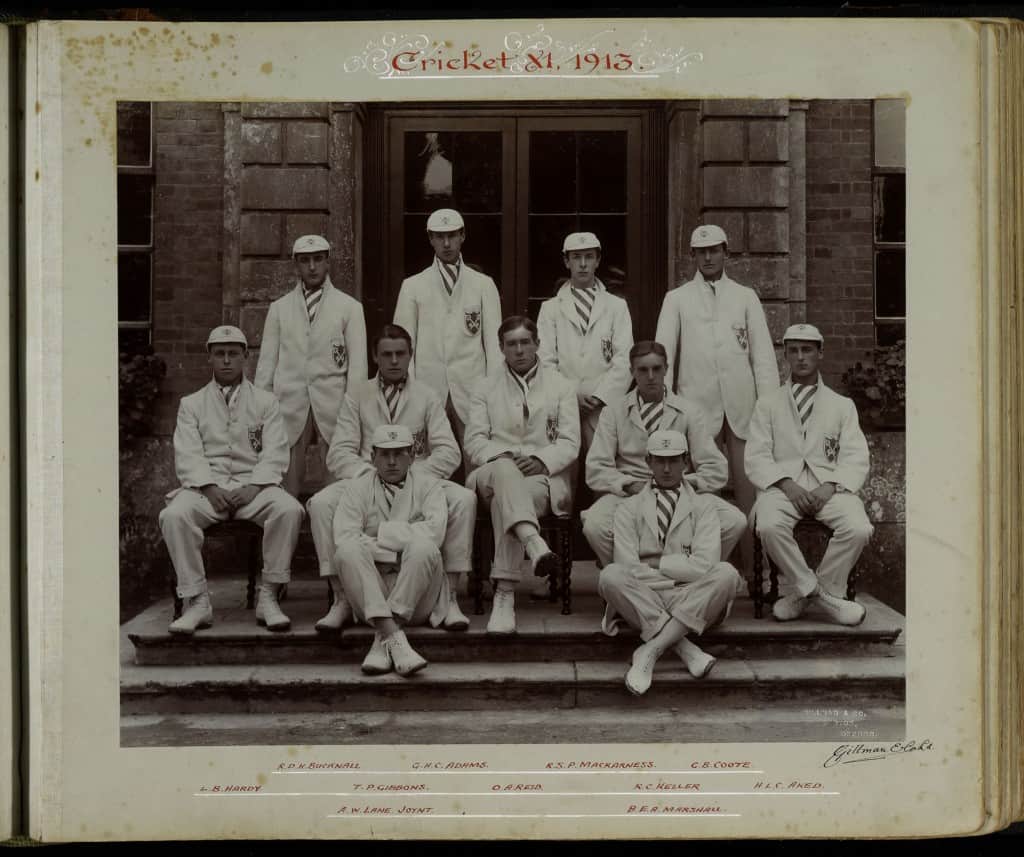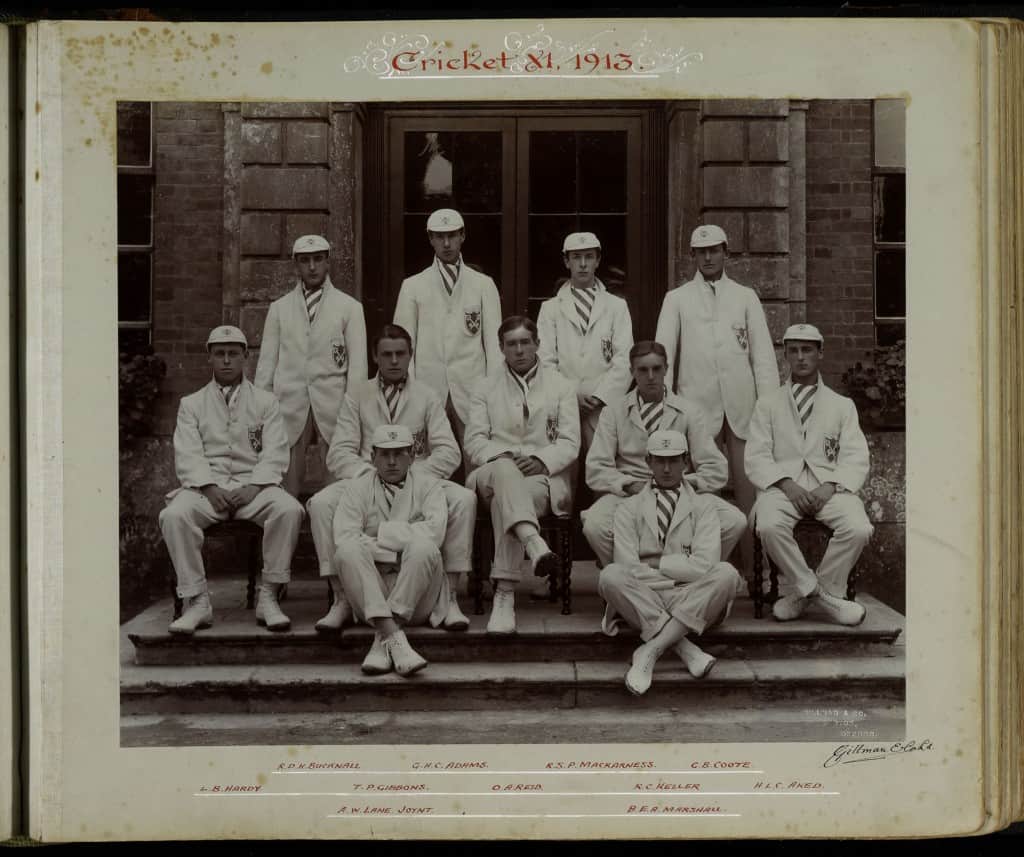 Albert was a good cricketer. He played in the Radley Eleven in 1913 and is written in the athletic record cricket register of that year. While playing for the Radley Eleven he scored 66 runs with an average of 13.20 and taking 12 wickets for 19.17 runs each: indicating that he specialised in bowling. He also played for Surrey Cricket Club.
Albert wrote also many articles, and in 1914, at the age of 18 edited a publication the 'Public School Cricket Year Book'. The known cricketer E. G. (Teddy) Wynyard contributed to this text. The publication, according to a book review, was an instant success and cost 1s.
More information on Albert's cricketing career can be found here.
When WW1 broke out in 1914 Albert had just enrolled into Oxford University.
At the time of his enlistment Albert lived at 21, Ashburnham Mansions in Chelsea with his mother Annie and stepfather Glenleigh.
In 1914, Albert was appointed 2nd Lieutenant of the 4th Battalion Inniskilling Fusiliers, in October 1914 2nd Lieutenant of the 3rd Battalion Dorsetshire Regiment and on 21st December 1914 he was promoted to Lieutenant. In March 1915 he was attached to the Motor Machine Gun Corps.
He disembarked in June 1915 in France and joined the 5th Battery of the Motor Machine Gun Corps.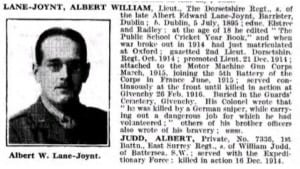 Albert was killed on 26th February 1916 at Windy Corner in Givenchy by a German sniper while voluntarily undertaking a dangerous job. Windy Corner was the crossroads before the village of Givenchy.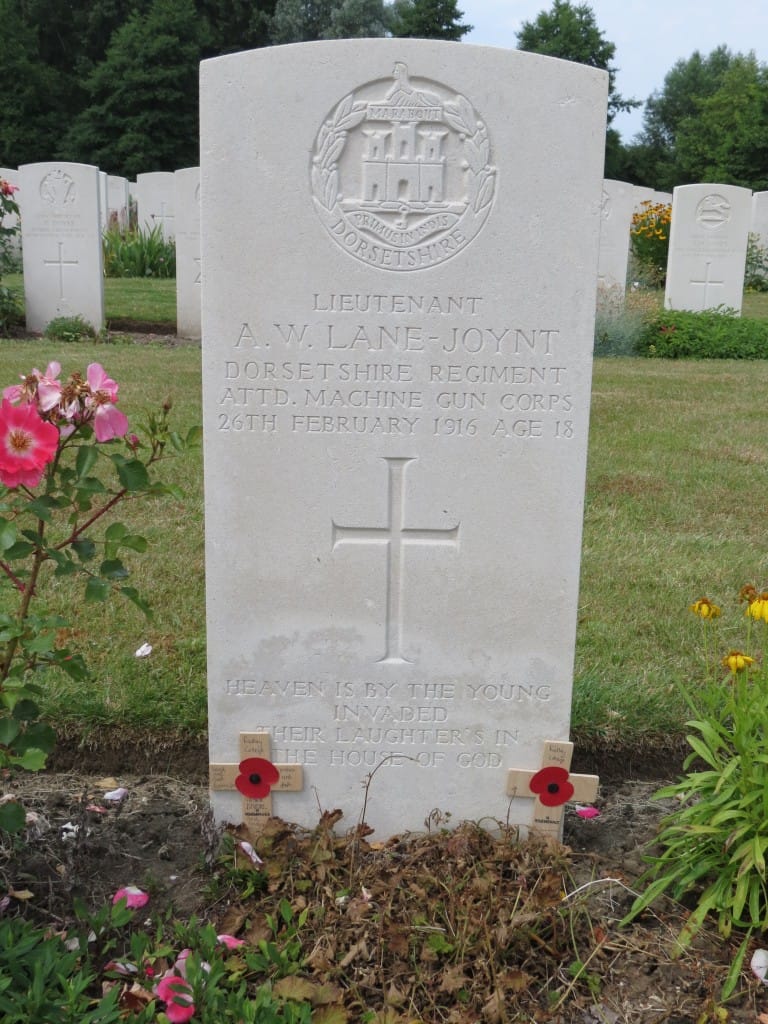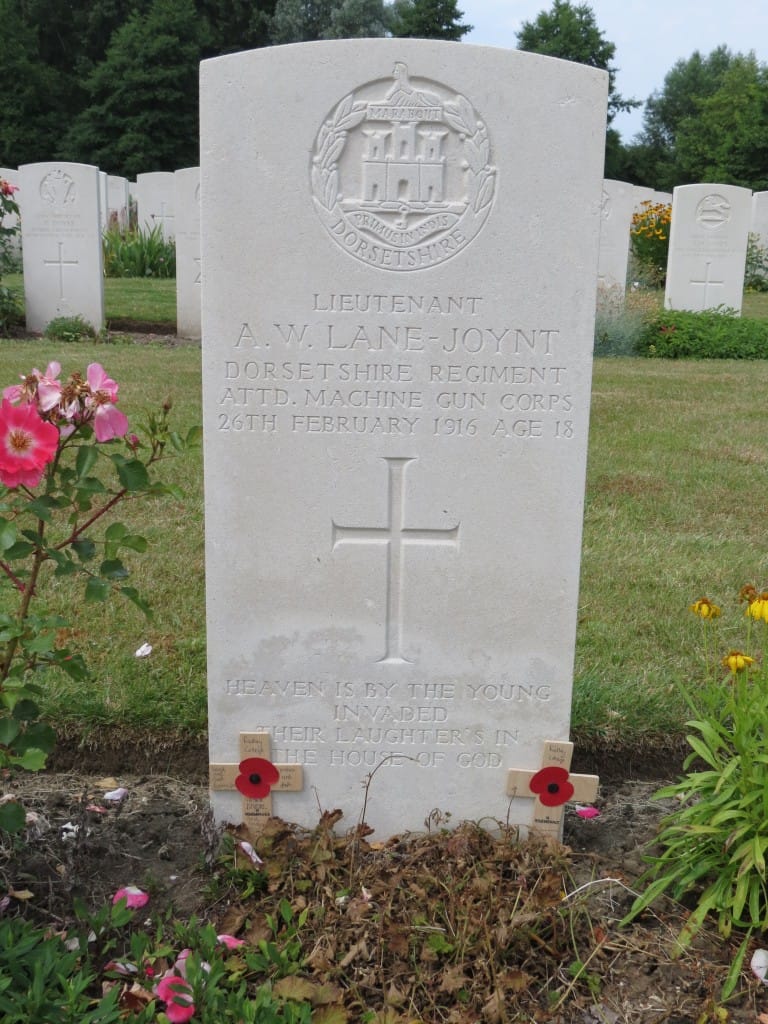 He is buried at the Guards' Cemetery, Windy Corner in Givenchy, France. A little west of the crossroads known to the army as 'Windy Corner' was a house used as a battalion head-quarters and dressing station. The Cemetery grew up beside the house.
His mother chose to have this inscription on his headstone: 'Heaven Is By The Young Invaded Their Laughter's In The House Of God.'
He was awarded with the British War and Victory medals and the 1915 Star.
On the 27th of February 1919 Mrs Annie Taylor made an application on behalf of her deceased son Lieutenant A. W. Lane Joynt for his 1914-1915 Star. At the time of the application Mrs Taylor lived at Elm Cottage in Betchworth, Surrey.
Albert William is commemorated on the Betchworth War Memorial and the Surrey Cricket Club Memorial at the Oval. He was 20 years old.
A touching postscript is a newspaper cutting of February 26th 1943, from an unknown source, which reads" 'Better is death than life without honour LANE-JOYNT, A.W. Lt., Dorset Regt. in ever loving memory of my "Billy".
| | | |
| --- | --- | --- |
| Born | Dublin, Ireland | |
| Lived | Chelsea, London | |
| | | |
| Son of | Albert Edward Russell and Annie Lane-Joynt (nee Davie) later Taylor | |
| | | |
| Regiment | 3rd Battalion, Dorsetshire Regiment | |
| | | |
| Date of Death | 26th February 1916 | |
| Place of Death | Windy Corner, Givenchy, France | |
| Cause of Death | Killed in Action | |
| | | |
| Age | 20 | |
| | | |
| Cemetery | Windy Corner Cemetery, Givenchy, France | |